Saints cut vets Will Smith, Jonathan Vilma, Jabari Greer, Roman Harper
After missing all of last season with an ACL tear, it appears that Will Smith's career in New Orleans is over, along with Jabari Greer, Roman Harper and Jonathan Vilma.
• 1 min read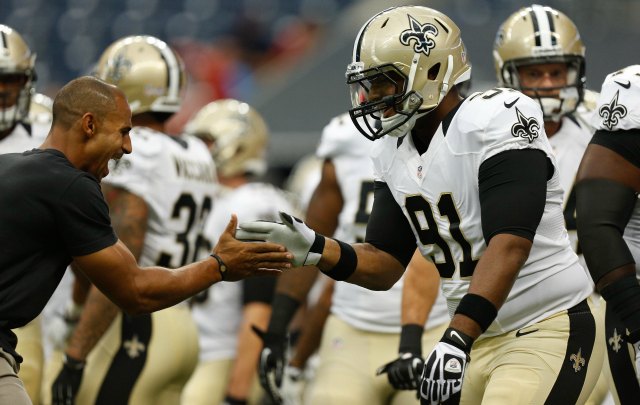 Heading into the 2014 season, the Saints have some major salary cap problems they'll have to attend to before the team begins to play. As of this writing, New Orleans is about $12.7 million over the cap limit, which means the Saints are going to have to start cutting some high-priced talent.
As such ...
The cap-strapped Saints are releasing veteran DL Will Smith, a move that will create $11.5M in cap space. Likely to be announced today

— Jason La Canfora (@JasonLaCanfora) February 12, 2014
And ...
#Saints part ways with Jabari Greer, Roman Harper, Will Smith and Jonathan Vilma http://t.co/I5Nbmqh6AL pic.twitter.com/qPWayjp6i6

— New Orleans Saints (@Saints) February 12, 2014
Smith had the second-biggest cap figure on the team -- the largest, at $18.4 million is Drew Brees, and he's certainly not going anywhere -- and at the age of 33 going into 2014, Smith is coming off an ACL tear that destroyed his entire 2013 season.
Meanwhile, Harper and Greer -- a combined salary cap cost of about $11.6 million -- were released. But releasing those two will still leave $6.3 million worth of dead money for 2014. Vilma, meanwhile, was about to be a free agent.
Overall, according to CBSSports.com's Joel Corry, the team saved $16.905 million with the moves made Wednesday.
But this might not be the last of the cap cuts the Saints will make, especially considering they have to figure out how to sign tight end Jimmy Graham to a long-term deal (or figure out how to pay for a franchise tag).
As Corry wrote in December, players like Jahri Evans, Ben Grubbs and Marques Colston might have to restructure their deals in order to create cap room.
Follow Josh Katzowitz on Google+
Cord-cutters are probably going to like this new deal between the NFL and Verizon

Savage left the game before returning after just one series

Quinton Jefferson explains why things got ugly in Jacksonville
The Eagles lose their franchise quarterback with the playoffs just weeks away

The Packers cornerback held Gordon to one catch on Sunday

Colin Kaepernick, Josh Johnson and Matt McGloin are among the bigger names available