Saints' Jimmy Graham 'not too keen' on being franchise tagged
New Orleans Saints tight end Jimmy Graham does not want the franchise tag, and he's being vocal about it.
by

Eye on Football staff

• 1 min read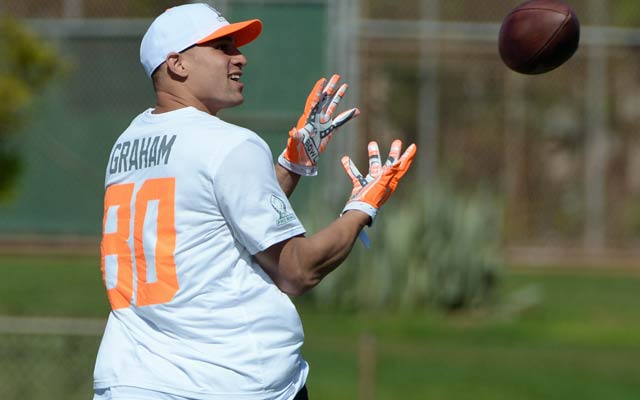 Jimmy Graham is the Saints' best weapon on offense. He's also heading towards free agency.
New Orleans GM Mickey Loomis said the team would use a franchise tag on the explosive tight end if the two sides don't agree to a long-term deal.
For his part, Graham doesn't seem enthused about the idea.
"I'm not too keen on the franchise tag," Graham said at Pro Bowl practice in Hawaii. "That would be really unfortunate, but that's really all I have to say about that. That's real unfortunate. If that happens, it doesn't really matter what I prefer."
Graham played just one-third of his snaps at the tight end position, so his side will argue he should be tagged as a wide receiver. Loomis and the Saints will maintain he should be tagged at the position for which he was drafted. The salary last year for receivers who were franchise tagged was $4 million more than tight ends.
Since being drafted out of Miami in 2010, Graham has 3,863 yards receiving and 41 touchdowns.
Super Bowl tattoos are never a good idea until your team has actually won the Super Bowl

A couple of dogs emerge victorious in the Conference Championship round

Our computer model simulated the AFC and NFC title games 10,000 times with surprising resu...
If the past 18 weeks are any indication, Tom Brady could be in trouble Sunday

The Patriots quarterback has been listed as questionable for Sunday's AFC Championship

It appears the Raiders didn't break any rules during their hiring of Jon Gruden