Saints' Mark Ingram could be next running back to be traded
In the wake of the Trent Richardson deal, fellow former Alabama star Mark Ingram could be the next high-profile running back to be traded.
• 2 min read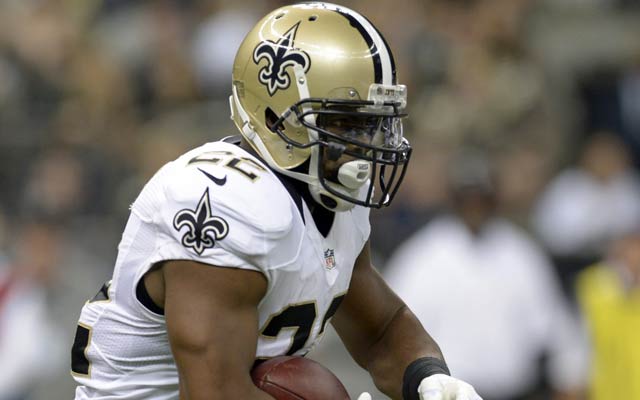 Saints running back Mark Ingram, selected at the bottom of the first round by New Orleans in 2011, has not been featured by the team early this season and could be another prominent recent draft pick to seek a change of scenery before the Week 8 trade deadline.
The Colts made waves last week by acquiring Trent Richardson, like Ingram a former Alabama star, for a first-round pick (Richardson was selected third overall in 2012). While Richardson wasn't seeking a deal, league sources believe Ingram could do so in the coming weeks, with his role still nebulous in a crowded Saints backfield. 
Ingram is a power back, who in college got better with more carries as he fed off the workload, but he hasn't seemed a fit in New Orleans, where Pierre Thomas remains a trusted veteran, Darren Sproles is one of the best third-down backs in the NFL, and they are currently carrying five backs on their roster.
Ingram has just one year beyond 2013 left on his rookie contract -- he is set to make $1.4 million in 2014 -- and in a climate that has changed recently given the Richardson deal and the Chiefs and 49ers swapping struggling recent first-round picks A.J. Jenkins and Jonathan Baldwin in the preseason, several general managers I talked to this week believe there will be much more of these types of deals to come. With the coaching carousel always spinning, and some coaches lasting only a year or two, young players don't always fit the new scheme and can fall out of favor quickly. But they have strong recent college film displaying their potential and under this new CBA, they come very, very cheap.
Teams are no longer burdened with trying to re-do bulky contracts, convert huge base salaries or have a massive accelerated cap proration preventing them from moving contracts on second- and third-year players. With that in mind, some expect more action than usual around the deadline this year, with players like Ingram perhaps prime candidates to be moved. Detroit, with a loaded backfield, has already received calls on recent second-round pick Mikel Leshoure (though league sources said they are very hesitant to deal him).
Quarterback Josh Freeman, a first-round pick in 2009, would welcome a trade and that situation is likely to escalate ahead of the deadline. The Patriots signed Steelers restricted free agent Emmanuel Sanders to an offer sheet in the offseason, and with New England desperate for pass catchers and the Steelers potentially falling off in the AFC this season and Sanders a candidate to leave as a free agent anyway, there is potential for a deal there as well. Sanders was a third-round pick in 2010.
The NFL trade deadline is October 29 at 4 p.m. ET. 
CBS All Access allows viewers to stream every NFL game on CBS in their local market

CBS All Access allows viewers to stream every NFL game on CBS in their local market

CBS All Access allows viewers to stream every NFL game on CBS game in their local market
This should be a galvanizing moment for an NFL process that's just not good enough

CBS All Access allows viewers to stream every NFL game on CBS game in their local market

CBS All Access allows viewers to stream every NFL game on CBS game in their local market