Saints should not be discounted, despite loss to Falcons
Despite the loss Thursday night, don't count out the Saints for the playoffs.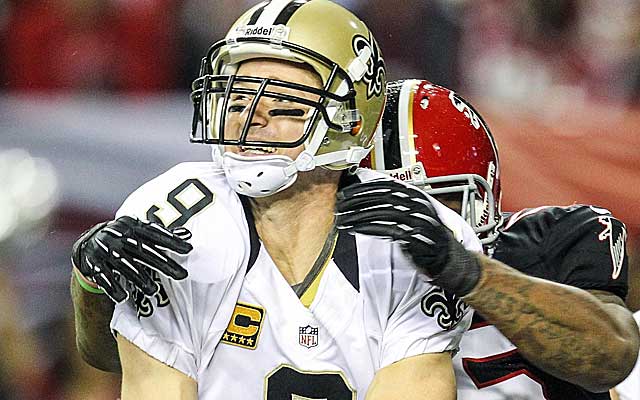 Drew Brees threw five interceptions against the Falcons on Thursday night. (US Presswire)
The Saints lost on Thursday night and it seems like everyone wants to close the book on the 2012 season. Last week the Saints lost but so did the Seahawks, Bucs, Packers and Vikings. New Orleans didn't lose any ground to those teams for a wild-card spot. This week the Seahawks travel to Chicago, the Bucs travel to Denver, and the Vikings and Packers play each other.
The Saints aren't dead just yet, especially if the teams ahead of them lose this weekend. It happened last week and it could happen again. I know the Saints don't feel like it is over but they need some help this weekend.
TIME TO FIX THE ROAD PROBLEM
The Cleveland Browns are competitive every week and there is some real optimism about the future of this very young team that has no quit in them. The road has not been friendly to the Browns, who are staring at 11 straight road loses dating back to Oct. 16, 2011 when they lost to the Oakland Raiders 24-17. Eight of their 11 straight road loses are by a touchdown or less. In the five road loses this year Cleveland's offense has averaged 361 yards a game.
The Raiders struggle on defense and have been giving up 182 yards rushing a game over the last four weeks. It's time for Trent Richardson to carry the Browns to a road win and show new owner Jimmy Haslim that Pat Shurmur has this team headed in the right direction.
CAN ROOKIES KEEP THEIR TEAMS IN THE RACE?
This has been a fantastic year for rookie quarterbacks and there's little doubt they will combine for more than 30 wins as they sit as a group with a 26-30 record. The better they do the more pressure is being applied, especially for the young QBs still in the playoff hunt.
A win this week for Russell Wilson (Seattle), Robert Griffin III (Washington) and Andrew Luck (Indianapolis) is a tall order but necessary to stay in the playoff hunt. Can't wait to see how they respond to the mounting pressure.
I thought it was impressive last year when rookie Andy Dalton led the Bengals to the playoffs. Imagine if three rookie quarterbacks make the playoffs!
TIME FOR A 20+ DAY
C.J. Spiller has played 39 games as a Buffalo Bill and he has one game with 20-plus carries. He has 27 games with 10 or fewer carries. It is time for the Bills to get a full workload out of the talented running back.
Adrian Peterson has 43 games with more than 20 carries and the Vikings have a 28-15 record when AP gets that kind of workload. Spiller is averaging 6.7 yards a carry and I sure would like to see what he could do against a Jaguars run defense that has given up 14 rushing touchdowns and 4.2 yards per carry.
COULD TAKE A BEATING THIS WEEKEND
Last week quarterbacks were sacked 80 times and hit another 150 times. Chad Henne took a beating, sacked seven times and hit another 12 times. He heads to Buffalo hoping to hold onto the starting QB job thru 2013.
The Bills' pass rush is picking up some steam and could make his life miserable.
The real target in the QB pass rush wars is Aaron Rodgers in Green Bay. Rodgers has been sacked a league-worst 37 times and when you combine sacks, hits and tackles he has  been involved in physical contacts 138 times this season. The Vikings are in town this week and that means Jared Allen. He has 12 sacks in seven games against the Packers. In the last seven games against the Packers the Vikings have 28 sacks, or one sack every 10 pass attempts.
Rodgers is going to have to find a way to protect himself and get rid of the ball if he wants to be upright at the end of this game.
Siemian said he knew the injury was serious as soon as it happened

After an injury to Trevor Siemian, Brock Osweiler entered the game and helped the Broncos to...

The 32-year-old running back is done for the year
Brandon Williams was involved in a scary situation in the first half against Denver

The Broncos are turning back to Osweiler after an injury to Siemian

The Cowboys legend admits he's not on 'great' terms with the Cowboys suspended running bac...