San Diego Chargers 2014 offseason preview
With the 2013 season officially in the books the Eye on Football staff is looking ahead to the offseason for all 32 NFL teams. Next up: The San Diego Chargers.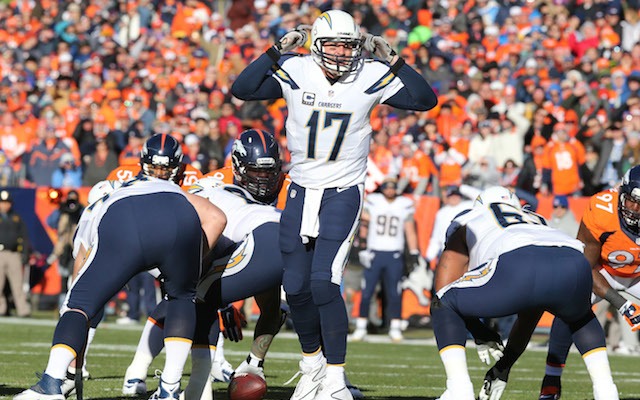 With the 2013 season officially in the books the Eye on Football staff is looking ahead to the offseason for all 32 NFL teams. Next up: The San Diego Chargers . 
The Chargers probably have a bad taste in their mouths from the way 2013 ended -- no one wants to lose to their division rival in the playoffs -- but bad tastes go away. Eventually San Diego will consider the season a success, if it doesn't already.
Dumping Norv Turner and hiring Mike McCoy turned out to be the best offseason move San Diego made in 2013. McCoy brought in Ken Whisenhunt to run the Chargers offense, and with Whisenhunt calling the shots, San Diego jumped from 31st in total offense in 2012 to fifth in total offense in 2013.
Whisenhunt won't be around in 2014, but Philip Rivers will be and that's all the Chargers offense needs to be successful. Well, the offense also needs a few receivers, linemen who can block and a running back, but you get the point, the offense doesn't run without Rivers.
After closing out the 2013 regular season with wins in five of their final six games, the Chargers should feel good heading into to 2014. 
What went right
In the last four weeks of the season, almost everything went right for the Chargers. After a Week 13 home loss to the Bengals, San Diego caught fire, and that was thanks in large part to Philip Rivers. He threw nine touchdown passes and only two interceptions as the Chargers finished the season on a four-game winning streak that vaulted them into what might be the most improbable playoff berth ever clinched in NFL history.
Let me just give you a brief refresher on how wild things got in Week 17: Chiefs kicker Ryan Succop missed a 41-yard field at the end of regulation against the Chargers that would've sent the Steelers to the playoffs if he had made it. This came after an illegal alignment wasn't called and before the Chargers caught a break in overtime when a Chiefs touchdown was called back. We're not even to the crazy part yet; that would be when a jailed Steelers fan filed an injunction to delay the playoffs because he didn't think San Diego should have made it. 
Another thing that went right for the Chargers was their draft. First-round pick D.J. Fluker had a solid first season in San Diego, starting 15 games and playing both right and left tackle. Then there was Keenan Allen , who might go down as the steal of the 2013 NFL Draft. The third-round pick set a team rookie-record for receiving yards and was the first NFL rookie to cross the 1,000-yard receiving mark since A.J. Green in 2011. 
Here's Fluker destroying Oakland's Sio Moore. 
Here's Allen showing off his high-jump against the Broncos.
What went wrong
The Chargers biggest problem in 2013 was that they lost to teams they probably should've beaten. We're talking inexplicable losses. Just look at San Diego's schedule. The Chargers lost to Washington, Oakland and Houston last season, three teams that combined to go 6-38 against every other team in the NFL.
The secondary was a season-long weakness for the Chargers. There was one play in 2013 that sums up San Diego's secondary perfectly; it came in the divisional round playoffs against the Broncos. You might know the one I'm talking about. With the Chargers trailing Denver 24-17 late in the fourth quarter, all San Diego had to do to get the ball back was stop the Broncos from converting a third-and-17. That didn't happen though. Peyton Manning hit Julius Thomas for a 21-yard gain to ice the game. But wait, that didn't actually ice the game. The Chargers had another chance to stop Denver on a third-and-6, but Manning and Thomas connected again for a first down that ended the Chargers season. 
MVP 
Philip Rivers. Maybe it was new coach Mike McCoy, maybe it was the BOLO ties, who knows, but Rivers looked rejuvenated in 2013. The most impressive part of Rivers' season was probably the accuracy he displayed all year. Rivers completed a career-high 69.5 percent of his passes, well above his career average of 64.4 percent and his previous career-high of 65.3 percent. Rivers resurgence was rewarded by the media as the Chargers quarterback took home the NFL's Comeback Player of the Year award.  
LVP
Derek Cox . Rivers probably could have won this award in 2012, but Cox wins it by a mile in 2013, and if Chargers fans got to vote on the award, he'd probably win it unanimously. Cox was one of San Diego's biggest offseason signings in 2013, but he didn't play like it. He signed a four-year, $20 million deal in March that included $10.25 million in guaranteed money, but he was so bad, he might not be around to see Year 2 of the deal. Cox was benched midway through 2013, and with his $4.25 million 2014 salary, it's hard to imagine the Chargers bringing him back. 
What's happened since the season ended
If you thought the Chargers offense looked good in 2013, the man you want to credit is Ken Whisenhunt. That's who Philip Rivers credits. "This is Ken Whisenhunt's offense," Rivers said. "He's called every snap, every play. He's run every meeting."
Someone else is going to have to call every snap, every play and run every meeting in 2014 because Whisenhunt has moved on to Tennessee, where he was hired as head coach in January. The Chargers replaced Whisenhunt with Frank Reich, a former NFL quarterback who's never been an offensive coordinator before.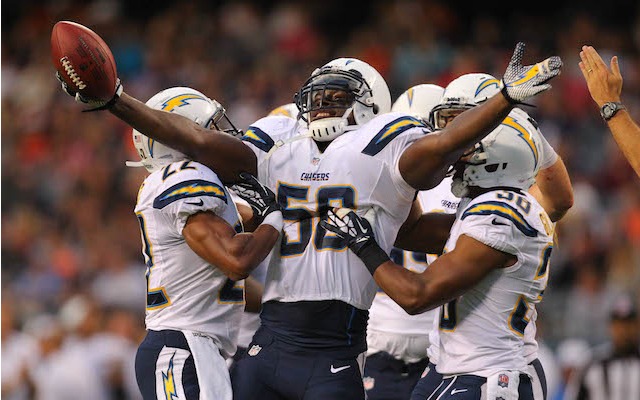 Impending free agents
The Chargers have a total of 12 players set to become unrestricted free agents. The most important one and the guy the Chargers can't let leave is middle linebacker Donald Butler . Despite missing three games in 2013, Butler still managed to finish second on the team in tackles. The best case scenario for San Diego would be signing Butler to a long-term deal. If the Chargers were to hit Butler with the franchise tag, they'd owe him about $10 million in 2014. That number's way too high for a team that's already going to be right up against the salary cap when free agency begins.
Re-signing either left guard Chad Rinehart or right guard Rich Ohrnberger would also probably be a good idea. The cash-strapped Chargers will have a tough time filling any offensive line needs in free agency, so keeping their own guys seems like it would make the most sense. 
Here's the complete list of the Chargers unrestricted free agents: WR Seyi Ajirotutu , WR Danario Alexander, RB Ronnie Brown , LB Donald Butler, WR  Lavelle Hawkins , CB Richard Marshall , G Rich Ohrnberger, G Chad Rinehart, S Darrell Stuckey , DT Cam Thomas , LB Reggie Walker , QB Charlie Whitehurst .
Free-agency game plan
The Chargers are one team that definitely won't be making a splash in free agency. They probably won't even make a small wave. Don't look for San Diego to sign any big names this offseason; the Chargers don't have a lot of money to spend and the money they do spend will most likely go toward keeping the unrestricted free agents listed above. If the Chargers do sign someone, look for them to add an outside linebacker or offensive guard. 
Draft game plan
If the Chargers had one gaping hole in 2013, it was their pass defense. San Diego finished 29th overall in the league, giving up almost 260 yards per game. What I'm trying to say here is that the Chargers draft plan is almost definitely going to involve a cornerback. San Diego could also use a pass-rusher, an outside linebacker and an offensive guard if Ohrnberger and Rinehart leave in free agency. 
In CBSSports.com's four mock drafts, our four experts have the Chargers going three different routes with the 25th overall pick. CBSSports.com senior NFL columnist Pete Prisco and NFLDraftScout.com's Rob Rang have the Chargers taking a cornerback (Florida's Marcus Roberson and Michigan State's Darqueze Dennard). Dane Brugler has San Diego selecting an offensive lineman (Notre Dame's Zack Martin) while Pat Kirwan has the Chargers going with an outside linebacker (BYU's Kyle Van Noy). 
Ridiculously premature prediction for 2014
Six of the Chargers' seven losses in 2013 came by one score or less, which means this team was only a few plays away from going 12-4 or even 13-3. The question is: Can the Chargers make those plays in 2014? If San Diego can find a pass rusher and someone who can play cornerback, the Chargers should be in a position to compete for the AFC West title. However, the schedule won't be doing San Diego any favors in 2014; the Chargers have to play the NFC West, which includes games against the 49ers and Seahawks. There's a good chance that the Chargers 2014 season ends just like their 2013. 
Predicted record: 9-7
The NFLPA denied the accusation and fired right back at the league

The Raiders bangwagon continues to take on passengers ahead of the 2017 season

Madden season is almost here again. Here's everything you need to know.
The Rams' No. 1 pick is anything but phased after taking his lumps during a brutal rookie...

Breaux, who emerged as the Saints' No. 1 cornerback during the 2015 season, could miss 4-6...

The No. 1 pick in the draft will have an immediate impact in Cleveland, according to his c...