San Francisco 49ers 2014 offseason preview
With the 2013 season officially in the books, the Eye on Football staff is looking ahead to the offseason for all 32 NFL teams. Next up: The San Francisco 49ers.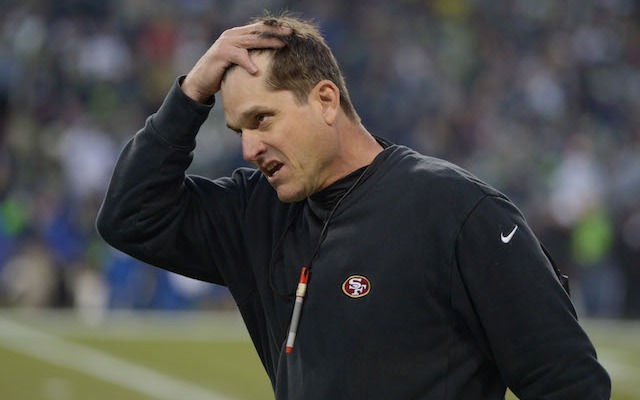 With the 2013 season officially in the books the Eye on Football staff is looking ahead to the offseason for all 32 NFL teams. Next up: The San Francisco 49ers.
If the 49ers have learned one thing so far this offseason, it's 'don't accept phone calls from Cleveland area codes.' That can actually be a lesson for all of us.
The report that the Browns went after 49ers coach Jim Harbaugh surfaced on Feb. 21 and sent San Francisco's offseason sideways. Instead of talking about a possible extension for Colin Kaepernick and who the 49ers should re-sign, all the offseason talk in San Francisco has been about extending Harbaugh's deal and whether or not he'll stick around. 
John Madden might have said it best this week, "It's a lot easier to get a suit than it is to get a coach."
What went right
When you watched the 49ers in 2013, sometimes it was easy to forget that it was Colin Kaepernick's first full season as a starter. It would have been easy for the team and the offense to take a step back last season, but that didn't happen. Kaepernick seemed to be more comfortable as the season went on. In San Francisco's first 10 games, Kaepernick only threw for more than 200 yards twice. Over the 49ers final six games of the regular season, Kaepernick went over 200 yards four times. It wasn't just yards though, Kaepernick looked more comfortable doing everything. The 49ers quarterback threw 11 touchdown passes and eight picks in the first 10 games, while throwing 10 touchdown passes and only one interception over the final six games. Kaepernick looks like a quarterback that could be a lot better in 2014. 
What went wrong
The biggest thing that went wrong in 2013 for the 49ers was their inability to win in Seattle. The 49ers went 0-2 and if either game had gone the other way, I'd probably be writing that nothing went wrong because the 49ers won the Super Bowl. If San Francisco would have won in Seattle in Week 2, then the 49ers would have won the division and wouldn't have had to travel to Seattle in the playoffs, but they did lose in Week 2 and they did have to travel to Seattle in the playoffs. Then of course, if the 49ers would have won in Seattle in the NFC title game, they would have been heading for their second straight Super Bowl. There were other problems in 2013, problems that can probably be fixed -- like more receiving depth -- but if the 49ers don't figure out this Seattle thing soon, you may not see San Francisco in a Super Bowl anytime in the near future. 
MVP 
Anquan Boldin. Last February, Boldin wasn't even on the team, he was in Baltimore telling the Ravens he wanted nothing to do with taking a pay cut. In 2013, Boldin proved to be worth every penny of the $6 million that Baltimore didn't want to pay him. Boldin was Colin Kaepernick's favorite target and he came up big when the 49ers needed him most, like in the divisional round of the playoffs when he caught eight passes for 136 yards in the 49ers 23-10 win over Carolina.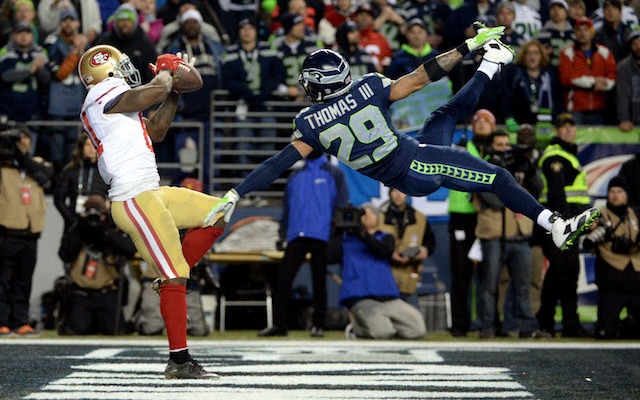 LVP
Any other receiver. By about Week 11, Colin Kaepernick was probably starting to wonder if there were any other receivers on the team that he could throw to besides Boldin. A.J. Jenkins was traded to Kansas City, Kyle Williams was cut, Mario Manningham only played in six games because of injuries. Then there was Quinton Patton, Kassim Osgood and Jon Baldwin, who combined to catch seven passes for 79 yards.  
What has happened since the season ended
Depending on who you talk to, the 49ers may or may not have almost traded their coach to Cleveland. If you believe Jed York, then the story is simple: Cleveland called to inquire about Jim Harbaugh's availability and York said he's not available.
If you believe the Browns and ProFootballTalk, then the story is slightly more complicated. Cleveland owner Jimmy Haslam said his team had an 'opportunity' to acquire Harbaugh, but it 'didn't materialize.' PFT says a deal was in place that involved multiple draft picks, but Harbaugh eventually turned it down because he ultimately decided San Francisco was a better place for him. 
The worst part of this for the 49ers is that instead of everyone guessing that Harbaugh doesn't get along with the front office, now they know that Harbaugh doesn't get along with the front office.
Or maybe all of this trade talk was just 'gobble, gobble, gobble turkey from jive turkey gobblers.' 
Oh yea, and Eric Mangini got moved from offensive consultant to tight ends coach. Mangini was the coach of the Browns for two years, maybe he got the promotion for talking Harbaugh out of moving to Cleveland. 
Impending free agents
The trade bringing Anquan Boldin to San Francisco could go down as the best trade involving a sixth-round pick in NFL history. For that one sixth-round pick, the 49ers got Boldin in return, who led the team in receptions and receiving yards in 2013. Boldin is set to be a free agent and if the 49ers are smart, they'll treat him slightly better than the Ravens did last offseason. 
Here's the complete list of the 49ers unrestricted free agents: WR Anquan Boldin, CB Tarell Brown, K Phil Dawson, FB Anthony Dixon, C Jonathan Goodwin, WR Mario Manningham, QB Colt McCoy, WR Kassim Osgood, S Donte Whitner, CB Eric Wright.
Free-agency game plan
Jim Harbaugh and Trent Baalke don't agree on much, but they do agree on the 49ers free agency game plan this offseason and that game plan is to make sure San Francisco signs it own players first. Re-signing Boldin needs to be priority one for the 49ers and by all accounts, it has been. Priority two should be making sure that priority one happens. Boldin and the 49ers are close to a deal, meaning he should be locked up and under contract well before free agency begins on March 11. 
With the salary cap now expected to be north of $132, the 49ers could have almost $14 million in cap room heading into free agency. That should be enough to get Donte Whitner and possibly Tarell Brown re-signed, then if there's any money leftover, they can give it to kicker Phil Dawson. 
Draft game plan
With the 30th overall pick, the 49ers need a big-time wide receiver in the draft and that receiver should probably be better than A.J. Jenkins. You know him better as the guy the 49ers drafted the last time they had the 30th pick. That pick came in 2012 and Jenkins struggled so much that he's not even on the team anymore. 
San Francisco has 11 picks going into the draft -- a number that should jump to 12 after compensatory picks are handed out -- which means they have the ammo to move up. It wouldn't be surprising to see the 49ers move up at all either, they did it last year when they made the jump from No. 31 to No. 18 to grab Eric Reid after a trade with the Cowboys.  
So who will the 49ers take in the first round? CBSSports.com senior NFL columnist Pete Prisco has San Francisco going with Northern Illinois safety Jimmie Ward. CBS Sports NFL Insider Pat Kirwan thinks the 49ers will grab Texas Christian cornerback Jason Verrett in the first round. NFLDraftScout.com's Dane Brugler and Rob Rang have the 49ers taking Virginia Tech cornerback Kyle Fuller and Oregon State wide receiver Brandin Cooks in their mock drafts.
Ridiculously premature prediction for 2014
After three straight seasons of at least making it to the NFC Championship game, there's no reason to think San Francisco will take a step back in 2014. With a healthy Michael Crabtree and a more experienced Colin Kaepernick, the 49ers offense should be more potent than it has been over the past two seasons.
Defensively, the 49ers have ranked in the top-five in each of the three seasons since Harbaugh's arrival in 2011 and there's no reason to think the team will take a step back in 2014. San Francisco might not win the division in next season, but anything less than the playoffs would have to be a disappointment. 
Tom Brady used his injured hand to post a must-see hype video to Instagram

Robert Kraft has plenty of things to say before Sunday's AFC title game

Here we go again, the beef between McCoy and Kelly is getting going again
Follow along with live updates on the AFC Championship Game between the Jaguars and Patrio...

The Patriots quarterback fired up FaceTime this week after he injured his hand

Vegas legend Micah Roberts has his finger on the pulse of Doug Pederson's team