Santonio Holmes' future still unclear
As Jets receiver Santonio Holmes continues to rehab his foot injury, he still doesn't know when he'll return to the field.
• 2 min read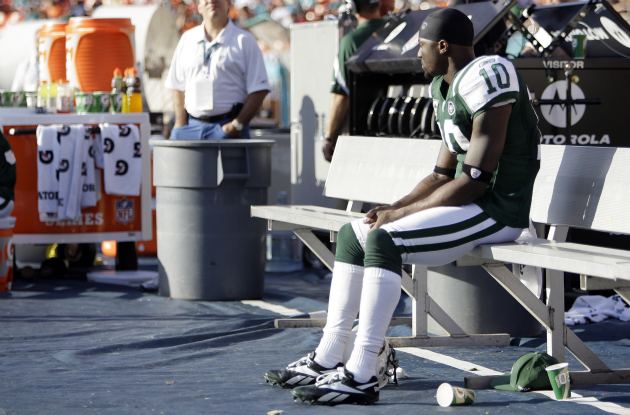 One month and two days ago, we discussed Jets receiver Santonio Holmes and how he didn't know when he'd be ready to finally step on the field after a 2012 season and an offseason filled with foot problems, foot surgery and foot rehab.
In fact, there's been speculation that Holmes deliberately is taking his time while recovering so he a) is fully healthy in time to begin playing in the final year of his contract and b) doesn't have to go through the rigors of training camp.
Approximately 32 days later, Holmes' future isn't any clearer.
"I think it is something I have to learn to tolerate at this point, because the injury itself is going to be a tough one to overcome," Holmes said via the NY Daily News.
Right, that's kind of the nature of a Lisfranc injury. But now are we getting to a point where the season -- and not just a portion of it -- is in jeopardy?
"Up until this point I don't know. I don't know," he said. "I don't know how to answer that question as far as missing the whole season. I have 16 weeks of football. At any point I could be ready to play. If not, I would be willing to accept it."
Holmes -- not necessarily known as the world's best teammate (the above picture was taken after the coaching staff benched him in the final game of the 2011 season because he was arguing with teammates and sulking on the sideline) -- ran a couple of routes on the field before the team's second preseason game, but he didn't seem so optimistic about it Wednesday.
But is Holmes milking the injury?
As ESPN New York wrote earlier this month: "With [Holmes], you never know. The Jets are saying all the right things about Holmes' dedication to rehab, but this will become a vexing issue for the team. The other day, he looked like an old man as he walked across the practice field, seemingly playing to the crowd as fans implored him to get well soon."
Coach Rex Ryan needs Holmes on the field, because he's clearly the team's best option at receiver and because Mark Sanchez (or, ahem, Geno Smith) could use all the experienced pass-catchers he can get. Ryan has even said that Holmes is in great shape conditioning-wise even though he can't run routes.
That might not be 100 percent accurate, though.
"Looks can be deceiving," Holmes said. "I say that with a smile, because if I actually felt as good as I looked, I'd definitely be at 100 percent."
And for now, it seems clear that Holmes is NOT at 100 percent and doesn't know when he'll get there.


Follow Josh Katzowitz on Google+
The former Buccaneers kicker did not have things start well for him in Chicago

Bears special teams showed up in a big way against Arizona

Beast Mode got loose with Oakland and looked pretty impressive in the early going
Beast Mode was one of several players to sit during the Raiders-Rams game

The cleaning staff in Houston missed a couple of things while cleaning up after Super Bowl...

Marvin Jones had some serious fun in the end zone after scoring against the Jets