Santonio Holmes: Panthers' secondary is 'their weakest link'
Jets wideout Santonio Holmes called the Panthers' secondary Carolina's 'weakest link.' He's not wrong but that doesn't mean he should be saying it.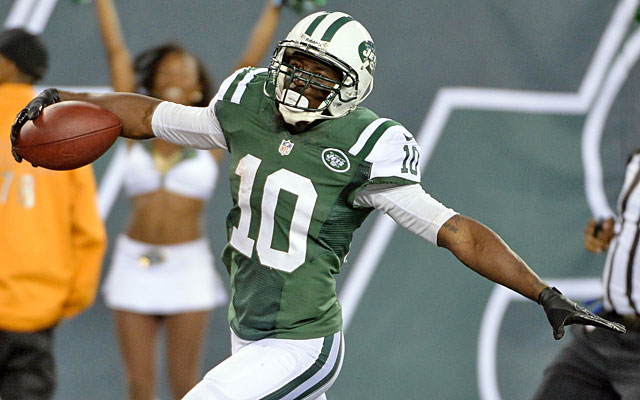 The Panthers' secondary doesn't have much to brag about after getting carved up by Drew Brees on national television in Week 14. But that doesn't mean the Jets' receivers (of all people, right?) should be running their mouths and giving Carolina's defensive backs free bulletin-board material.
Don't worry, Santonio Holmes did it anyway, in the most "no offense BUT" manner of all time.
"We do know not to call these guys out, but their secondary is probably their weakest link on their defense," Holmes said. "Their front seven, they're guys that are really going to get after the ball, really great pass rushers. We know how physical these guys are. They hustle, on and off the field, sideline to sideline."
Holmes is right if you want to be realistic about it. Greg Hardy, Charles Johnson and the defensive line -- one of the best lines in the NFL -- drive this defense along with superstar linebacker Luke Kuechly and Comeback GOAT Thomas Davis.
The secondary is comprised of castoffs and late draft picks. It's an OK secondary but it succeeds because offenses struggle to generate a lot of time for quarterbacks under the impressive Panthers pass rush.
They are the weak link when it comes to the Panthers' defense. But that doesn't mean Holmes should be pointing it out before this weekend's game like the Jets -- 30th in passing yards per game! -- are going to unleash Geno Smith, Holmes and Stephen Hill on them.
If New York struggles in the passing game, and I suspect they will, keep an eye on Mike Mitchell (aka "Mike the Mouth") and what he has to tell Holmes during and after the game.
Go ahead and buy your championship gear ahead of time, Eagles fans

Philadelphia fans might want to take it down a notch and not poke the bear

It was a valiant effort from the city, but fans would not be deterred
It was utter and total chaos in Philadelphia after the Eagles beat the Vikings

Eagles fans had the ultimate burn for Vikings fans after a dominating win in the NFC title...

Lane Johnson, one of the original dogs, is gunning after the Patriots quarterback