Seahawks a model for the rest of the NFL? Don't get carried away
It's easy to say the Super Bowl-winning Seahawks have found the new model for success, but teams (and fans) need to avoid knee-jerk reactions.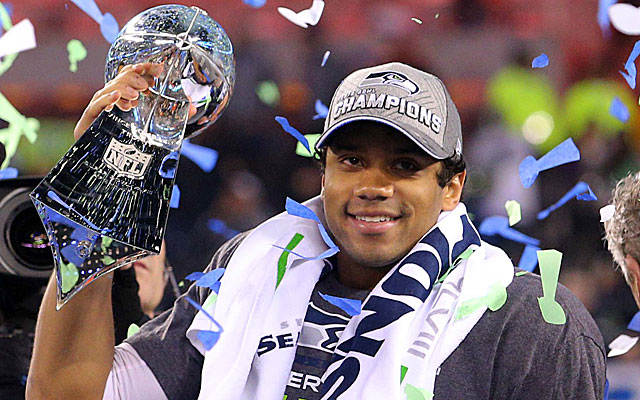 The Super Bowl and the victory parade in Seattle are over and it's time to look at the game and gather what lessons can be learned by the clubs studying these teams.
Every year the Super Bowl presents challenges to other clubs that are interested in studying the journey the teams took to get to the big game. I have listened to hundreds of callers and taken many emails in the past three days from fans from other teams who want what they just witnessed in Super Bowl XLVIII.
In typical fashion many have rushed to judgment about how a football team has to be built going forward and some are ready to throw away the time-tested team building and jump on the "new way" perceived by the Seattle model. Fans (and, of course, teams) need to avoid knee-jerk reactions.
Pay a QB franchise money
My phone and emails were flooded since the game that no one should pay a QB big money anymore because Russell Wilson won the Super Bowl with a rookie salary. People concluded that teams such as the Ravens, Falcons, Bears and Cowboys will never win it all because their quarterbacks get paid too much. Believe me the Seahawks would pay Wilson if they could but the CBA doesn't permit it for another year. The Seahawks aren't going to let Wilson walk when it comes time to pay him.
Go get 6-foot-2 cornerbacks
After watching the "Legion of Boom" many have concluded they need big corners like Richard Sherman. Good luck finding them. Phil Savage, director of the Senior Bowl, put as many tall safeties as he could in the cornerback group just to beef up the potential pool of tall corners. There are more than 50 wide receivers in the 2014 draft class over 6-1 and there are fewer than 20 corners that are over 6-1. Getting tall corners who can't flip their hips, close on a receiver or run isn't going to solve the problem. No doubt there will be teams that acquire tall corners but they will not be even close to Sherman.
Don't worry about penalties
Seattle won the Super Bowl and committed 10 penalties and Seattle also led the NFL in penalties with 145. The natural conclusion by many fans is its OK to get penalties called against your team as long as you are intimidating the opponent. One email sent to me said, "We have too many boy scouts and not enough bad boys. We are soft and our coaches are too concerned about doing things the right way." I can assure you Pete Carroll doesn't like all the penalties and doesn't consider getting penalties called against his team a key to winning.
Sign as many Seahawks players as you can
Seahawks players are going to hit free agency or be waived for salary-cap reasons, and there is a school of thought that they are the perfect guys to put on your favorite team. All I can say on this issue is be very careful about signing Seahawks players. I chased Pittsburgh Steelers players back in the 1990s when they had a great team led by Bill Cowher. None of them played up to their former production when out of a Steelers uniform. Unless your team has the exact same system and Pete Carroll is coming with them it will be a disappointment.
The drop-back pocket passer is dead
Peyton Manning had a bad day but he didn't give up 135 yards on the ground at 4.7 per carry or let Russell Wilson escape whenever he wanted to or be the offensive line that couldn't handle a three-man rush. The drop-back passer isn't dead and the new-wave QB with escape skills isn't the only way to go. One Super Bowl victory does not change the way football is played. As one Seahawks coach said to me after the game, "We were lucky Von Miller and [Elvis] Dumervil weren't on the field tonight."
Don't change your coaching style
I've known Pete Carroll for 25 years and he hasn't changed in that time. It is his natural style to be friendly, open and appear easygoing to the public. It's his style, but now all I hear is strict coaches with an opposite style can't win because they don't relate to the players like Carroll does. Slight changes in style like Tom Coughlin had a few years ago is effective but the notion that a coach can emulate Carroll's style isn't realistic.
Hire an experienced head coach
I often hear that "retread" coaches are a mistake and that teams need fresh blood with fresh ideas. Teams need X player coaches who are effective because they played the game. Did you notice the background of the two head coaches in the Super Bowl? Fox and Carroll were fired from previous jobs in the NFL, both from the defensive side of the ball and both old by coaching standards. Experience counts in a league that wants a winner in three years.
There are, however, some tried-and-true maxims:
Develop quality depth on defense
Do you know why the Seahawks could play the Broncos' offense so well? They have quality depth in the defensive line and even greater depth in the secondary. Simply put they could match up with all the Broncos' receiving weapons and were hardly affected by the no-huddle offense because they had enough pass rushers to stay fresh. Does your team have five corners that can play and at least seven men that can rush the passer?
Do what you do and compete at practice
Since Carroll and his GM John Schneider got to Seattle they haven't stopped turning over the roster until they found the right players and they were never afraid to say they made a mistake and moved on. There are no politics about high-round draft picks playing because of their entry point. They weed out the roster with serious competition at practice and players make or break their careers on the practice field.
Be physical and don't use excuses
It's easy to say NFL rules favor the offense and it's a good day if a defense can hold a team under 24 points. I've heard defensive coaches say they lowered their standards for what a good defense is anymore. Seattle doesn't use the new rules as an excuse to play mediocre defense. The Seahawks elect to do less but do it fast and with a strong physical style. Some call them a throwback but really they practice tackling every week and they will not play guys who don't tackle. End result? The Seahawks were the No. 1 defense in preventing yards after the catch and the Broncos came into the Super Bowl with the most YAC per game at 172 yards. It wasn't even close at the end of the Super Bowl. Can you remember watching one Seahawks defender throw his body at a tackle instead of wrapping up and punishing the ball carrier?
Find players in cheap places
If you know what you are looking for there are bargains in the NFL. Pete Carroll made it clear to John Schneider what he wants at every position and it's no surprise he found three of his defensive back starters in Rounds 5 and 6.  Granted, nine of the 22 starters are from the first three rounds but that leaves 13 starters from later rounds, college free agents, street free agents, unrestricted free agents and trades. How many Super Bowl championship teams had 10 players that were either seventh-round picks or college free agents that no one believed were draftable? If there is an even playing field when the players arrive at camp these type of guys can make a team.
Finally, a few other thoughts worth considering:
Hire Seahawks assistant coaches
There's no guarantee a Seahawks assistant coach can duplicate the Seattle experience with another franchise, but the core principles of how to run a franchise can't be denied mostly because Pete Carroll shares his philosophy with his staff. There are no secrets and consequently guys such as defensive coordinator Dan Quinn and offensive coordinator Darrell Bevel do have a chance to be good head coaches. Can you believe not one owner thought it was worth the wait until the SB was over?
Denver only needs a few tweaks to win it all
Denver was the best the AFC had to offer this year and no other team was going to do any better. The Broncos could be right back in the big game next year after they adjust a few things. John Elway remembers he got his SB wins with a great power zone run game and John Fox brought his Panthers to a SB with a power run game. The Broncos need to expand the run game not to take pressure off Manning but to take pressure off the offensive line. There are too many good defenses in the NFC (Seattle, San Francisco, and Carolina) to think a Super Bowl is attainable without adding to the Broncos' arsenal.
Look at San Francisco for ideas about playing Seattle
Teams will study Seattle's defense closely in the offseason and they should spend as much time on the 49ers' offense. Their power sets with two and three tight ends plus a fullback has to be considered. Richard Sherman and Byron Maxwell are masters of using the sideline as the extra defender when funneling receivers outside but the compact sets where the boundary can't help the corners needs to be explored.
Commit to core special teams players
Did you notice the quality of the Seattle coverage units? The kickoff coverage led by Ricardo Lockette made it close to impossible to get a kickoff past the 20-yard line and their punt coverage was absolutely brilliant. For the entire 19-game season opposing punt returns totaled 82 yards and had zero yards in the playoffs. Seattle made sure there were 5-6 core special teams' players that affected field position all year.
You can't keep everyone
The Seahawks know they will lose players in free agency and because of salary-cap issues but they will not panic. Some players will take a hometown discount to stay, but as Shannon Sharpe said this week, "There are going to be good veterans looking for a Super Bowl ring lining up to play in Seattle." Plus, the late-round drafting history of John Schneider makes letting players go more than tolerable.
Like everything with Luck, there's some good news and some bad news with his latest health...

The top would-be free agent wide receiver is officially off the market

A billionaire owner of the Pittsburgh Steelers is hoping to buy the Carolina Panthers
The crop of free agent offensive linemen just got better

Laurent Duvernay-Tardif might have just made one of the most unique jersey requests in NFL...

The new Raiders coach offered some details on what he wants from Marshawn Lynch