Seahawks camp observations: Pass rushers watch, wait
Observations from Seattle Seahawks camp.
• 3 min read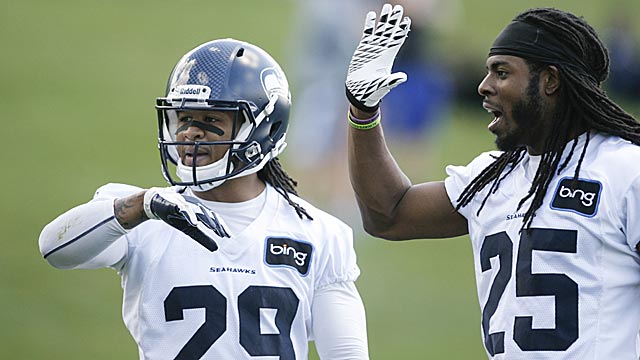 RENTON, Wash -- For as superb as the Seahawks defense is, this sight could not have pleased many in the early stages of training camp.
As the players ran and stretched this morning, there was Cliff Avril, brought in to bolster the pass rush, in sweats and no helmet standing next to Chris Clemons, himself a spectator recovering from ACL surgery. Five yards over, Bruce Irvin, their 2012 first-round pick and pass rushing threat, was actually taking part in the session but doing so knowing he will be suspended the first four games of the season.
The Seahawks feel good about Clemons recovery because he remains ahead of schedule -- the shoddy playing surface at FedEx Field might have caused his injury in the playoffs last season. Avril picked up a hamstring injury early in camp, though the expectation is it won't be long-term. And Irvin is back in October.
Still, it's hardly ideal to have so many spectators in the same position group.
Team officials feel good about the acquisition of O'Brien Schofield, however, who was claimed off waivers from the Cardinals this weekend. He could provide some cover for them in that regard on the edge as an outside linebacker, though he obviously isn't an end in the way Clemons and Avril play the position.
•  Linebacker K.J. Wright is all over the place at training camp, and the third-year player is emerging as a leader of that group.
•  Two recent draft picks are coming off strong offseasons, and are being looked at to solidify their status on the offensive line. Guard James Carpenter, Seattle's first-round pick in 2011, is coming into his own pushing for a tackle spot and the team hopes, staying healthy after multiple knee surgeries.
"He's fallen off the radar a little bit," coach Pete Carroll said, "but he's back, and he's a monster of a guy and we love what he brings. We've had four days and he's made it through every day looking good and feeling good. His knee seems to be totally healed. He's in shape and in the swing of things, and that's a real, real positive for us."
Guard J.R. Sweezy, a seventh-round pick in 2012, is making a push at guard after starting three games as a rookie. "He came out of nowhere to play for us last year, and he's so much further along than this time last year," Carroll said. "He had a very productive offseason."
•  People tend to mock star corner Richard Sherman these days for some of his outlandish statements, and clearly he loves stirring things up. But don't kid yourself. He's not silly in any way when it comes to football. He went to Stanford and has a high football IQ; his retention of information continues to impress this staff. Last year, for instance, he recorded a big sack that led to a touchdown and cemented a win over the Jets. Back in the preseason the Seahawks did one brief session stressing principles in a certain rare, heavy tight-end set, getting the clue for a particular blitz in that formation. The only time it appeared all season was that game against New York, and even though his blitz wasn't called in that defense, he recalled what then coordinator Gus Bradley had told him back at camp, and executed perfectly. He's only getting better is already among the most impactful corners in the game.
•  With tight end Zach Miller another one of the injured players here, rookie tight end Luke Wilson, a fifth-round pick out of Rice, is getting a good run with the top offense, and making the most of that opportunity thus far. His speed shows up immediately and it's not unusual for him to get behind a defensive back in drills. "He's been very impressive," Carroll said.
Chargers coach Anthony Lynn did not provide details on whether or not Henry will play

Panthers owner Jerry Richardson no longer has day-to-day control of the team

Rally cries for 'St. Nick' are echoing across Pennsylvania as Eagles trudge forward without...
The Panthers will be missing their star linebacker for the rest of the regular season

The Cowboys running back now looks like a tank

Former Atlanta sportswriter Larry Hartstein knows the Falcons and locked in a pick for 'Monday...