Seahawks CB Richard Sherman fined $7,875 for NFC title game taunting
The NFL doesn't tolerate taunting and Seahawks cornerback Richard Sherman and his wallet found that out on Friday.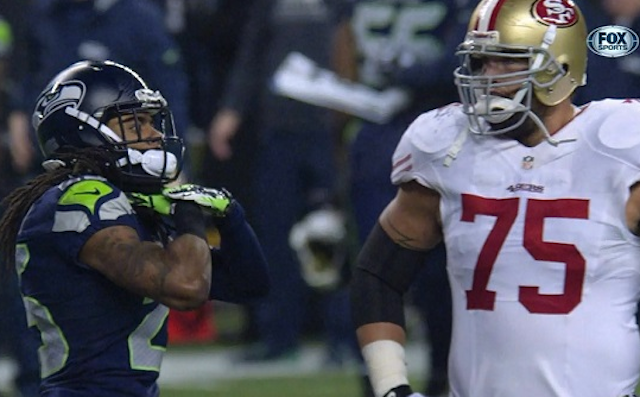 A wild postgame interview won't get you fined in the NFL, but taunting will and Richard Sherman found that out on Friday. The league has fined Sherman $7,875 for unnecessarily taunting his opponent during the NFC Championship Game. 
Other than saying Sherman was taunting his opponent, the NFL didn't specify exactly what the fine was for. Sherman's fine could be for taunting Michael Crabtree after the 49ers' final offensive play of the game or it could be for the choke sign he flashed at Colin Kaepernick after Kaepernick threw an interception that sealed the Seahawks' win -- you can see the choke sign at the top of the page. It's also possible -- and likely -- that Sherman's fine is for both taunts. 
On the 49ers' final offensive play of the game, Sherman tipped a pass intended for Crabtree and it was intercepted by Seattle linebacker Malcolm Smith. Sherman was flagged for taunting after the play was over.  
"I ran over to Crabtree to shake his hand but he ignored me. I patted him, stuck out my hand and said, 'Good game, good game.' That's when he shoved my face, and that's when I went off," Sherman said this week.
Although Crabtree did shove Sherman's face, which you can see in the picture below, Crabtree wasn't fined.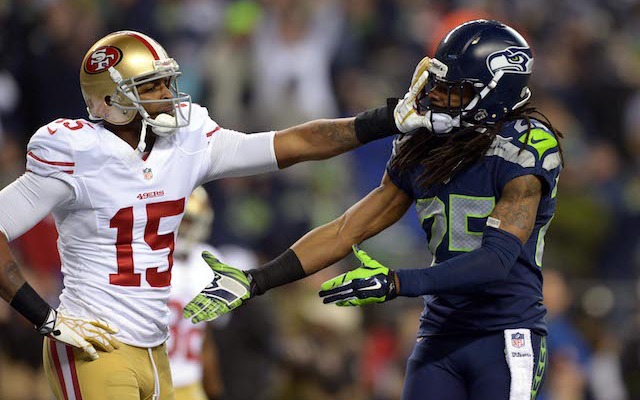 And this is why Tyrod Taylor is now the Bills' starting quarterback again

Here are the picks and props you need to be a winner while watching all the football you can...

Freeney, 37, was impressive in Seattle before getting surprisingly released
The 49ers have a realistic shot at home against a Seahawks club dealing with a myriad of i...

R.J. White has his finger on the pulse of the Packers and made a strong play for 'Sunday Night...