Seahawks CB Walter Thurmond to serve 4-game suspension
Seahawks cornerback Walter Thurmond will be suspended four games for violating the league's drug policy.
• 1 min read
Walter Thurmond, the Seahawks nickel cornerback, will serve a four-game suspension for violating the league's substance abuse policy, CBS Sports' Jason La Canfora confirms. Thurmond will begin serving his suspension next week in order to be ready for the playoffs. NFL.com's Ian Rapaport originally reported the suspension.
Thurmond plays behind Richard Sherman and Brandon Browner, and though he only makes a base salary of $630,000 this season, he's scheduled to be a free agent this offseason. On the season, he's made 31 tackles to go with an interception, a sack and six defended passes.
CBS Sports' Jason La Canfora reported earlier this month that the team likely would lose Browner and Thurmond to free agency.
"Both are coveted by several teams who have the duo sitting atop their free-agent rankings. While overshadowed by guys like Richard Sherman and Earl Thomas on a national level, the duo are well positioned to earn big raises in free agency, with it unlikely the Seahawks will be able to get them extended before then," La Canfora wrote. "Browner has been a standout since emerging from the CFL, and Thurmond has battled injury issues, but when healthy has performed at a very high level and is well regarded by other organizations."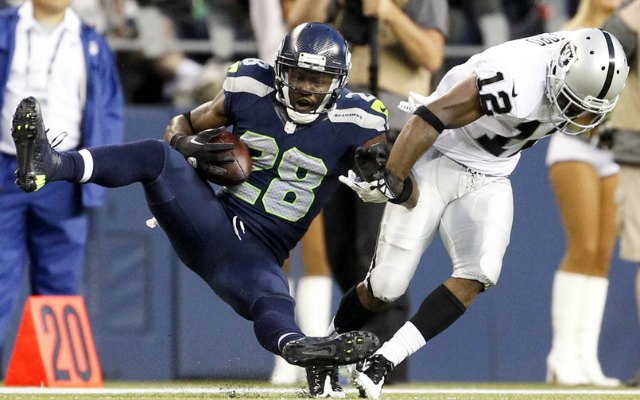 Last season, Browner and Sherman were suspended four games for using Adderall, but Sherman's punishment was overturned on appeal. Since 2011, five Seahawks have been suspended for violating the substance abuse policy.
No word on what 49ers coach Jim Harbaugh thinks of all this.
Follow Josh Katzowitz on Google+
It's unclear when Timmons, a free-agent signing in the offseason, will make his Dolphins d...

The 'Peanut Punch' is coming to the FBI

Wondering which NFL team are going to win in Week 3? You came to the right place
Carl Johnson, the NFL's former VP of officiating, is facing domestic violence allegations in...

The Falcons look like a team capable of repeating as NFC champions and returning to the Super...

After two consecutive weeks of ineptitude on offense, Giants fans are already sick of Ben...