Seahawks coach Pete Carroll is 3-1 vs. Broncos QB Peyton Manning
Seahawks coach Pete Carroll faced Peyton Manning four times while Carroll was the coach of the New England Patriots.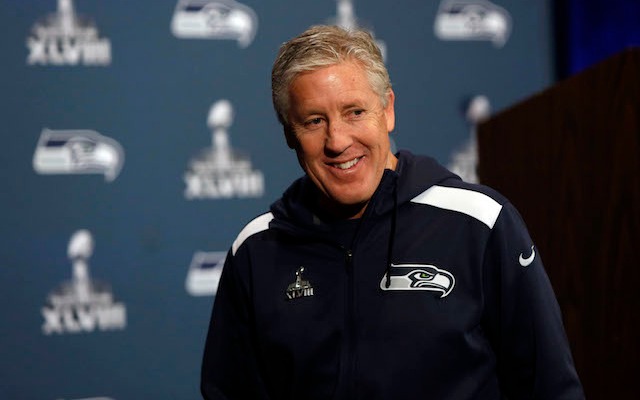 More SB coverage: XLVIII odds | Expert picks | Super Bowl weather | Latest news
NEW YORK -- Super Bowl XLVIII won't mark the first time that Seattle coach Pete Carroll has coached against Denver Broncos quarterback Peyton Manning. It won't mark the second time or the third time either -- It's actually happened four times before. 
Carroll has a 3-1 record against Manning, but the two haven't faced off in almost 15 years. The last time a Carroll-coached team went up against a team quarterbacked by Manning came in December 1999 when Manning's Colts beat Carroll's Patriots 20-15. That was Manning's one and only win against Carroll.
Manning didn't have a lot to say about his first four meetings with Carroll on Wednesday, but he definitely remembers them, "I know Pete Carroll. Pete was the head coach of the Patriots my first two seasons with the Colts," Manning said. "They were in our division. I knew him then."
Here's a look at all four games.
Sept. 13, 1998: In only the second game of Manning's career, Manning played exactly like you'd think a rookie quarterback would play, he threw three interceptions as Carroll's Patriots beat the Colts 29-6. Of the 240 regular season games that Manning has ever played in, this is one of only 17 games where Manning has thrown three or more interceptions. 
Nov. 1, 1998: When New England and Indianapolis met up again in Week 9, Colts coach Jim Mora came into the game with a new strategy: Let Manning throw the ball on every play. Manning threw 52 passes in the Colts 21-16 loss. If that sounds like a lot of pass attempts for Manning, that's because it is. In 15 seasons as an NFL starter, that number is still tied for the sixth most passes Manning has ever attempted in a game. Manning finished 30 of 52 for 278 yards and two touchdowns. 
Sept. 19, 1999: If the Super Bowl is half as entertaining as this Week 2 game between the Colts and Patriots was in 1999, then we're all in for a treat. Manning threw two touchdown passes to Marvin Harrison as Indianapolis raced out to a 28-7 halftime lead over Carroll's Patriots. The lead wasn't big enough though for Manning to pickup his first career win over New England. Patriots quarterback Drew Bledsoe threw three second half touchdown passes to tie the game at 28. Then Adam Vinatieri did what Adam Vinatieri does: Vinatieri hit a 26-yard field goal with 35 seconds left to give New England a 31-28 win. Manning finished 18 of 30 in the game for 223 yards and three touchdowns, but Manning also threw two interceptions. 
Dec. 12, 1999: Twenty days before Y2K, Manning finally picked up his first win against Carroll, but the Colts almost blew another big lead before it happened. Thanks to two Manning touchdown passes, Indianapolis jumped out to a 20-6 lead. The Patriots trimmed the lead to 20-15 in the fourth quarter, but their comeback attempt eventually came up short. Manning finished the game 15 of 27 for 186 yards and two touchdowns. The 186 yards is the 13th lowest total of Manning's career in a game where he threw 25 or more passes. 
The Giants got a scare in the second quarter against the Browns

Welcome to the NFL's version of a dress rehearsal

The Browns protested the anthem on national television
Beckham passed tests for a concussion but the Giants will do more tests on his ankle

The president has something in common with Vladimir Putin

The Seahawks are trying to beef up their offensive line with George Fant out