Seahawks fans wanted Russell Wilson benched in early 2012
After Russell Wilson threw three interceptions in a Week 4 game during his rookie year, fans in Seattle voted that it was time to send the rookie to the bench.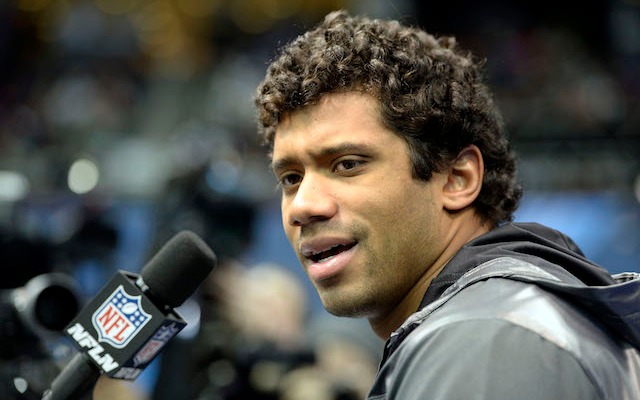 More SB coverage: XLVIII odds | Expert picks | Super Bowl weather | Latest news
Seahawks quarterback Russell Wilson is a popular man in Seattle right now, but that wasn't always the case. During his rookie year in 2012, Seahawks fans grew so frustrated with Wilson that they wanted to see him benched after Week 4, according to a poll taken by the Seattle Post-Intelligencer. 
It was Week 4 where Wilson threw three interceptions in a 19-13 loss to St. Louis, a loss that dropped the Seahawks to 2-2 . After that game, the Post-Intelligencer polled Seahawks fans asking if it was time to bench Wilson and let Matt Flynn start. Flynn had signed a three-year, $26-million contract with the Seahawks in March 2012. 
As you can see in the poll below, of the 5,822 respondents, 33 percent of them believed that Flynn should have been the starting quarterback to begin with. That means they thought Russell Wilson shouldn't have won the job. 

Another 27 percent of respondents believed that starting Wilson was the right choice at the beginning of the season, but because he was struggling, they thought Pete Carroll should move on to Flynn. That means 60 percent of the voters in the poll wantd Flynn to start in Week 5.
Then there were the 933 voters who believed Wilson was a better quarterback than Flynn and should remain the starter. Give yourself a pat on the back you 933 people, you're better at judging quarterback talent than anyone in the Cleveland Browns organization. 
Luckily for everyone in Seattle, Wilson kept his job and now the Seahawks have a Feb. 2 date with the Denver Broncos to decide who the best team in football is.  
Bennett also dedicated it to 'all of the other athletes using their platform to promote ch...

The Patriots quarterback shows commitment from Day One

Cardinals' running back says he's feeling more energized
The Vikings' receiver is wearing his heart on his foot

The Ravens need help on the offensive line after dealing with injuries and a surprise reti...

The new Dolphins quarterback offered high praise for his receiver after his first preseason...