Seahawks FB Derrick Coleman gives Super Bowl tickets to young fans
What started out as a friendly letter sent from a hearing-impaired nine-year-old girl to Seahawks fullback Derrick Coleman has turned into the most heartwarming story of the Super Bowl.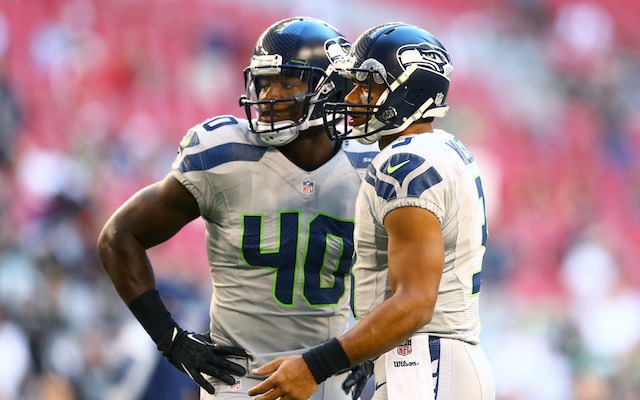 More SB coverage: XLVIII odds | Expert picks | Super Bowl weather | Latest news
NEW YORK -- Seahawks fullback Derrick Coleman may not be the biggest name on Seattle's roster, but he might have the biggest heart. Coleman, the only legally deaf offensive player in NFL history, surprised two hearing-impaired twin sisters with tickets to Sunday's Super Bowl. 
Coleman learned about the nine-year-old girls after the NFC Championship game when one of them wrote him a letter. In the letter, nine-year-old Riley Kovalcik tells Coleman that she has several things in common with him. 
"I [wear] two hearing aids. I love sports. Other things are I'm an identical twin and my twin [wears] one hearing aid too," Riley wrote. 
Riley's dad tweeted the letter out to Coleman on Jan. 21 and less than 24 hours later, Coleman responded with a letter of his own. In the letter, Coleman said it was 'great hearing from a friend I have so much in common with.'
Nine days after Riley wrote her original letter, she appeared on Good Morning America with her twin sister Erin. Coleman then surprised the two girls by making an appearance on the show and giving them tickets to the Super Bowl. The video below might be the most heartwarming thing you watch all year.
"Derrick is an extraordinary kid and regardless of what his issues are, he's an extraordinary person," Seahawks coach Pete Carroll said this week. "He has demonstrated to others that have that kind of issue, how far you can take it and what you can do and how there are no boundaries. He's done a marvelous job of that. Meanwhile, being a great kid and a great football player, too."
There is suddenly a wide open NFC playoff race and the MVP battle could get interesting to...

Pittsburgh is headed to its fourth consecutive postseason appearance

The NFC is going to be a blast to watch down the stretch
Here are the Week 14 grades for every team that played Sunday

Someone apparently threw a drink at Jefferson as he left the field and he was not happy about...

All of the best highlights from Week 14 are right here