Seahawks give Pete Carroll extension, now signed thru 2016
The Seahawks added two years to Pete Carroll's contract, meaning Seattle's head coach is now signed through the 2016 season.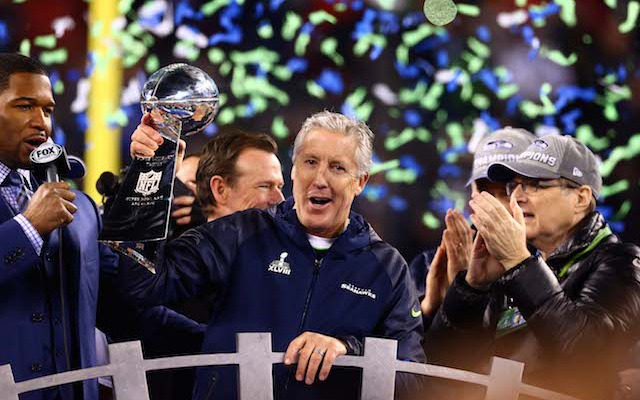 More NFL offseason: Mock Drafts | Prospect Rankings | Pro days | Top free agents
It doesn't look like Seahawks coach Pete Carroll will be leaving Seattle anytime soon. The 62-year-old coach signed a contract extension on Friday that will keep him with the Seahawks through the 2016 season. Carroll's previous contract was set to expire after 2014. 
@Seahawks thrilled to have coach @PeteCarroll contract extended two more years after next season! pic.twitter.com/Ao66Vnw5Pi

— Paul Allen (@PaulGAllen) April 4, 2014
Terms of the new deal haven't been released, but it's probably safe to say that Carroll will be getting a raise. 
If Carroll gets a big raise, he could become the highest paid coach in the NFL. The Seahawks coach signed a five-year, $35 million deal in 2010 that paid him $7 million annually. That number put him in the upper-echelon of NFL coaching salaries, but it wasn't the highest.
Saints coach Sean Payton, Chiefs coach Andy Reid and Patriots coach Bill Belichick were all believed to be making more than Carroll, according to Forbes.com. Payton is pulling in $8 million annually, while Belichick and Reid are both making about $7.5 million per year.
The Seahawks have the richest owner in the NFL in Paul Allen, so it's not crazy to think Allen decided to make Carroll the league's highest paid coach. With a net worth of about $15.8 billion, Allen is worth more than the next three richest owners combined.
Of course, if Carroll did get a big raise, he's definitely earned it.
The 62-year-old -- he's the second oldest coach in the NFL behind 67-year-old Tom Coughlin -- has molded the Seahawks into his image of the perfect football team. In four seasons under Carroll, the Seahawks have made the playoffs three times, including last season when they beat the Broncos 43-8 in Super Bowl XLVIII. Since 2010, Seattle is 38-26 under Carroll, including 24-8 over the past two seasons. 
It's also worth noting that Carroll is one of only seven current head coaches who have won a Super Bowl. That group includes Carroll, Belichick, Payton, Coughlin, Mike McCarthy, John Harbaugh and Mike Tomlin. 
Of those seven, three are making $7 million per year or more, including Carroll. 
If Carroll does become the highest-paid coach in the NFL, that could be something that makes the already interesting negotiations between Jim Harbaugh and the 49ers even more interesting. Harbaugh's contract is set to expire after the 2014 season. 
The Cowboys receiver made a young boy's birthday wish come true

The new Packers tight end had to find a place to sleep after being locked out of his camp...

Lucky Whitehead says he had an awkward face-to-face meeting with Jason Garrett
The Eagles said goodbye to several players on Wednesday

The Falcons' retractable roof is causing some serious construction headaches

The Panthers quarterback apparently wanted McCaffrey at No. 8 instead of Fournette