Seahawks LB Wagner's low profile belies big play in Super Bowl run
You may not know Seahawks LB Bobby Wagner, but the 49ers and Frank Gore do, as do Wagner's peers. Wagner says he's ready for whatever the Broncos, or the weather, offer in the Super Bowl.
• 8 min read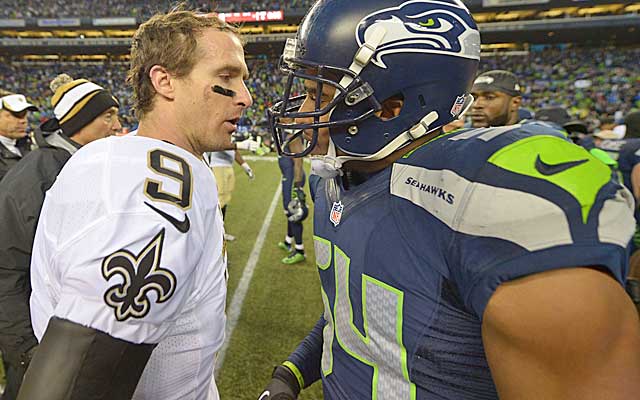 More SB coverage: XLVIII odds | Expert picks | Super Bowl news
In a pre-Super Bowl polar vortex dominated by banter about the weather and pseudo sociological babble about Richard Sherman, and an endless discourse of the legacy of Peyton Manning, it stands to reason that the considerable virtues of Seahawks linebacker Bobby Wagner might be overlooked entirely.
So consider this a preemptive strike.
Wagner will be one of many young standouts largely ignored this week leading up to the Super Bowl, an affable, humble, team-driven emerging star who will be trumped by the overall largesse of this global sporting monstrosity and personalities demanding media attention. That's all perfectly fine with him. What Wagner does, to the untrained eye, can go largely overlooked, but if the Seahawks are on defense and you make a point of focusing on their linebackers, you will find Wagner flowing to the ball, invariably, instructively, and making tackle after tackle. Without the 15 tackles he provided in the NFC Championship Game, for instance, the Seahawks might not be here, with Wagner a driving force in Seattle's ability to thwart 49ers running back Frank Gore and reach the Super Bowl for only the second time.
And if the Seahawks are to stifle Manning and the Denver offense in the final game of this NFL season, make no mistake that Wagner will have plenty to do with it. His work may possibly be overshadowed by the Seahawks' high-profile defensive backs but it is every bit as important. As he watched film of the Broncos on Saturday evening, preparing for the team's flight to New York on Sunday, Wagner (taken 47th overall in 2012) was cognizant of the rarified air he was about to perform in, and how many veteran players never enjoy this opportunity.
"This is so exciting, just the chance to go to the Super Bowl," Wagner said from his home Saturday night. "We're just so ready to out there, to get to New York, and get ready for this game. These past two seasons for me have been so crazy, and I'm so blessed, and I'm definitely looking at a lot of older guys in the league who haven't been able to go to the playoffs, who haven't even gotten a chance to try for a Super Bowl, and I definitely sit back and cherish the moment and realize this doesn't happen for everybody."
Wagner has been anything but a passenger on the journey to this point. He is one of the unsung heroes on Seattle's top-ranked defense, a youngster who is overshadowed by some of the more established linebackers in the game but one who continues to make a name for himself among his peers. A week ago, Wagner was one of the key cogs in a defense that limited Gore to only 14 yards on 11 carries, rendering him a complete non-factor in a close game between two bitter rivals that decided the NFC's Super Bowl representative.
"All week going into the game we knew what we had to do," Wagner said. "We were in tune and focused on that run game, and we've had to watch that film of Gore making last second runs to set them up to win the game and that was definitely on our minds last week. And we definitely didn't want to be in a position where they had runs like that against us and we were so in tune with what they were going to do and we knew they weren't going to get anything on us run-wise. Maybe a quarterback scramble or something, or a pass here or there, but we came in with the mindset they could not run the ball on us. And I feel like that's how it played out."
Wagner and his teammates also were pumped up by the fact that much of the chatter heading into the NFC Championship Game was focused on the 49ers, specifically their linebackers. Patrick Willis has long been compared to greats like Ray Lewis, and Navarro Bowman was named by many the best linebacker in the game for 2013 and Ahmad Brooks commanded national attention as well, while Seattle's athletic, play-making group remained more largely overlooked. The opportunity to face the 49ers, and perhaps outshine their esteemed linebackers with the entire league, and country, watching was not lost on the Seahawks.
"For me it definitely added fuel," Wagner said, "because you're out there and on the field with arguably two of the greatest linebackers in the game right now. It definitely makes you want to step your game up, especially for me. I felt like that's where I wanted to be, and you definitely have to shine when you are playing against guys like that."
Wagner had everything to do with the outcome last week. The 49ers ran a mere 54 offensive plays and Wagner had a hand in stopping 15 of them via tackle. That's more than 25 percent of their stops, and when you take out a couple of the long runs by 49ers quarterback Colin Kaepernick and the obvious outside passes which no linebacker would be a factor in defending, it becomes even more clear what a force Wagner can be, even against such an uber-physical opponent.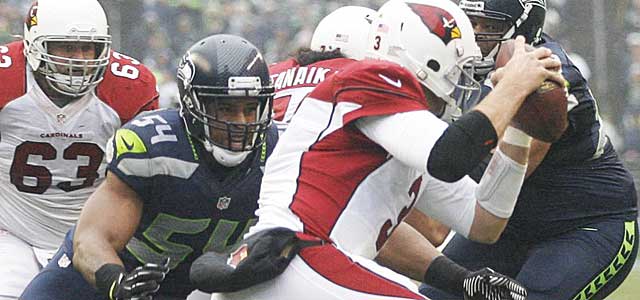 "I definitely felt like I was in a zone when I was out there," Wagner said of his NFC Championship Game performance. "I felt like they ran a lot more designed quarterback runs than I expected, but I was ready for them, and I felt like the coaches did a good job of getting us prepared, and the first couple of tackles were ready and prepared and I felt like that all game -- it was going to be a big game, the NFC Championship Game -- and I was going to give it my all."
The Seahawks will make a similar effort to shut down Knowshon Moreno in the Super Bowl, with the caveat being that no one can devote too many bodies to the box to defend the run against a Manning-led offense. Denver produced one of the most diverse and prolific passing attacks in NFL history. And this sizes up as an epic clash between a young, fast, and dynamic defense against an old-guard quarterback who is able to command and adjust at the line of scrimmage unlike any other.
Wagner vows that he and his novice teammates -- no one on Seattle's roster has played in a Super Bowl and the bulk of the players are within their first four years in the league -- have been maximizing their additional time between games trying to get their hands on any piece of tape they can.
"I've definitely watched a lot of tape this week," Wagner said. "We've definitely got to be on our A Game when we play somebody like this. I'm not saying we don't have to be on our A Game every week, but when you play a guy that's so detailed and so in tune with everything you do, you have to put a little extra film in, and it's a Super Bowl and you've got this extra time. So what else are going to do?"
Surely, that extra prep time might lead some to wonder how much a coaching staff can tinker and tweak and try to reinvent their scheme, throwing new looks and tactics at the opposition. Wagner doesn't anticipate too much of that, especially considering how well the Seahawks defense has already functioned to this point.
"I think at the end of the day we're going to do what we do," Wagner said. "We'll maybe throw in a 'lil somethin', somethin', and they will too, I think, because this is for all the marbles -- like how New Orleans threw in the onside kick [to beat Manning's Colts in Super Bowl XLIV]. So anything goes. Whatever you feel like you can do to prepare to get an edge, I'm sure that's what they will do, too, and same with us. There's no games left after this, so there's no reason not to leave everything on the field."
That mentality has served the Seahawks well. They know what they don't know but savvy enough not try to pretend they are something they are not. There aren't any Super Bowl rings sitting around in their locker room and this is new terrain for virtually all of them. So they will continue to rock out to the same tunes they always do, rally around the collegiate vibes of coach Peter Carroll and try not to let this stage get the better of them. No reason for nerves now.
"We definitely feel like we're a loose bunch," Wagner said. "We've been loose all year, and there is no reason to change it now. We definitely feel like the things we do every day, the way the coaches approach the day of game, the way we approach the day of the game -- at the end of the day we're just a bunch of young guys trying to have fun and win some games, and that's how we'll keep approaching it."
And if that means preparing for wind and snow and extreme cold and whatever else the forecasters in the greater New York area come up with, then so be it. Wagner is ready for anything, and says that his upstart teammates are as well, particularly on the defensive side of the ball.
"Nah, we're not worried about that at all," Wagner said. "Honestly, I think it affects the offense a lot more than the defense, and if it's snowing or raining or whatever, we definitely know what kind of team they are and what that can do, and if it's harder to throw the ball, and we know what kind of secondary we have and what they can do -- so if that makes it a little more difficult to throw the ball, and you add the weather to that, then that's great. So if it snows and the weather is a factor, it's going to be more of a running game, and we look forward to that, too."
This might go down as the best ending of the 2017 season

The Raiders beat the Chiefs, 31-30, on Thursday night thanks to Derek Carr's heroics

This was easily the most exciting final 10 seconds of any game in the NFL this season
Everything going the Chiefs way on Thursday Night Football

Beast Mode went Beast Mode on someone he shouldn't have gone Beast Mode on

This is how you do a 99-yard touchdown drive