Seahawks punter will fight you if you talk crap about Seahawks kicker
Do not talk smack about Seahawks kicker Steven Hauschka.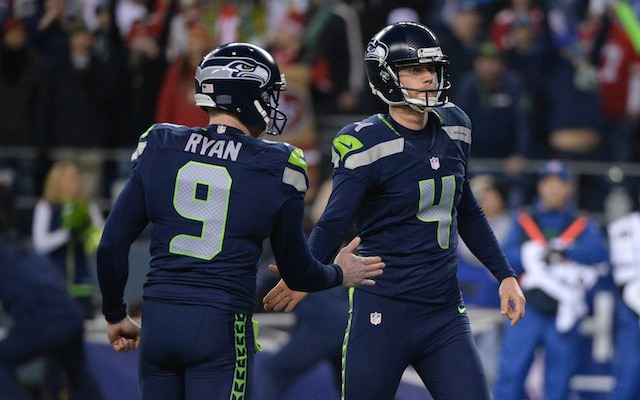 The Seahawks played an almost perfect game in their 35-6 win over Arizona on Sunday night, but it wasn't a perfect game, Seattle did struggle with one thing: Kicking field goals.
Kicker Steven Hauschka went 0 for 3 against the Cardinals, which prompted some people on Twitter to complain about the Seahawks' usually reliable kicker. 
Steven Hauschka sucks

— Prescott (@Afro_Man64) December 22, 2014
Steven hauschka sucks

— Steven Manno (@steven_manno) December 22, 2014
The player who holds for Hauschka, punter Jon Ryan, did not take kindly to the insults. 
If anyone out there wants to talk crap about our kicker who is one of the best in the game u can meet me at the swing set at recess to fight

— Jon Ryan (@JonRyan9) December 22, 2014
If you do decide to meet Ryan near the swing set at recess, you better bring some friends because it sounds like he'll have some with him.
.@JonRyan9 we'll be there, too.

— Seattle Seahawks (@Seahawks) December 22, 2014
As for Ryan's point that Hauschka is one of the best kickers in the game, he's mostly right. Going into the Arizona game, Hauschka was 29 of 32 on the season and was one of only six kickers in the NFL who was making over 90 percent of his field goals.
As a matter of fact, before Sunday, Hauschka had never missed multiple field goals in a game in his Seahawks career. Oh and it's probably also worth noting that all of Hauschka's misses against the Cardinals were from long range (52, 50, 47). 
If you're still mad at Hauschka though, feel free to meet Ryan at the swing set. Personally, I'll be nowhere near the swing set. Ryan is not a small man. 
Punter Jon Ryan of the #Seahawks is jacked. pic.twitter.com/BNxH7yRW

— Tyson Langland (@tglangland) December 3, 2012
It had been rumored that the Jaguars might cut ties with Bortles, but instead he'll stay in...

Dez has struggled with injuries over the last few seasons

Cohen started last season red-hot before falling off dramatically but he has a ton of tale...
Beckham got injured during the 2017 preseason and then fractured his ankle after just four...

The Eagles were one of the most aggressive teams in the NFL in 2017, and it helped them win...

The ex-Dolphins offensive lineman was detained over a threatening social media post