Seahawks QB Russell Wilson wants to do 'Dancing with the Stars'
Russell Wilson is pretty focused on being the Seahawks quarterback, but at some point, he says he'd 'definitely' like to be a contestant on 'Dancing with the Stars.'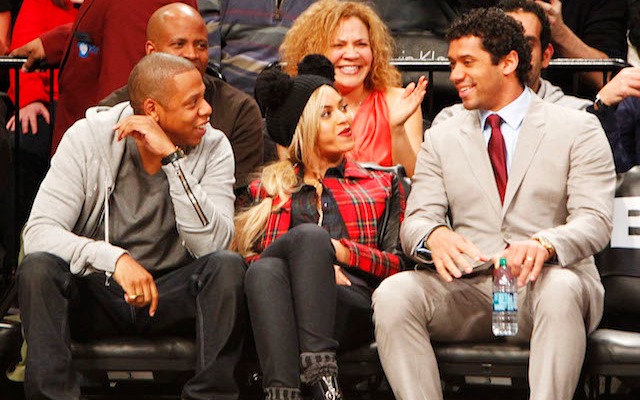 How many trophies can Russell Wilson win before his athletic career is over? The answer is probably a lot. The 25-year-old already has a Lombardi Trophy and now, it sounds like he's interested in winning a Mirror Ball Trophy. 
Before you ask, let me answer your question: The Mirror Ball Trophy is the award that goes to the winner of "Dancing with the Stars" and Wilson might eventually win one because he eventually wants to be on the show.
"Dancing with the Stars" has come calling for the Seahawks quarterback in each of his first two NFL seasons, but he's turned them down each time, "I've been invited twice," Wilson told Access Hollywood. "After my rookie year, I got invited to do 'Dancing with the Stars' and then after this year."
Although Wilson turned the show down, that doesn't mean he's not interested in doing it. It's actually the opposite, he's very interested in doing it. As a matter of fact, Wilson said it's something he's 'definitely' going to do eventually.  
"I'm going to do it," Wilson said of appearing on the show. "At some point, I'm going to definitely do it. I love 'Dancing with the Stars.' I love watching, and I love dancing myself, so hopefully, I could win it."
You don't need to go set your DVR for the upcoming season of 'Dancing with the Stars' though, because Wilson won't be on it. Wilson's plans are to appear on the show somewhere down the road. 
"I need to focus on my football career right now," Wilson said when asked when he would be on the show. "It's one of those things where I'm trying to do as much as I can winning football games for the Seattle Seahawks and our franchise, but I will do it at some point, for sure."
Wilson wouldn't be the first current or former NFL player to appear on the show. Chad Johnson, Hines Ward, Jacoby Jones, Donald Driver, Jerry Rice, Emmitt Smith, Kurt Warner, Michael Irvin, Keyshawn Johnson, Lawrence Taylor and Jason Taylor have all made appearances.
Of that list, Smith, Driver and Ward all went on to win. And I only know that because I'm in charge of the Eye on Football "Dancing with the Stars" elimination pool every year.
He'll reportedly appeal the suspension

Rodgers is eligible to return after eight weeks and the Packers reportedly aren't giving up...

The Packers think the hit is dirty, but the NFL apparently disagrees
Here's every official injury designation for each NFL team for Week 7

If it wasn't already clear, the Packers are not happy with the hit that injured Rodgers on...

Passengers were treated to some explicit chants from the Oakland running back, too