Seahawks QB Russell Wilson will be in camp with Rangers next Monday
Seattle Seahawks QB Russell Wilson will be in uniform and will participate in a spring training workout with the Rangers early next week.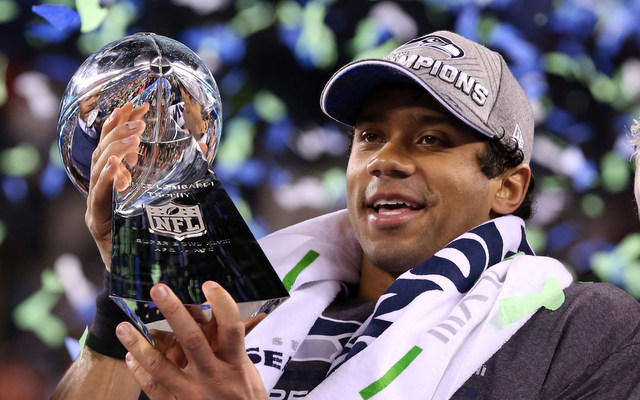 MORE: Spring Training | Scoreboard | FA tracker: position players | FA tracker: pitchers
Seattle Seahawks quarterback and former minor league second baseman Russell Wilson will be in camp with the Rangers next Monday, the team announced. He is expected to participate in the club's morning work out and be in uniform for their afternoon game against the Indians. It's unlikely he will play, however.
Wilson, 25, spent two years in the Rockies' farm system before giving up baseball and pursuing a career in the NFL. He led the Seahawks to their Super Bowl XLVIII win over the Denver Broncos last month, so obviously the career choice has worked out quite well.
The Rangers selected Wilson from Colorado in the minor league phase of the Rule 5 Draft back in December. They aren't hoping to convince him to return to baseball, however. The team said they want Wilson in camp so he can talk their young players and be a motivational tool.
Wilson hit .229/.354/.356 with five home runs in 93 CLass A games for the Rockies from 2010-11. He was their fourth-round pick in the 2010 draft.
Robert Kraft has plenty of things to say before Sunday's AFC title game

Here we go again, the beef between McCoy and Kelly is getting going again

Follow along with live updates on the AFC Championship Game between the Jaguars and Patrio...
The Patriots quarterback fired up FaceTime this week after he injured his hand

Vegas legend Micah Roberts has his finger on the pulse of Doug Pederson's team

The city is preparing for potential riots whether the Eagles win or lose