Seahawks RB Marshawn Lynch has custom jersey made of Skittles
Yes, Marshawn Lynch has a football jersey made of Skittles.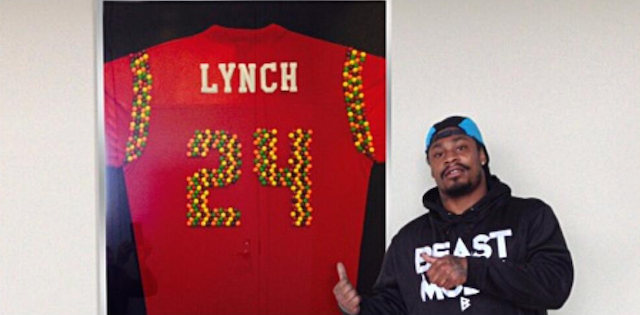 If the NFL ever decides to let its players wear jerseys made out of candy, then Seahawks running back Marshawn Lynch will be ready. Thanks to Skittles, Lynch is now the owner of a custom-made jersey that you can eat. 
Lynch's lifelong love for Skittles paid off this week when the company sent him a jersey made of the rainbow-colored candies. 
The best part of the jersey is that it will go perfectly with the cleats below that Lynch got fined $10,000 for wearing in 2011.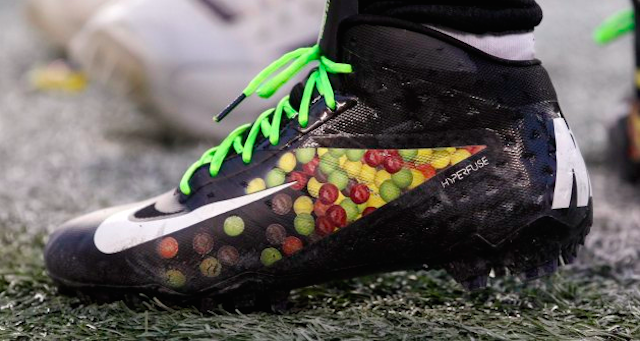 Seahawks fans might not like Lynch's new Skittles jersey though because it's so close to 49ers colors. In that case, you can just to what this guy's daughter did and make a Seahawks-colored Skittles jersey. 
Congratulations Marshawn! @MarshawnLynch24 my daughter made your jersey out of blue and green skittles! pic.twitter.com/j21ZPy0JMX

— Steve Eros (@Steve_Eros) February 7, 2014
Baker Mayfield and Josh Allen took the field, but RBs and defensive front seven players stole...

Joseph cited Drew Brees when explaining why he's not concerned about the Oklahoma quarterb...

'She was dead serious,' Feely said
Place your bets, you proud and degenerate Americans

The Lions fired Jim Caldwell and kept some assistants in place, so Patricia is setting his...

Is there an NFL conspiracy that will help the Patriots win another Super Bowl? We investig...