Seahawks RB Marshawn Lynch officially cleared by police
Police in Bellevue, Washington released a statement on Wednesday saying the Marshawn Lynch 'was not involved in any way' in an alleged incident that took place on Aug. 10.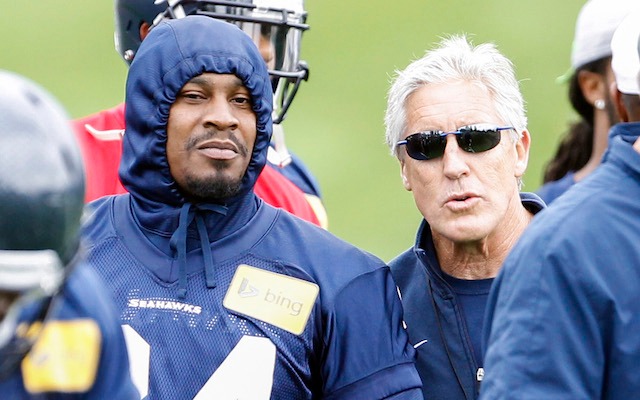 More NFL: Photos |  Videos & GIFs |  Training Camp updates | Manziel watch
Police in Washington have officially cleared Marshawn Lynch. The Bellevue (Wash.) Police Department released a statement on Wednesday night confirming the Seahawks beliefs that Lynch had no involvement in an incident that allegedly took place on Aug. 10.
"The Bellevue Police Department has determined that Marshawn Lynch was not involved in this incident in any way," the BPD statement said. "This case remains an open and active investigation. We appreciate the cooperation we have received from Mr. Lynch and the Seahawks organization during this investigation."
The BPD announced on Monday that the Seahawks running back was under investigation for an incident that allegedly involved 'assault and personal property damage.'
The Seahawks were so confident that Lynch wasn't involved in the incident that the team released a statement on Tuesday calling the accusations "bogus."
"While we maintain the utmost respect for the investigative process, after speaking with Marshawn, we are comfortable these accusations are bogus," the statement said.
With the 'bogus' case now behind him, Lynch can turn his eyes toward Friday when he's expected to see his first action of the preseason. After holding out to start training camp, the veteran running back didn't play in the Seahawks preseason opener against Denver. However, coach Pete Carroll did say on Wednesday that Lynch could see some action against the Chargers.  
"You may see a little bit of Marshawn in this game," Carroll told KJR-AM. "We'll see how this week wraps up." 
Here's an up-to-date look at the 2018 Pro Bowl roster

Bettors are favoring the Eagles to keep Super Bowl LII close, but the Patriots remain clear...

Here's everything you need to know about Super Bowl LII
Here's a look at the NFL's entire postseason schedule for 2018

Here's all the details you need to know on watching Super Bowl LII between the Patriots and...

All of the information you need to know about the 2018 Super Bowl