Seahawks' Russell Wilson gets Super Bowl advice from Terry Bradshaw
Russell Wilson wants to know what his team needs to do to win a Super Bowl, so he decided to ask a guy who's won four of them: Terry Bradshaw.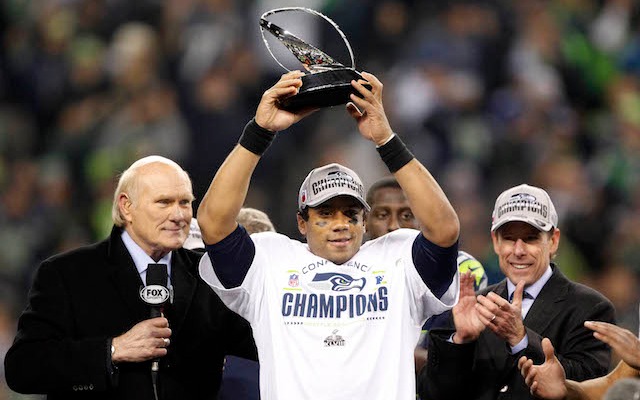 Seattle quarterback Russell Wilson didn't spend much time celebrating the Seahawks win over the 49ers in the NFC Championship on Sunday. Instead, Wilson was already thinking about the Super Bowl and how his team can win it. 
After being presented the George Halas trophy for winning the NFC, Wilson went up to Fox broadcaster Terry Bradshaw and asked him a question that not a lot quarterbacks are qualified to answer: What does it take to win a Super Bowl?. 
"I've got a question for you: What do we need to do to win it that's different? What makes you win it?" Wilson asked Bradshaw on the podium.
Bradshaw, who won four Super Bowls in six years with Steelers in the 1970s, had some advice ready for the second-year quarterback. 
"You've got to be really cool," Bradshaw said. "Don't let the moment catch up with you. You've got to play the game down. If you build it up, it's so important you'll screw it up and you won't play well. It's not just another game, believe me, but you can make it one, just be cool."
You can see a clip of the entire exchange between Wilson and Bradshaw here. 
Wilson may want to share Bradshaw's advice with his entire team, because there's going to be a lot of Super Bowl first-timers on the Seahawks sideline on Feb. 2. Actually, everyone on the roster is a Super Bowl first-timer. The Seahawks are the first team since the 1990 Buffalo Bills to have a 53-man roster full of players who have never played in the Super Bowl.  
The former Buccaneers kicker did not have things start well for him in Chicago

Bears special teams showed up in a big way against Arizona

Beast Mode got loose with Oakland and looked pretty impressive in the early going
Beast Mode was one of several players to sit during the Raiders-Rams game

The cleaning staff in Houston missed a couple of things while cleaning up after Super Bowl...

Marvin Jones had some serious fun in the end zone after scoring against the Jets