Seahawks storylines: Best secondary in NFL may reside in Northwest
The corners have big-time reps and the safeties are heavy hitters. Pat Kirwan says added depth to a great secondary is only part of what makes the Seahawks a Super Bowl contender.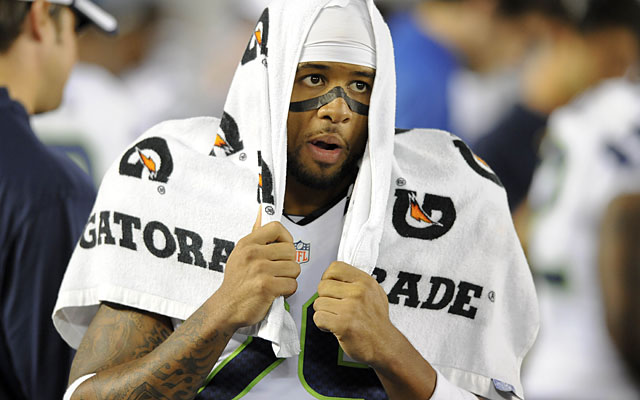 The Seattle Seahawks are a young team with realistic goals to go deep in the playoffs and, with a little luck, reach the Super Bowl. This is a tight-knit group that works hard and plans on being better than last season's 11-5 unit, but you never would know it by the quiet, humble way the players all go about their business.
When I arrived at the Seahawks' facility at 8 a.m., it was straight to coach Pete Carroll's office for a two-hour clinic on the cutting edge aspects of NFL offenses and defenses. The coaching staff provided me practice video to enhance my camp tour visit. In other words, the visit was awesome.
Top 10 storylines
1. NFL's best secondary? There's a reason Carroll drafted Earl Thomas in the first round of his initial draft as Seahawks coach in 2010. At the time, Carroll told me he was the closest player to Troy Polamalu that he had ever encountered. After spending time with Thomas, his mentality is the closest I've seen since working with Ronnie Lott. The two corners (Richard Sherman and Brandon Browner) can smother receivers, safety Kam Chancellor can play like a linebacker or cover a tight end. Antoine Winfield puts the final touches on the nickel package. Backups like Jeremy Lane and Walter Thurmond have proven they can step in and start.
2. Will the pass rush improve? There aren't many ways to improve the NFL's No. 6 pass defense, which had 36 sacks and gave up the fewest points in the league last season. But not many teams think like the Seahawks. With the additions of Michael Bennett to rush inside, and Cliff Avril and O'Brien Schofield outside, this team could close in on 50 sacks.
3. Are the Seahawks obsessed with the 49ers? There's no doubt this team knows the importance of preparing to play the 49ers but they really respect the Rams and Cardinals as well. Russell Wilson was quick to remind me that the Rams beat Seattle last season.
4. Rookie Report -- Offense: RB Christine Michael had a solid first preseason game but he is still clearly behind Marshawn Lynch and Robert Turbin. The Seahawks are committed to the run, and Michael will get work during the season. TE Luke Willson will be a significant factor in the passing game and wide receiver Chris Harper should make the team as a backup.
5. Rookie Report -- Defense: The two tackles drafted, Jesse Williams and Jordan Hill, are much different players but both should be in the D-line rotation. Williams will get more run-down situations and Hill will be in there for passing situations.
6. Position battles: Left guard is being handled by Paul McQuistan because James Carpenter (foot) is sidelined. Keep an eye on this spot. SAM linebacker Malcolm Smith is holding down the spot while Bruce Irvin serves his suspension. Schofield is in the mix and this could be a three-way battle during the season.
7. Player-coach in the making: Not many players I interview jump out at me as coaching candidates. But talking football with fullback Michael Robinson breaks that mold. The All-Pro fullback sees the game like a QB (the position he played at Penn State) and already has expressed hopes of becoming a coach when his playing days are over. Mark my words: This guy will fly up the coaching ladder when he's finished playing.
8. When are PUP players due back? Three key players are on the physically unable to perform list. Carroll says TE Zach Miller should be back for the opener and may be ready to practice in a week. DE Chris Clemons is on target for the start of the regular season but will not be rushed back too soon. Wide receiver Percy Harvin will be on PUP into the season and there's an outside chance he returns late in the regular season. With PUP being extended from six to eight weeks, Harvin could see the field around Week 12 if all goes well, but more realistically, the playoffs should the team make it.
9. Improving the road record: Last season, the Seahawks lost six road games, including the playoffs, and averaged only 18 points in those losses. Russell Wilson said noise on the road is not an excuse for any offense and intends to get this issue fixed. Carroll has practice every day during camp at 10 a.m., which coincides with a 1 p.m. start on the East Coast.
10. Prediction: The NFC West is very tough and grinding out 11 wins is no easy chore. Home field is a big advantage for the Seahawks -- Seattle was the NFL's only undefeated team at home last season. That won't go on forever, but 7-1 is a realistic number. With games at Atlanta, the New York Giants, San Francisco, Houston and Indianapolis, a 4-4 road record would make 11-5. That should win the division, but the head-to-head vs. San Francisco will separate the winner from the runner-up. Last season I took the 49ers, and I'll take the Seahawks this season.
Things I heard or saw
1. 'Jokers' on defense: When Carroll was Patriots coach, he had Willie McGinnest and Tedy Bruschi to play the joker position. A joker is a guy who opposing QBs must identify. Are they pass rushers? Contain players, zone droppers or blitzers? These Seahawks have a few jokers who will keep QBs guessing: Schofield, Irvin (when he returns from suspension) and Malcolm Smith. Defensive coordinator Dan Quinn recognizes the versatility of these players, as well as Cliff Avril. The Seattle defense could give opposing offenses fits with all the jokers on the field.
2. Rookie TE stealing the show: The Seahawks are anxiously awaiting the return of top tight end Zach Miller. But in the meantime rookie Luke Willson from Rice is the talk of camp. Wilson is 6-feet-4 and has 4.5-second 40 speed -- and he's getting valuable time with the starting unit. When Miller returns, so does the 12 personnel package.
3. The team motto: Everywhere you turn there's a sign spelling out COMPETE. Whether it's for a starting job, a roster spot, the best in the weight room or any other measurable the Seahawks players live by the word. One newcomer told me that at his previous NFL stop, the starting jobs were set before camp and everyone else fought for the crumbs. He expressed disbelief at how much opportunity is up for grabs in Seattle.
4. The 'whys' of football: I asked second-year QB Wilson if he felt comfortable getting on the receivers to run great routes and be where they are supposed to be every play. His answer was better than a simple, "Yes." Wilson said the Seahawks aren't only taught the what and the how of things to do, but more importantly the why. Consequently, Wilson said he rarely has to remind his receivers because they already know what their responsibilities are.
5. Clemons might make opener: Irvin iss out the first four games because of suspension, which hurts the pass rush, but Clemons may be back for the season opener. Carroll said Clemons wants to play in the third preseason game. Unlikely, from the coach's perspective, but Week 1 sounds realistic. On passing downs, the Seahawks could line up with Clemens, Bennett, Avril and Schofield.
6. Rookie is looking good: It's getting harder for rookies to break into this excellent starting lineup, but role players from the rookie class are critical. Keep an eye on DT Jordan Hill from Penn State. I watched his practice tapes, and the guy is quick out of his stance, uses his hands very well and has multiple pass-rush moves.
7. More than a blocking back: The Seahawks have an All-Pro fullback in Robinson, who is much more than just a blocking back. He's a former quarterback who sees the game through a QB's eyes. He has been a help to Wilson in the check-with-me run scheme. Robinson rarely gets fooled in finding his way through the line to block the right run assignment, and said, "If our line makes a squeeze call in pass protection I can handle the defensive end."
8. More than half a nickel: Last season, the defense was in its sub package (nickel or dime) about 50 percent of the time. Some other coaches used their sub packages 65 percent of the time in 2012. Carroll and his staff anticipate a growing percentage, and the addition of Winfield will play a key role. Middle linebacker Bobby Wagner said, "We are all so young, and Winfield teaches us stuff we need to last a long time." Quinn pointed out what a great tackler Winfield is, and Sherman captured the essence of Winfield's experience: "Antoine has been doing this since I was in grade school."
9. Strange friends: The funniest interview I did in Seattle is when I sat down with Thomas and Sherman. Thomas is all business and kind of quiet. Sherman is a funny guy who talks constantly. When Sherman started explaining how he reads the back-shoulder fade route that sometimes looks impossible to defend, Thomas starred at him and asked him not to give any secrets away. We all laughed, but I never did get the clues to stopping the throw.
10. Pulling for Bradford: Everyone I spoke to had high regards for what former running back Allen Bradford is doing, switching to middle linebacker. Wagner said it took real guts to make the position change. Robinson said, "Bradford brings it and can really thump a lead blocker." Another player said, "If we didn't have Wagner, Bradford would be our starting middle linebacker." Bradford had eight tackles in the preseason opener.
The Giants aren't the only NFC East that might've quit during a game this season

The Cowboys owner is not going to get his way, and he probably won't be happy about it

Gilbert will miss games against the Packers, Bengals, Ravens, and Patriots
Thompson fractured his fibula while Pryor has been dealing with an ankle injury for weeks

The Cowboys have dropped two straight in embarrassing fashion but are not ready to make a change...

The Bills coach still hasn't decided whether Tyrod Taylor or Nathan Peterman will start against...