Seahawks waive draft pick with heart issue, still give him $100K bonus
The Seahawks released sixth-round pick Garrett Scott on Friday after Scott was unable to pass his physical due to a heart condition. However, Scott will still be getting his signing bonus.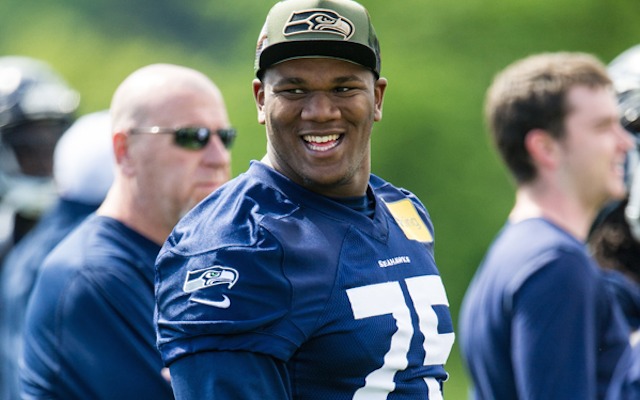 The Seahawks became the first NFL team to release a 2014 draft pick on Friday when they waived offensive lineman Garrett Scott. The sixth-round pick out of Marshall was waived less than 24 hours after signing his rookie contract on Thursday.
However, the story doesn't end there though. Scott was released by the team because a heart ailment kept him from passing his physical. 
"After undergoing an extensive physical with our medical staff last week, Garrett's examination revealed a rare heart condition that will prevent him from any on-field participation in the near future," Seahawks general manager John Schneider said in a statement. "We think highly of Garrett as a person and as a football player. The team is committed to supporting Garrett in the months to come and will continue to help him determine his next steps."
Schneider's not kidding when he says the team thinks highly of Scott either. According to KJR-AM, Seattle signed Scott on Thursday even though they knew about the heart condition before the contract was officially signed -- a move showing some goodwill from the Seahawks.
Because Seattle officially signed him, Scott will receive his signing bonus, which Spotrac estimates to be about $101,000. There's also a small chance Scott's career with the Seahawks may not be over either.
If the 199th pick in the draft clears waivers, his rights will revert back to the Seahawks. At that point, the team will likely place him on the reserve/non-football injury list. Schneider said that Scott wouldn't be on the field in the 'near future,' which means he might be able to continue his career at some point despite the heart ailment. 
If Scott is on the NFI list, he's not entitled to any more compensation -- per Article 20 of the CBA -- but he will get to keep the signing bonus no matter what. If Scott's rights revert back to Seattle, the two parties could also end up working out an injury settlement.  
Scott started 35 games during four seasons at Marshall and was named to the All-Conference USA second team after his senior season in 2013. 
Everything you need to know about the Packers-Panthers game on Sunday afternoon

The Lions will be wearing their Color Rush uniforms for the first time on Thursday

The Lions look to maintain playoff positioning while the Bears attempt to play spoiler
The Panthers have hired an outside law firm to conduct the investigation

Here's every official injury designation for each NFL team for Week 15

Bennett was one of the few players who escaped punishment after Sunday's melee in Jacksonv...