Seahawks WR Golden Tate says he'd give hometown discount
As Seahawks receiver Golden Tate is about to become a free agent, he said he wants to return to Seattle.
• 2 min read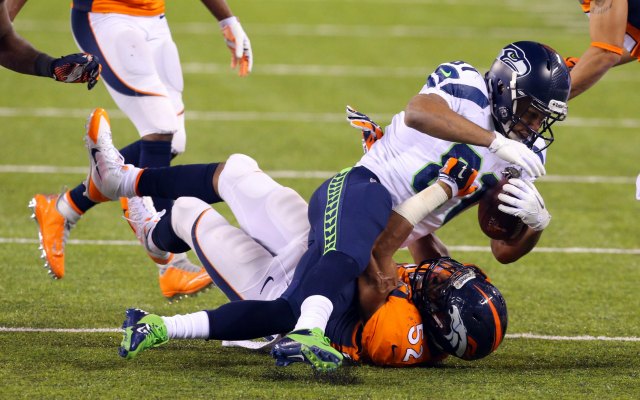 More SB coverage: Seahawks win 43-8 | Photos | Numbers | More news
With Percy Harvin sidelined for most of 2013, Seahawks receiver Golden Tate had the best season of his career, catching 64 passes for 898 yards and five touchdowns. He was, in Harvin's absence, the No. 1 receiver for Russell Wilson, and he was one of the better punt returners in the game, as well.
But presumably, Harvin will be healthy next year -- and we saw how much his versatility can affect Seattle's offense during Super Bowl XLVIII -- and with Tate about to enter free agency, it's likely the Seahawks won't want to pay Tate top-receiver money, particularly since it gave Harvin six years and $64 million before the 2013 season.
Tate, though, realizes this, and that could be why he said he's ready to take a hometown discount in order to remain in a Seahawks uniform.
"I probably shouldn't even say this right now but I'm going to say it anyway just because I love Seattle. Honestly, I would rather take a little less to be happy and win ball games than to take way more and go to a crappy city where the fans don't give a crap about the team," Tate said in a radio interview with Sports Radio 950 KJR in Seattle (via PFT). "You win a game once a month or something like that. I would much rather stay in the situation that I have now for a little less than to go and try to break the bank somewhere else."
That's a good thought, and though the Seahawks have been intelligent in the way they've set up their team and salary cap moving forward, they will have to pay Wilson, Richard Sherman and Earl Thomas big bucks in the near future in order to keep the core of the team together.
And it's simply unclear how much Seattle would want to commit to Tate if he's not going to be one of the stars of the team.
"At the same time, I don't want to be disrespected by any means," Tate said. "I want to be able to take care of myself and my family for the rest of my life at the same time. We'll see. That's what I have my agent for."
But who could forgive Tate for wanting to make at least a decent salary? Particularly when you realize the most he's ever been paid in a season was the $630,000 he made in 2013.
Follow Josh Katzowitz on Google+
Everything you need to know about the Redskins-Saints matchup this weekend

Here's every official injury designation for each NFL team for Week 11

The Dolphins took another blow amid a rough stretch of football
Our computer model simulated every Week 11 NFL game 10,000 times with very surprising resu...

The NFL on CBS broadcaster also broke down the differences between Dak, Goff and Wentz

The Legion of Boom is getting older and injuries are taking their toll