Seahawks WR Percy Harvin expects to make season debut vs. Vikings
It's looking more and more like Percy Harvin will make his Seahawks debut on Sunday. After practice on Friday, Harvin said he was 'ready to play.'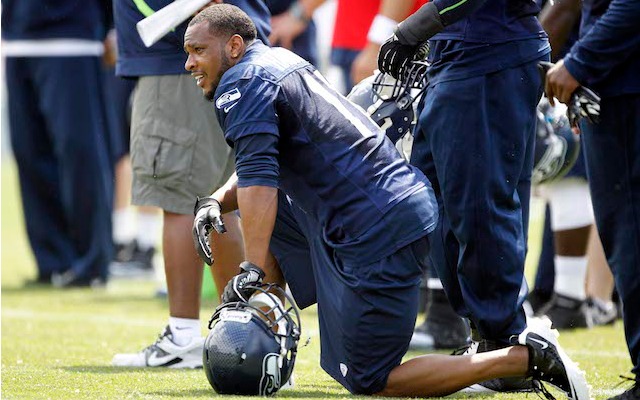 It's been over a calendar year since Percy Harvin last played in an NFL game, but that drought should end on Sunday. Harvin was a full participant in Seattle's practice on Friday and after the practice, Harvin sounded like someone who plans to be on the field on Sunday.
"I definitely think I'm ready to play," Harvin said, via ESPN.com. "I still have a lot of work to do, but it was great to be out there with my teammates running plays and going to the huddle. Hopefully everything goes well [Saturday] and I can look forward to the game."
Harvin hasn't played since Nov. 4, 2012 when he was still a member of the Vikings. In an odd coincidence, that Nov. 4 game was against the Seahawks. On Sunday, Harvin will be member of the Seahawks and make his regular season debut against the Vikings. 
"It will be great to see those guys and play against them," Harvin said of playing his former team. "But it's not about the Vikings; it's about the Seahawks. This is just about getting back out there and helping the team to a playoff run."
Harvin spent the first four seasons of his career in Minnesota before being traded to Seattle in March. However, Harvin's Seahawks debut was delayed after he underwent surgery on a torn labrum in his hip on Aug. 1. Harvin was placed on the physically unable to perform list before the season started and wasn't officially moved to the active-roster until Monday. 
Seahawks coach Pete Carroll didn't see anything in practice this week that would preclude Harvin from playing, "He came through the week very well," Carroll said. "He did everything we asked him to do."
However, Carroll didn't say how long he expected Harvin to be on the field, "You'll just have to wait and find out," Carroll said when he was asked how much playing time Harvin would see against the Vikings. 
With Harvin back, the Seahawks could be close to full strength on offense as they enter the final seven weeks of the season. Seattle's also expecting offensive lineman Russell Okung, Max Unger and Breno Giacomini to return on Sunday. 
The offensive line, run game, and receivers have been worse as well

Quin now spends his free time reading books and hanging out with his family

Here are the 12 teams we are projecting to make the NFL playoffs heading into Week 15
Johnson has come forward to open a dialogue with other players about CTE

National sports writer Mike Tierney tells you who to pick in your Week 15 football office...

The Green Bay Packers quarterback seems to be a go for the Carolina Panthers game