Seahawks WR Percy Harvin says he's 'Absolutely' playing vs. Saints
Seahawks wide receiver Percy Harvin is ready to go. Harvin said on Thursday that he'll 'absolutely' be playing against the Saints in Saturday's divisional playoff game.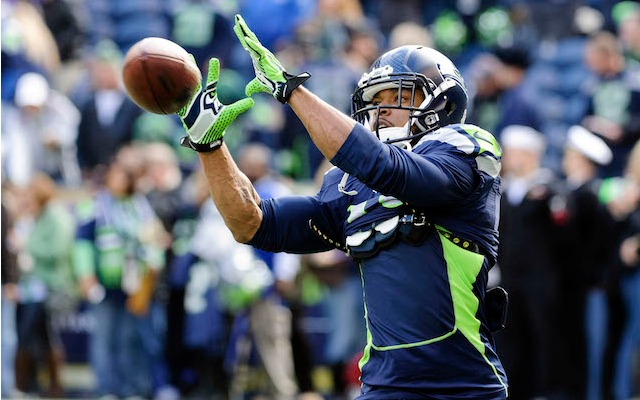 Percy Harvin has missed 15 regular season games this season, but he doesn't plan on missing any playoff games. The Seahawks wide receiver said on Thursday that he 'absolutely' plans on playing against the Saints this weekend.
Thanks to a lingering hip injury, Harvin's only played in one game all season and that came in November against the Vikings, his former team. 
"I'm just glad to be out there helping my team win right now. The playoffs, that's what we all dream about, to have home-field advantage, to have all the things the team has put in place," Harvin said, via KJR-AM in Seattle. "It would be hard for me to try to not be out there. Everything worked out for the best and I'm looking forward to being out there and helping this team win."
Harvin opened up the season on the physically unable to perform list after undergoing hip surgery in early August. Harvin was activated from the PUP list on Nov. 11 and played the following week against the Vikings. However, Harvin said he experienced a setback against his former team. 
"I kind of knew during the game. Something quite didn't feel right," Harvin said. "But it was expected. It was expected but we didn't know to that extreme. It came and that was a setback that we had. We had two, three of them but they are in the past."
The hip seems to be fine now and you can count Seahawks coach Pete Carroll among the many people in Seattle who are excited to have Harvin back. 
"We're excited about him going and excited for him," Carroll said. "It's been a long, long haul for a guy that's such a great competitor and it means so much to. For him to have the opportunity to join us now is really exciting, I know for him, and us too."
Although Harvin's plans on playing against the Saints, that almost wasn't an option. The day after the regular season ended, Carroll approached Harvin and told him they might have to place him on injured reserve to open up a roster spot.
"Coach came to me last Monday with the whole IR thing. I just looked at him and said 'coach, I'm ready to play ball,'" Harvin said. "We talked to the doctors, just kept rehabbing. I could hit the practice field and it felt pretty good."
The playoff game on Saturday will be the third postseason game of Harvin's career and his second against the Saints. In 2009, Harvin and the Vikings lost to New Orleans 31-28 in the NFC Championship. 
The Bengals are the only NFL team Aaron Rodgers has played against without earning a win

You can find every official injury designation for each NFL team shortly after its Friday report...

The Raiders are heading across the country for a showdown with the Redskins
The Ravens and Jaguars head across to pond to play an early-morning game in Wembley Stadiu...

The lawsuit faces a legal hurdle, as Hernandez did not opt out of a concussion settlement with...

Everything you need to know for Week 3 of the 2017 NFL season is here