Sean Payton: Questions about Saints road struggles are valid ones
The Saints have lost four of the past five road games forcing coach Sean Payton to answer a lot of questions about the team's road woes.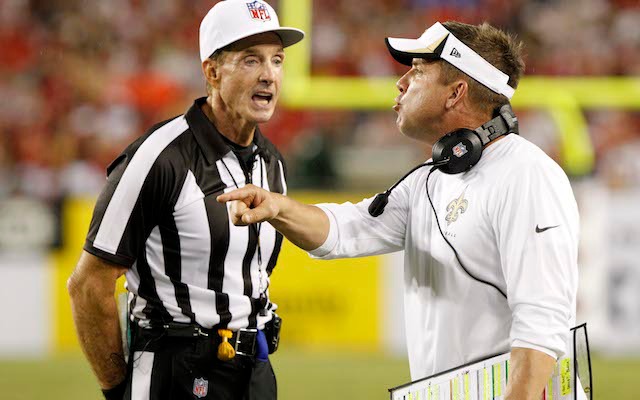 The New Orleans Saints have been unbeatable at home this season. Through 15 weeks, New Orleans is 7-0 at the Mercedes-Benz Superdome and averaging 32.8 points per win. However, the Saints haven't been as successful on the road and coach Sean Payton is well aware of that fact.
Payton is regularly asked questions pertaining to his team's lack of success on the road and on Thursday, he was asked if all of those questions frustrate him. Payton said questions about the Saints' road woes don't frustrate him because they're valid questions. 
"No, probably in fairness to that, maybe earlier in the year but those questions certainly are valid ones right now," Payton said, via the Saints official website. "I think over our tenure here in 2006 we have played very well on the road and yet that is insignificant as it pertains to 2013. No I don't know that we necessarily embrace it or get frustrated with it, it is really you guys reporting what is accurate. Maybe three weeks ago after or two months ago after the Jet loss, but it is what it is right now though."
New Orleans has been a different team on the road. The Saints are 3-4 away from home this season and have lost four of their past five road games. That average of 32.8 points per game falls to 18.4 points per game on the road. 
The Saints will need to get their road woes figured out soon if they want to make a Super Bowl run. New Orleans plays at Carolina on Sunday and if the Saints lose that game, it's very likely the Panthers will win the NFC South. If the Panthers win the NFC South, that means the Saints will be opening the postseason on the road, which would be bad news for a team that has never won a road playoff game in franchise history (0-5). 
McCarron could gain a lot from a Dalton benching, but he's sticking up for the Bengals' embattled...

'Top Dog' Tierney is 26-10 on NFL over-under picks since last season, has strong play on 4...

The injured Lions left tackle does not take kindly to being called a Wolverine
The Cowboys owner doesn't sound too worried by Elliott's lack of effort on an interception...

The Eagles DE is making the donations in response to the racial violence in his hometown

Zany NFL touchdown celebrations are back and everybody seems to be happy