Seattle Seahawks prove to be perfect through imperfection
The Seattle Seahawks handle Richard Sherman tirade perfectly from start to finish.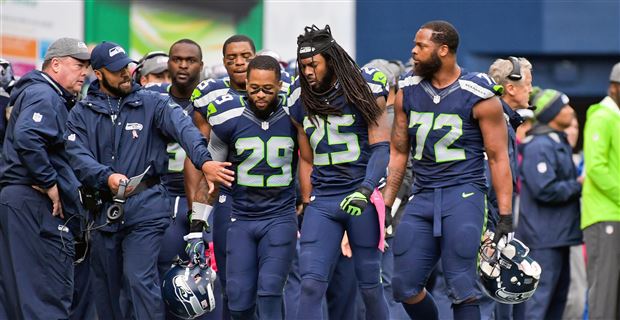 The Seattle Seahawks walk a fine line between normal cliche football team and enigmatic sports-paradigm change artists; their tight-rope between glory and destruction with cornerback Richard Sherman on Sunday could only be described as their culminating masterpiece.
More impressive than shutting down Peyton Manning's record-setting offense in 2013. More shocking than throwing the ball from the goalline against Bill Belichick's defense in 2014. More edgy than a Marshawn Lynch media session. All wrapped into a snap shot of time.
It was a departure from sports culture wrapped in the most cliche aspects sports has to offer.
(The Seattle Seahawks can put a stranglehold on the NFC West on the road against their bitter rivals, the Arizona Cardinals, under the bright lights of Sunday Night Football . Make sure you're in the loop -- take five seconds to Sign up for our Free Seahawks newsletter now!)
As Sherman melted down on the sidelines, for reasons those without the highest football acumen will never completey comprehend, the Seahawks shifted into peak form. The reason for Sherman's explosion of passion and rage?
In layman's terms, after giving up just three points in the first half to the Atlanta Falcons number one offense, the All-Pro cornerback appeared to be in man while the rest of his defense was is zone on a long touchdown pass to Falcons wide out Julio Jones to begin the third quarter. In more technical terms:
"It was a miscommunication," Sherman said following the game on Sunday. "You know [safety] Kelcie [McCray] hasn't been in the defense that long. We tried to make a new adjustment and just a miscommunication - frustrating play."
The code of the locker room and prohibition of specific X's and O's for mystery's sake prohibits blame from being distributed to its proper channel; however, head coach Pete Carroll and Sherman both alluded to a specific audible within the defensive game plan being missed due to McCray being in for the injured Kam Chancellor. Not necessarily entirely McCray's fault but a higher level of communication was lacking. Sherman made sure it wasn't lacking on the sidelines.
Reasonable people could assume McCray is the actual culprit but blame isn't really the point, for a specific reason. Carroll seemed to understand that better than anyone. Whether, it's Sherman's fault or not; the scrutiny lands on his head.
"He's a human being man and he wants to live up to all the expectations, too," Carroll explained on 710 ESPN Seattle. "And, he's at a razor's edge of emotion, focus, attention and prepartion. And sometimes, you know he went a little over the edge. So I'm okay with that because Richard is such a brilliant kid. He can come back and he did."
Carroll, who seemed more interested in the psychological and sociological aspects of his team's handling of Sherman, largely stayed out of the fray, which is where this departs from normal football territory and transcends into something new, even amid the cliches. The Seahawks didn't handle Sherman like a cancer but a human. They insisted he wasn't a distraction but a man. His rage wasn't a burden but a chance at a solution.
"Emotions sometimes get high," middle linebacker Bobby Wagner said, via Seahawks.com's John Boyle. "He's a very passionate dude, but we love him. I love him like a brother. We got him cool, and everything was good. We got everything under control. We calmed everything down. Everybody is going to have emotions, everybody is going to have feelings—I'm pretty sure I've gotten that way sometime too. We've just got to calm down and make plays and understand that this is a big win. That's a good team over there."
Safety Earl Thomas related to Sherman's frustration by reminding everyone that Thomas, not more than five weeks ago, stormed out the locker room in pool shorts immediately following a game one victory. Insisting Sherman wasn't a distraction, even though he clearly exacerbated a volatile situation, shows more public relations savvy, perhaps unintentionally, than most teams muster up intentionally.
While Giants quarterback Eli Manning and head coach Ben McAdoo step on every Odell Beckham Jr. landmine possible by feeding the media's distraction narrative -- true or not -- the Seahawks cut the story short by imploring everyone that there's nothing to see here. It certainly didn't hurt that they won the game, which helped destroy the distraction storyline. But make no mistake about it, things were made worse before they got better. The Falcons scored two more touchdowns after that with another coming off broken coverage. It clearly rattled their cage.
Yet, as they successfully made an interesting story boring, they still managed to provide a unique window into their mindset that most NFL teams are scared to embrace.
"I really like living on the edge with these guys and being able to dwell there," Carroll said. "That's what we're trying to find how far can we go. How far can we take it and pull out everything we have to offer and still maintain poise that allows you to play like you're capable. There's that fine line."
It's the perfect team for the perfect coach. They operate under a self-awareness and willingness to express themselves without remorse and Carroll allows them do that.
Where most coaches seek to hammer home their authoritarian rule, he's only interested in pushing the right button at the right time. So, when he walks over to Sherman and gets hit with a "I'm not ready yet." He listened and walked away. Instead of interjecting himself in the middle of a yelling match between several players to show he rules the roost, he watched from a far.
"It was an amazing third quarter activity," Carroll said gleefully. "I've never seen a sideline like that. I've never seen a bunch of guys respond like that so blatantly to draw their guys back to together. They wanted to be together so bad. They were going crazy down there to get back to the feeling of balling again and they did it.
"And, it was a marvelous, marvelous challenge and really I backed off and just watched them because they were all doing the right things. Everybody was involved. They wanted everybody to get back together and get back on track so they can go win the football game and they did it.
Sherman said he knew that he wouldn't be benched for his outsburst because they're champions. Carroll said there was no doubt they'd come back together because they care about each other too much. The trust between all parties involved amid turmoil echoes the best sports have to offer.
The Seahawks gave a master class in guiding a sinking ship to land on Sunday. And as sports cliche as it is, they did so because they trust each other. Even as someone grew bigger than the team, they engulfed him back into the team. They literally huddled around him to do so.
The perfect metaphor.
And like a skilled scientist trusting his faith in the laws of science will bear fruit, Carroll's sociological experiment bore the correct outcome.
Now, they'll move on, as football teams do. But, on Sunday, they mixed standard "NFL distraction" procedure with a lot of Seahawks ingenuity. In doing so, they showed vulnerability and resiliency.
They proved to be the perfect team through an imperfect moment.
Everything you need to know for Week 3 of the 2017 NFL season is here

The Rams picked up their first win at Levi's Stadium in three years

The Jaguars are taking some cool cleats with them to England
Tickets are dirt cheap and very much still available for the TNF matchup

The Lions are being recognized after beating two popular preseason picks to make the playo...

Hernandez was 27 when he committed suicide in April 2017