Seattle's Michael Bennett compares postgame bike ride to losing virginity
Michael Bennett has been on several bike rides. The one on Sunday was the best of his life.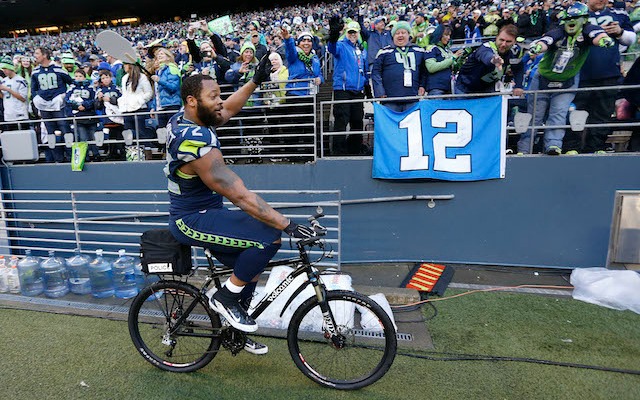 Seahawks defensive end Michael Bennett definitely won the award for most unique celebration after Seattle beat Green Bay in the NFC Championship on Sunday. 
Bennett grabbed a police bike and then decided to take a joyride around the stadium.  
How good was that celebratory bike ride for Bennett? 
Well, let's just say it was the best bike ride of his life. 
"When I first lost my virginity, that was a good bike ride too, but not as good as this one," Bennett told "The Jim Rome Show" on Tuesday. 
I'm not sure if that's a good thing or a bad thing. 
Anyway, Bennett would later go on to explain how he even ended up with a police bike after the Seahawks 28-22 win. 
"I just saw the bike. I was like 'Man, shoot we're going to the Super Bowl again, they're not going to mind if I take the bike,'" Bennett said. "I'm not going to take his gun, but I'm going to take his bike. So I was just riding around the stadium, I didn't know it was going to get that much exposure. I was just having a good time, popping wheelies, riding around giving the fans high fives and stuff. I just thought it was a cool thing to do."
The best part?
The Seattle Police Department doesn't even want their bike back yet. They said Bennett can hold onto it for another week or so. 
Just bring the bike back before #SuperbOwlXLIX @mosesbread72 :-) pic.twitter.com/Pu0IwOXm85

— Seattle Police Dept. (@SeattlePD) January 18, 2015
R.J. White, who nearly won the Vegas SuperContest, locks in his pick for the AFC Championship...

This player probably won't be too popular in New England if the Patriots lose on Sunday

The connections between the Eagles and Vikings quarterbacks are endless
Josh Nagel went 4-1 on Super Bowl prop bets and shares his favorite props for Patriots-Jag...

The winner of Sunday's game will he headed for Super Bowl LII

It wasn't the matchup that we expected, but the Jaguars would argue that's everyone else's...