Second-half Storylines: Where KC's 8-0 and Brady struggles; what gives?
Who drafts No. 1 in a QB-rich class? Can Tom Brady figure it out? Is KC legit? These questions and more are addressed as we look at the season's second half.
• 10 min read
We've reached the midpoint of the NFL season, more or less, with Week 8 now complete and the weather changing and teams beginning to separate into contenders and pretenders. Hell, in some cities they're already looking forward to the 2014 NFL Draft and the bevy of quarterbacks available.
This has been the season of the close game -- with a record number of games being within seven points going into the fourth quarter -- and more high scoring and spread formations and rules that have swung the pendulum in favor of offense. I suspect all of that will continue in the second half of the season, but here are a few other things that have me wondering with November on the horizon and the postseason not seeming all that distant anymore:
Who's No. 1?
Pat Kirwan's second-half predictions
With the increase in passing and the number of offensive tackles injured or on IR around the NFL, four players are in position to break Michael Strahan's single-season sack record. And it will be broken. Midseason predictions
As in, who picks first overall? As in, who finishes last in the NFL? We've got quite the race this season with the Bucs and the Jags seemingly pretty intent on possibly losing all 16 games and giving the 2008 Lions a reason to pop the champagne. When do they win? There aren't any games where you figure either one will be favored. Could there be a perfect storm where both fail to win a game? The fact that both are in Florida intrigues me as well. Just seems like such a Florida kind of thing. They aren't even remotely competitive more often than not, which in some ways makes them must-see viewing.
This subplot also dovetails with the always intriguing -- Which Coach Gets Fired In-Season? -- and Greg Schiano is the runaway leader in that category, with his demise seemingly inevitable and the tough Seahawks up next. And, circle Nov. 11 on your calendars -- if the Bucs can't get a W then, against fellow floundering Floridians, the Miami Dolphins, then that might serve notice of how serious of a threat they are to Matt Millen's perfect team.
West is best
Could five teams from the respective West divisions end up in the postseason? In the NFC we're all pretty much putting the Seahawks and 49ers in. And you have to put the Chiefs and Broncos in as well at this point. And in an AFC where few teams want to show they are elite, the Chargers remain one of the more intriguing stories. Philip Rivers is second only to Peyton Manning in his production this season, and while I'm not sure how they're doing it given the state of their offensive line and some of the personnel issues on defense, San Diego is a tough out. If nothing else, these two division races will be beyond intriguing. Seattle and San Francisco still have one meeting left and the Broncos and Chiefs have two games coming up in a three-week span. These divisions have beat up on the rest of the league and we could end up having the top seed in both conferences coming from the Left Coast.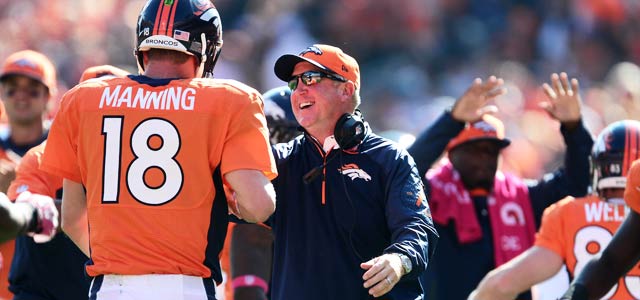 Pounding Peyton
The bye comes at the perfect time for Peyton Manning, who has come down from his historic pace the past three weeks and is getting knocked around much more than he is accustomed. Losing left tackle Ryan Clady, a true pillar, looks like a bigger deal each week, and there is still a lot of football to go, and plenty of weather likely to come as well (Manning loves the dome). Can the Broncos keep running the ball so well? Can they get settled at the tackle spot?
Manning, at this stage of his career, isn't going to get stronger as the season goes on, and if he keeps getting hit at this rate, problems could arise. He's missed some practice time already -- he hates that -- because of ankle injuries and the ball has looked awkward coming out of late at times, too.
Not so chipper
The Eagles' offense, with its warp-speed pace and all those options and amazing read-option looks -- was was going to change the way football is played in the pro game. Well, it still might do all of that. But not right now. Chip Kelly's rookie season in the NFL plateaued in Week 1, dismantling the Redskins, and has been more mundane than not. They ran only 58 plays against the lowly Giants, while New York ran 71. The week before they ran 75 plays -- as many as Dallas -- but once again fell apart around the red zone. They are averaging a pedestrian 22 points a game. How soon can they get it turned around? Can they get it turned around? How much of his personnel plays its way off the roster? If it keeps up like this, how long does Kelly stick around? Do his problems have a chilling effect on the expected demand for several top college coaches this offseason?
Who can be the next great QB?
Andy Dalton has looked pretty exceptional the past three weeks, but his issues generally have come with the stakes at their highest -- in the postseason. But I can't discount how their offense is taking shape and the problems it should be able to continue to create, especially if Dalton maintains anything close to this kind of play. The only young quarterback not quite as good statistically this month is Cam Newton, who has the Panthers looking like a playoff contender in the NFC. Colin Kaepernick has quietly led the 49ers to a five-game winning streak and he is playing excellent football. Russell Wilson should be an MVP candidate. Matt Stafford is racking up yards at an alarming rate -- even by his lofty standards -- and seems primed for even bigger things, now able to lead his team to wins in games they often found a way to give away in the past. So, which of this group will take that big step forward and begin being mentioned with the upper echelon passers in the game? At least a few seem primed, and it's what they do in December and January.
Are the Chiefs for real?
Kansas City is the lone unbeaten team, but there are no shortage of skeptics. They don't seem built for playoff success with their lack of balance on offense in terms of being able to get the ball downfield and their uber-conservative nature ... but they just keep winning. They aren't blowing people out and things have been pretty close for several weeks now, but they are securing a playoff spot. If the Chiefs can't overtake Denver, though, are they one-and-done on the road in the playoffs? I suspect so, but this has been a great story and Andy Reid has plenty to smile about in leading what was the NFL's worst team last season.
Who's the boss in DC?
Mike Shanahan finds himself 2-5 once again, but a wild finish to grab a division title doesn't seem likely for a second straight year. That would be a lot to ask. He's entering the final year of his deal, and his son, Kyle, the offensive coordinator, remains under fire. And there are no shortage of questions being asked about the state of the always-turbulent relationship between the Shanahans and Robert Griffin III, who was knocked out of yet another game on Sunday. In the end, Dan Snyder's tenure as ownership has had few constants -- but kowtowing to his star player is one of them, and if RG3 wants someone else at the helm come 2014, well, I suspect he gets it. This team is at a real crossroads -- again -- and without another miracle second half big changes could be ahead. But then again they happen to play in the ...
NFC Least
Does anyone want to win the NFC East, or even really deserve to be in the playoffs? Could 7-9 get it done? Could a Giants team that started 0-6 come back and win the division? The football itself has been pretty brutal, but we can't help but watch. We get Tony Romo doing Tony Romo things in the fourth quarter of games and Dez going bonkers on the sideline and none of these teams able to string a proper winning streak together. Yet still on a visceral level it makes for compelling viewing.
Super Bowl or bust; they're busting
The Texans and Falcons never tried to hide that they were aiming for a Lombardi and nothing short of it. That was the expectation and they are falling way short. They each have only two wins, and in a funk, and there are no easy fixes. It's not only about injuries, either. Both coaches are suddenly deep on the hot seat and major changes could be afoot. The Texans could be in the market for a quarterback as well, and all of a sudden a Falcons team long believing it was one player away look at 2014 and has needs at both tackle spots, running back, outside linebacker, defensive tackle, and possibly corner and tight end as well. Hmmm. And with the Colts and Andrew Luck perhaps a budding juggernaut, the Texans could be in a bind beyond just this season.
Southern hospitality, or lack of it
It's a league of parity and all, but the NFC South and AFC South look like they will be wrapped up by Thanksgiving, The Saints are going to be a real factor for the first overall seed, with only the Panthers offering some resistance from within the division. The Colts are surging and have earned some signature wins, and no one else in that division appears to be a real contender. It could make for some interesting decisions in December in terms of whether to rest key veterans if they run away with division titles as it appears both teams might.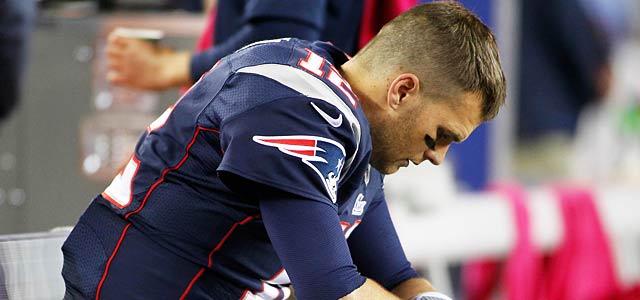 Will the real Tom Brady step up?
Can the Patriots get back to anything close to what they once were on offense? Will Tom Brady really remain among the dregs of the league in key quarterback metrics? And, ultimately, will this winning-ugly formula be enough to get them deep into the playoffs?
Who's in the market for a QB?
The allure of this 2014 draft class is intense and there are at least six quarterbacks drawing first-round buzz. That's only going to continue. That makes the second half of the season vital for teams trying to figure out if guys like Josh Freeman or Terrelle Pryor or Case Keenum are really the future of the franchise, or if the draft is beckoning. The jostling for these kids will be intense and there will be plenty of teams willing and eager to package picks to move up and get one. We already know the Jags, Browns, Eagles and Cardinals will be looking heavily. I can't imagine the Vikings don't draft one, and the Texans, Bucs and Raiders could very well do the same (though personally I think Pryor can do the job). And what about the Bears? I believe they end up franchising Jay Cutler, but his hip injury eliminates crucial games to evaluate him as a long-term fixture. So that's over a quarter of the league mentioned right there, and the star power available in this draft could perhaps lead a team that doesn't seem to have an immediate need to snag a quarterback high as well (hello, Kansas City).
Can Rex and Ron return?
Many of us figured Rex Ryan and Ron Rivera would have a difficult, if not impossible, chore trying to keep their jobs, but the Jets and Panthers, respectively, have surprised in the first half. And if they can keep this up in the winter months, both make a strong case for continued employment. Firing Ryan means you lose the best defensive coordinator in the league, too, because that's what he is, and Rivera's team has improved every year on the job and seems to be finding its identity now.
The Eagles quarterback reaffirmed his faith and said he plans on coming back stronger than...

The Buccaneers are 4-9 and firmly out of the playoff mix, and now their best player is hur...

It might be time for Johnny Football to head to the Great White North
Rodgers has been out with a broken collarbone since Week 6

Mariota and left tackle Taylor Lewan both escaped serious injuries

This might go down as the most expensive snowstorm of Adam Vinatieri's life