Seven for Sunday: Eight teams look to avoid 0-3
No team has ever come back from an 0-3 start to win. Eight clubs are trying to avoid going down that road, but only two will get it done.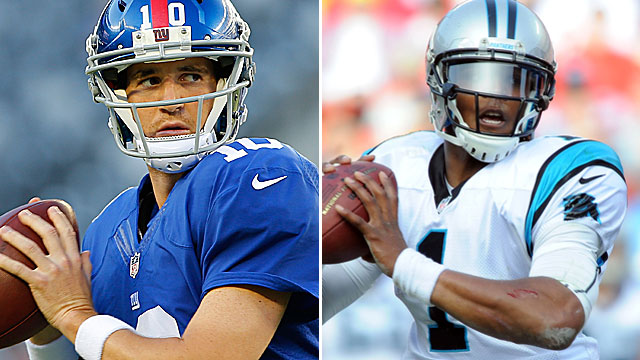 The fear of 0-2 is here for eight teams and even a bigger fear of 0-3 is staring them in the face. There are a couple of examples of 0-2 teams making it all the way back to the playoffs and even a Super Bowl win in the case of the Giants, but we have never heard of a 0-3 team making a recovery.
After two weeks, we have witnessed six quarterback performances over 400 yards passing and when you consider the league only averaged nine such performances a year over the past five years, it is a very impressive pace. It looks like a few quarterbacks are positioned to join the 400 club this weekend.
It was a bad week for left tackles around the league and now we find out how teams handle the problem. I was surprised to see these home dogs this week so be careful!
Starting 0-3: It's easy to see there's no escape from the grips of an 0-3 start when you consider no team has even climbed to a winning record from that kind of start in the last five years.
A couple of realities inside the minds of the 0-2 teams over the past five years make these teams very interesting to watch. Since 2008, we have had 41 teams with 0-2 starts facing what eight teams are facing this week. Since 2008, 16 of those 41 teams with 0-2 records found a way to win and prevent 0-3 starts. So, if 39 percent of the 0-2 teams found a way to win, which three of the eight teams this weekend with 0-2 records find a way to win? Well, I can guarantee two teams get it done since there are two games pitting 0-2 teams (NYG at Car) and (Cleveland at Minnesota). I recommend you don't pick Cleveland because they have been 0-2 in four of the last five seasons.
Now try and figure out which is the other 0-2 team to find a way to win this week from the four remaining 0-2 teams. Pittsburgh, Jacksonville, Washington or Tampa Bay? Eliminate Jacksonville, which is headed to Seattle. Tampa Bay has been close both weeks, but goes to Foxborough, where Tom Brady is 42-3 in his last 45 regular-season home games.
Washington gets Detroit at home and the Detroit Lions have never won in Washington, but have you seen the Washington Redskins pass defense lately? Finally, Pittsburgh makes a homestand against the fast-rising Chicago Bears in an attempt to prevent an 0-3 start. History says one of these teams gets it done.
The 400 club is growing: Last week, I pointed out the steady growth over the past five seasons of quarterbacks throwing for 400-plus yards in a game. I gave up marveling at 300-yard passing days since we already had 23 in two weeks or just about 12 per week. Last year, the league averaged just under eight 300-yard passing performances a week. The 400 club is more interesting to me at this point. Since 2008, the league has averaged 12 such performances a year. But in the first two weeks of the season, we already have six in the books, which tells you just how prolific passing is becoming. At the present pace we could see over 40 games this season with a 400-yard passer.
This week sets up for another wave of 400-yard passing days. To keep up the early season pace, I would think at least three of the following passers will crack 400 yards:
Matt Stafford against the Redskins defense that gave up 480 yards to Aaron Rodgers last week
Eli Manning who faces a beat-up Carolina secondary and has already thrown for 450 against a much better Dallas defense
Sam Bradford faces the Dallas defense and threw for 352 against Atlanta earlier this year.
Peyton Manning is at home against the

Oakland Raiders

and had 462 yards in his home opener two weeks ago.
Matt Ryan is in Miami this week without a running game and coming off a 374-yard day last week.
Missing in action ... left tackles: The 'blindside' just got worse for a couple of teams and it will alter how teams coordinate their offenses this week, and in some cases, months to come. This week, I talked to Hall of Fame LT Jonathan Ogden, whose career was cut short by a toe injury, and he warned players and teams with tackles that have foot problems to be very careful or a career could be in jeopardy.
Ryan Clady is gone in Denver and Peyton Manning will simply adjust the clock in his head by a second and get rid of the ball. Duane Brown , the All-Pro left tackle for the Houston Texans , has a toe problem and when you consider the Texans are a left-side dominant run team it will have an impact. Out in Seattle, Russell Okung is battling a toe injury, and down in Atlanta, Sam Baker is dealing with a foot and knee injury. Look for the sacks to spike this week around the league.
Not buying these home dogs: There are three home dogs this weekend and they are all in the AFC North. I'm a big fan of the AFC North, but was surprised to see the Cincinnati Bengals , Pittsburgh Steelers and Baltimore Ravens posted as home dogs (teams that are supposed to lose in their own building). I can't see all three losing at home even though Green Bay is headed to Cincinnati, Houston is in Baltimore and the Bears visit Pittsburgh. Last year, these three teams were 15-9 at home and are 2-1 this year.
The Trent ripple: I can see why the Cleveland Browns couldn't resist a first-round pick for Richardson although I doubt I would have done that deal. The Indianapolis Colts get a 22-year-old load of a back who has touched the ball 356 times since entering the NFL, averaging 87 yards a game. Besides being a solid runner, he is a fine receiver and will get his 20 touches a game in the Colts offense. Richardson will play this weekend in San Francisco and we all will be watching. If a team loses a running back this weekend the first call I would make would be to Indianapolis and check out the availability of Donald Brown .
In regards to the financial value of obtaining Trent Richardson , it is a bargain. Consider if he is active for the life of his contract, which is 46 games. The Colts will pay him $144,000 a game which is a bargain.
No rest for the weary: Power Polls are nothing more than opinions from outsiders. I do a Power Rankings for CBS and the AP, and in the end, it is a lot of speculation. What is a better measure of teams is to group them in 4-5 team segments. Don't worry about who's No. 32 or No. 31, just look at the bottom four teams as a group. Do the same thing at the top.
The schedule makers were cruel to the bottom four teams. Most of the voters I know had the Jacksonville Jaguars , Browns, Bucs and Raiders in the bottom four. Well, if they are truly the bottom of the league right now, the schedule makers made their lives miserable. All four teams play on the road this weekend and the four teams they play are Denver, Seattle, New England and Minnesota.
The Minnesota Vikings don't belong in a discussion with the other three, but nonetheless as Adrian Peterson told me this week, "it's our first home game of the year and we are excited to play in front of our fans." I have a feeling all four bottom dwellers will stay where they are when next week rolls around.
CBS All Access allows viewers to stream every NFL on CBS game in their local market

CBS All Access allows viewers to stream every NFL on CBS game in their local market

Two NFC East divisional foes face off this weekend in a big battle for both teams
Owners and CEOs from several teams released statements in response to Trump's remarks in A...

CBS All Access allows viewers to stream every NFL on CBS game in their local market

CBS All Access allows viewers to stream every NFL on CBS game in their local market