Seven for Sunday: Formulas for Newton, roster fixes, Steelers success
Cam Newton scorched the Bucs last year but teams have figured out the Newton shutdown secret. Pat Kirwan says watch how Tampa Bay plays it and discusses roster-size issues, the Steelers formula and more in Seven for Sunday.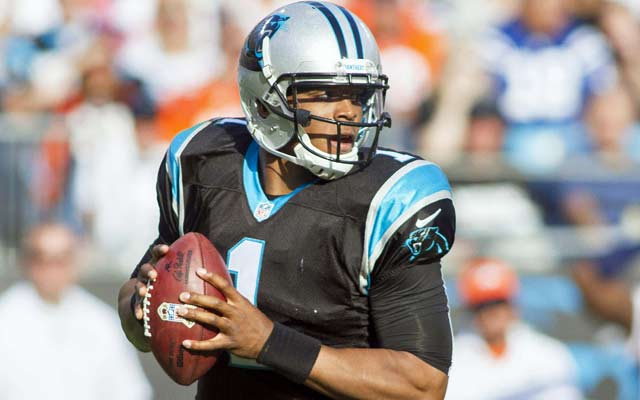 The Bucs will try to make Cam Newton a pocket passer.
(US Presswire)
The numbers tell the story
Cam Newton is going to be a very good quarterback in the NFL, but like many young players he is struggling right now. He is up against another young but slightly older quarterback, Josh Freeman , who had similar problems last season but worked himself out of his losing ways and is as hot as any QB in the league right now.
In the last six games Freeman has thrown for 1,766 yards (294 per game) with 14 touchdowns and just two interceptions. The Bucs QB is winning without his two offensive guards.
Cam Newton has defining numbers in his young career that defenses use to develop their game plan against him. He is 0-14 when he throws an interception but 8-3 when he doesn't throw a pick. Newton beat Tampa twice last year when he averaged 60 yards rushing a game against the Bucs and scored four times on the ground. He lost to Tampa earlier in the season and gained only 4 yards on the ground as the Bucs put the clamps on his running skills.
There are two distinct numbers in Newton's career. When he rushes for 50 or more yards he is 6-5. When he rushes for less than 50 yards he is 2-12. As for passing, if he attempts 35 or more passes he is 0-11. If he attempts less than 35 passes he is 8-5. Look for Tampa to restrict the escape lanes and force Newton to be a plus-35 thrower this Sunday.
46-man roster not enough anymore
The new concussion program has shed new light on the 46-man game day roster. We watched four quarterbacks get injured last week with three of them via concussions. Fifteen teams only have two quarterbacks on the roster, which appears to be a tactical error the way players get shut down quickly with concussion symptoms. It isn't just the quarterback position either. As one head coach said to me: "We are being challenged across the board with the limited game-day roster and it makes no sense not to move it up to 49 players. We have so many players unable to practice, and it is very difficult to predict on Wednesday who can play on Sunday ... it would be great to practice some players we knew were going to be available." Another coach said, "Some weeks by the end of a game I look around and realize we couldn't play much longer with what we have left." Keep an eye on your favorite team's concussion issues and look at the roster depth.
The
Pittsburgh Steelers

Formula

The Steelers are not in new territory with the absence of Ben Roethlisberger . Big Ben missed the first four games of 2010 and the Steelers went 3-1 with three different quarterbacks. Back then they did it with a defense that gave up 12.5 points a game, and they beat Atlanta Falcons , Tampa Bay Buccaneers and Tennessee Titans , teams that went on to be 29-19. During the four-game period, the Steelers ran for 534 yards and the new Todd Haley offense sets up well this time around. As for the passing game during the absence of Big Ben, they only averaged 21 pass plays a game and actually beat the Titans while throwing for 43 yards. The one loss in 2010 was 17-14 to Baltimore Ravens . This week look for the Steelers to throw 20 times and run it 40 times. Rashard Mendenhall could be back to join Isaac Redman and Jonathan Dwyer to keep the ground attack moving against a Ravens run defense that gives up 132 yards a game.
Another big weekend for rookie QBs
The rookie quarterbacks have a 21-25 record, complete 59.4% of their passes, have nine 300 yard passing days (the most by any rookie class) and more touchdown passes (47) to interceptions (41). The leading rookie QB for touchdown passes, Russell Wilson (15) is off this weekend but there will be five rookie starting quarterbacks in Week 11 and four of them are on the road. Some believe Andrew Luck is pulling away in the race for Rookie of the Year but Robert Griffin III is at home opposite another rookie, Nick Foles of the Eagles. Andrew Luck faces the legend Tom Brady in Foxboro, Ryan Tannehill leads the Miami Dolphins into Buffalo Bills Thursday night and Brandon Weeden is off a bye in Dallas Cowboys to face the Cowboys. Keep an eye on the class of 2012 this weekend. I wouldn't be surprised to see at least one upset by a rookie QB and at least eight touchdown passes from the group.
Some food for thought
• The NFC North teams are up against it with their remaining schedules. Detroit Lions has the toughest remaining schedule with opponents at 45-18. The Vikings have the second toughest schedule against teams with a 37-16-1 record and the Bears are in the No. 4 spot facing teams with a 38-27-1 record. It could be tough sledding for the North teams to earn a playoff spot. Minnesota Vikings is off but Detroit plays Green Bay Packers and the Bears meet the 49ers. • I tracked the tight ends last week when they grabbed 15 touchdown passes and now they have 116 touchdowns this season. That is the most through 10 weeks in NFL history. Expect big games from Jimmy Graham , Jason Witten , Greg Olsen , Tony Gonzalez , and others. As the weather changes, the tight end becomes a more important factor in games. I think the tight ends crack the 20-TD mark this weekend. • Don't ever take 'foot' out of football! This year there are more field goals attempted per game than at any time in 38 years. The 19 game-winning field goals so far this season is the most through 10 weeks in 30 years. The 15 blocked punts this season is six more than we witnessed all of last year.
Will he make a difference?
The Patriots traded for cornerback Aqib Talib, who was serving a four-game suspension that just ended. Sunday is his first game. He is a very good player with a checkered past. Bill Belichick has put questionable character guys in his locker room before. The Patriots culture and the real threat from Belichick that he will cut anyone that doesn't do things the right way should keep Talib on the straight and narrow. As for his presence on the field, Talib will strengthen a weak secondary and give the Patriots a guy who can play man-to-man on the best receivers. That in turn should permit the Patriots to blitz more if they need to create more pressure on quarterbacks. Talib's first test is Reggie Wayne , who has been targeted 112 times resulting in 69 receptions and three touchdowns in nine games. Can Talib reduce the 12 targets and eight receptions a game? Will the Patriots defense get to Andrew Luck, who averages 43 pass plays a game? We'll find out Sunday!
My picks this week
Tampa 24, Carolina Panthers 21
Dallas 21, Cleveland Browns 17
Green Bay 30, Detroit 27
Houston Texans 30, Jacksonville Jaguars 10
Atlanta 28, Arizona Cardinals 14
Cincinnati Bengals 17, Kansas City Chiefs 13
Washington Redskins 27, Philadelphia Eagles 21
Los Angeles Rams 21, New York Jets 17
New Orleans Saints 33, Oakland Raiders 21
Denver Broncos 27, Los Angeles Chargers 21
New England Patriots 35, Indianapolis Colts 21
Baltimore 17, Pittsburgh 14
San Francisco 49ers 20, Chicago Bears 17
Everything you need to know for Week 3 of the 2017 NFL season is here

The Rams picked up their first win at Levi's Stadium in three years

The Jaguars are taking some cool cleats with them to England
Tickets are dirt cheap and very much still available for the TNF matchup

The Lions are being recognized after beating two popular preseason picks to make the playo...

Hernandez was 27 when he committed suicide in April 2017