Seven from Sunday: Trends to watch in Broncos-Seahawks Super Bowl
Looking back at the AFC and NFC title games we see some interesting trends like Denver's no-huddle offense, too many sacks for Russell Wilson and the challenge Julius Thomas faces vs. Seattle's talented secondary.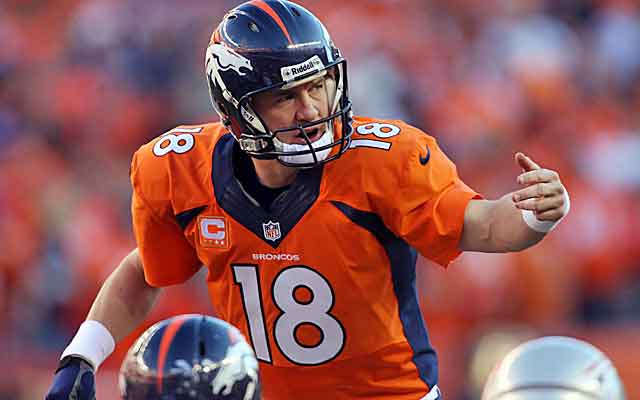 More SB coverage: XLVIII odds and lines | Expert picks| Latest news
Super Bowl XLVIII is set -- the Broncos and Seahawks survived and advanced, with home field prevailing in the conference title games. We'll get to the different ways these teams were built down the line (we have two weeks), so today we'll review some points made in Friday's Six for Sunday piece.
1: How about that Broncos no-huddle?
No one uses the no-huddle offense like Denver. They finished the regular season with 767 snaps of no-huddle, scoring 52 touchdowns off it. In Sunday's AFC Championship victory over the Patriots, the Broncos went no-huddle 41 times for 231 yards and two touchdowns. In the divisional round vs. San Diego, they used it 48 times for 292 yards and two touchdowns. In two playoffs wins, the Broncos are averaging 5.9 yards per no-huddle play and in 18 games this year they have 56 touchdowns, or 3.1 no-huddle TDs a game. I'll get to the challenges the Seahawks face vs. the no-huddle next week.
2: Caution signs still up
The Seahawks beat the 49ers in the NFC Championship Game, but Seahawks QB Russell Wilson was sacked once every seven pass plays, continuing an alarming trend. In the four games heading into Sunday, Wilson was sacked once every eight attempts after taking a sack only once every 35 pass plays the month before. He's been sacked 19 times in the past five games.
I also passed along a warning about the 49ers' turnover issues against Seattle, and it came back to haunt them again. Two interceptions and a lost fumble in Sunday's loss brings the total turnovers in Seattle in the past three games to 11. Now, can Seattle get the ball back on the road (or a neutral field) like they do at home?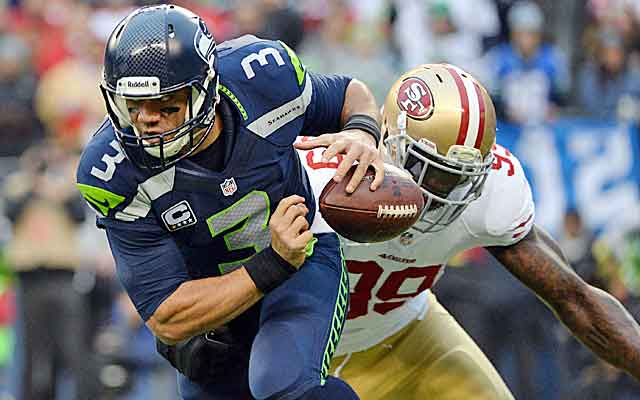 I pointed out that Peyton Manning hadn't lost to a team he plays for a second time in a season since 2007, and in the rematch games he was averaging 260 yards and two TD passes. He hit the two scoring passes on the head vs. New England, but blew the yardage out of the water -- throwing for 400 yards. Manning hasn't gone against Pete Carroll's Seahawks defense, so it should be very interesting.
3: Can Seahawks handle Julius Thomas (Pats didn't)?
Broncos TE Julius Thomas didn't play in the first Broncos-Patriots game, so no one knew how the Patriots would handle the emerging star. We found out quickly that the Patriots didn't have an answer for Thomas.
When Aqib Talib went down because of an injury, things got even worse because rookie linebacker Jamie Collins was no match for Thomas. Thomas was targeted 11 times and caught eight passes. He has 25 receptions in his past four.
However, in the Super Bowl, Thomas will face Seahawks strong safety Cam Chancellor. In two playoff victories, the Seahawks faced Jimmy Graham and Vernon Davis, the NFL's two best two tight ends. They had a combined three receptions for 24 yards. Good luck, Mr. Thomas.
4: 'Omaha?' What about 'Montana?'
Peyton Manning and his brother, Eli, have been yelling "Omaha" for years. Heck, when I was with the Jets, we had an "Omaha" call. It is just a signal to go with the play and snap the ball.
The call that intrigued me during Sunday's Denver game was the "Montana" call. When Peyton called "Montana" out of the shotgun, he was seeing a five-man box from the defense and the middle linebacker was offset and easy to block. The call changed the play to a run and it did a lot of damage to the Patriots.
5: Manning dodges the legacy issue
At no time did I buy the notion that Peyton Manning had to win Sunday, and in the Super Bowl to preserve his legacy. Webster's dictionary defines legacy as: something that happened in the past or that comes from someone in the past. Peyton Manning is already defined as a world champion with all or close to all the passing records. He is playing with house money now, and people who cry legacy don't really understand what this guy already has accomplished in a team sport. Football isn't golf or tennis, where the athlete can be judged as an individual.
6: Scoring in conference title games
On Friday, I wrote that home teams held a 7-5 advantage over road teams in the conference championship round and both home teams won. In addition, Sunday's title games also maintained the trend of fewer points -- combining for an average of 41 points, slightly less than the previous six years' average (44 points). I'll break down the Super Bowl scoring tendencies next week.
7: Things we needed to keep in mind
On Friday, I noted that no team had won four road games in four consecutive weeks since the 1966 Kansas City Chiefs, the assignment the 49ers faced. The Chiefs still hold the distinction.
I also pointed out that Frank Gore, Vernon Davis and Michael Crabtree entered Sunday's game with 3 combined TDs in the previous eight games vs. Seattle. Make that nine games with three TDs among that trio.
We also expected fewer penalties in the conference-title round, based on the previous six seasons. Those averages should have led to 15 penalties in each championship game. The NFC game was right on the mark: 15 between the Seahawks and 49ers. While the Denver-Pats game produced only six, far below the average, it indicates that fewer flags are thrown the deeper we head into the postseason. I will break down Super Bowl tendencies next week, but we can expect even fewer penalties. The Seahawks were the most penalized-team in the NFL this year and Denver was at No. 29.
Bears special teams showed up in a big way against Arizona

Beast Mode got loose with Oakland and looked pretty impressive in the early going

Beast Mode was one of several players to sit during the Raiders-Rams game
The cleaning staff in Houston missed a couple of things while cleaning up after Super Bowl...

Marvin Jones had some serious fun in the end zone after scoring against the Jets

Plus Christian McCaffrey dominates, Aaron Rodgers tests his new toys, Dak Prescott dives right...