Seven Q's from Sunday: Are Eagles top current non-playoff team?
With three quarters of the season over, time to start answering questions. Here are seven from Sunday, including a non-playoff qualifier setting itself apart.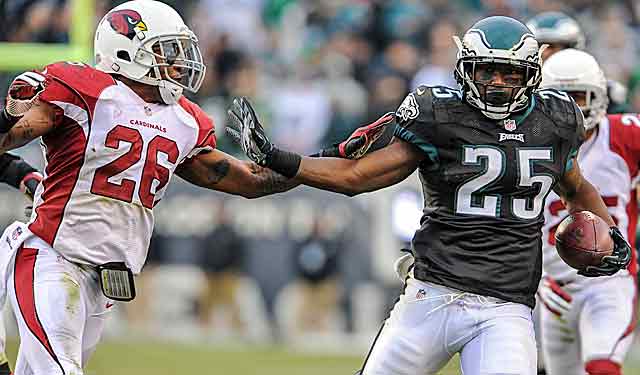 With three quarters (save the Monday night game) of the NFL season finished, time to start answering questions. Here are seven from Sunday, including a non-playoff qualifier setting itself apart.
1: Which non-playoff qualifier is best?
I asked myself which team, not in the playoffs as of yet, has the best chance to bump a team out of the postseason. Answer: The Philadelphia Eagles .
Not only did they beat the Arizona Cardinals  on Sunday, which gives them the head-to-head vs. a playoff contender, but they are also on a four-game winning streak with a fast-improving defense (yielding only 17.5 points per game during the streak), a top running game and a QB who doesn't turn the ball over. During the past four games, Nick Foles has thrown 13 touchdowns to no interceptions.
The final four games of the year are all against NFC teams, which potentially can boost an already strong 6-2 conference record. It may come down to the final game of the year in Dallas, but right now I like their chances.
2: Can the
Chicago Bears

run D be fixed?

Actually, I answered this one in Friday's "Five for Sunday," saying we should pay attention to matchups more than team records.

The example I used was the Bears- Minnesota Vikings game. The Bears' run defense had deteriorated because of injuries to the point where they were giving up 238 yards over the six weeks coming in, and Adrian Peterson presenting a big challenge. Peterson ran for 211 yards and the Vikings averaged 6.2 yards per carry on the way 246 rushing yards.

It doesn't get any easier for the Bears, who still have DeMarco Murray , LeSean McCoy and Eddie Lacy on the schedule.
3: Is Sanchez better than Geno?
I know New York Jets quarterback Geno Smith is a rookie and is having the typical first-year struggles, but he finally got benched for another inept performance.
I don't remember things being this bad during Mark Sanchez's rookie season. He was 8-7, which means Smith must win three more games just to tie Sanchez. Sanchez threw 12 touchdown passes, 20 interceptions and was sacked 26 times. Smith has thrown eight TD passes, 19 INTs and has been sacked 38 times. Smith has three games left.
Smith hasn't thrown a touchdown pass in his past five games, while Sanchez's longest streak without a touchdown pass as a rookie was two games. Smith deserves the rest of the season, even if they bench him at halftime every week, but the Jets should take their time in the offseason before releasing Sanchez.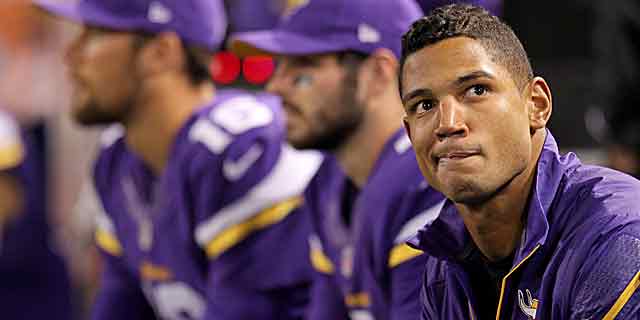 4: When can we see Josh Freeman?
Vikings QB Christian Ponder was knocked out of Sunday's game vs. the Bears. While Matt Cassel came on and played well, Josh Freeman was inactive as Minnesota once again passed on a chance to see what Freeman can do.
Freeman threw 27 touchdown passes last year. No one on the Vikings' roster has ever thrown more than that in a season. I hope we see Freeman play sooner rather than later.
5: Can Indy thrive without Reggie Wayne?
The Indianapolis Colts (8-4) are a solid team, and while they beat Tennessee on Sunday, Andrew Luck was sacked five times while he looked for open receivers and didn't throw a touchdown pass.
Darrius Heyward-Bey hasn't caught a touchdown pass since Oct. 20, when Reggie Wayne was injured, and has only one scoring catch all season. T.Y. Hilton doesn't have a touchdown reception in four games and I'm starting to wonder how far Luck can carry this team in the postseason without Wayne.
6: Can the Pats' run D survive?
The New England Patriots are the AFC's No. 2 seed right now, but their run defense without Vince Wilfork , Tommy Kelly and Jerod Mayo is porous. Despite losing Sunday, the Houston Texans rushed for four touchdowns (they had two touchdowns all season before Week 13).
After 12 games, New England's run defense has given up 1,658 yards (138 per game). Over the past two weeks, they have surrendered 23 first downs rushing, and rushing first downs keep Tom Brady off the field.
7: What if the Pats had snagged Gordon?
Josh Gordon , who the Cleveland Browns took in the supplemental draft, is emerging as a great receiver. In the past three weeks, he has been targeted 47 times with 29 receptions for 623 yards and four touchdown.
The quarterbacks throwing to him are Jason Campbell and Brandon Weeden . As I watched him Sunday, I wondered what he would be doing if the Patriots had taken him in the supplemental draft and Gordon was catching passes from Brady. He might have numbers like Calvin Johnson .
The season might be over for the superstar Packers quarterback

Plus Ingram's Backpack Kid, Brown's Wu-Tang, Bell's bag work and more good times in the NF...

The Raiders just made an upgrade at linebacker
Golden Tate busted out the celebration on Sunday, and The Rock was all for it

The Cardinals new running back quickly found a place to live after being traded from the S...

The league will put its stamp on federal legislation in the wake of protests for equality