Seven-round 2015 NFL Mock Draft: DGB, Gurley, Goldman fall out of first
All mock drafts are not equal. The first 32 picks? Meh. Try all seven rounds, from No. 1 (Jameis Winston) to No. 256 (Curtis Grant), with lots of trades between.
• 23 min read
With the 2015 NFL Draft around the corner, mock drafts abound. But good luck finding one that goes past the first 32 picks.
Until now, that is.
Yep, it's time for the Full Monty: a seven-round mock draft that takes an educated guess at all 256 picks in the draft -- from the Buccaneers at No. 1 to the Cardinals at No. 256 with the final compensatory pick in the seventh round.
There are plenty of trades, and plenty of draft night drama, including a big trade up for Marcus Mariota in the first round and some surprising falls into the second round for first-round talents.
Dig into the mock, and debate the picks in the comments below.
Round 1
1. Tampa Bay Buccaneers: Jameis Winston, QB, Florida State -- Lovie Smith and Co. certainly considered Marcus Mariota here. However, although Winston's tape isn't perfect, it's loaded with NFL-caliber anticipation throws from within the confines of a classic NFL system.
2. Tennessee Titans: Leonard Williams, DT, USC -- The Titans also did a graduate-level amount of homework on Mariota, but Ken Whisenhunt needs to see a sizable jump in the win column in 2015. He can't wait for Mariota to labor through growing pains. Whiz's defense was in shambles last year, and Williams gives Ray Horton and Dick Lebeau a defensive line centerpiece (to pair with Jurrell Casey), which is needed in a division with Andrew Luck.
3. Jacksonville Jaguars: Vic Beasley, OLB, Clemson -- Beasley is as close to a Von Miller clone as we've seen since the Broncos star was drafted in 2011. He's doesn't have traditional 4-3 end size though!!! It's fine. Like Miller, Beasley's a freakish athlete and an explosive, refined pass-rusher.
4. Oakland Raiders: Kevin White, WR, West Virginia --Derek Carr needs a legitimate, superstar potential wide receiver. He gets that with the physical and lightning fast White.
5. Cleveland Browns (traded picks No. 12 and No. 43 -- Round 2 -- and No. 147 -- Round 5 -- to Washington Redskins): Marcus Mariota, QB, Oregon -- Apparently close to "moving on" from Johnny Manziel, the Browns, loaded with draft capital, make an aggressive move to get Mariota, who's more pro-ready than most believe. The Redskins' new brain trust is thrilled with trading back and on the draft trade value chart gives this swap a thumbs up.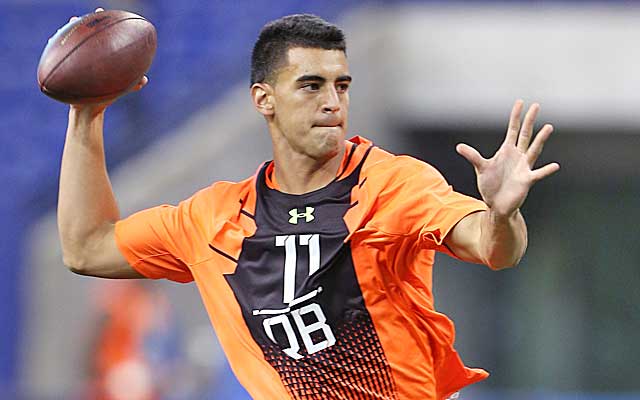 6. New York Jets: Amari Cooper, WR, Alabama -- Despite trading for Brandon Marshall and adding Eric Decker in free agency a year ago, the Jets want to give Geno Smith more outside weapons. Cooper defines "polished" and will be a Chan Gailey favorite.
7. Chicago Bears: DeVante Parker, WR, Louisville -- With Marshall gone, the Bears need receiving help, and see many Marshall-type traits in the intimidating Parker, a smooth glider who excels at high-pointing balls in traffic.
8. Atlanta Falcons: Dante Fowler Jr., OLB, Florida -- Thomas Dimitroff is ecstatic when he sees Fowler Jr. still available … an exquisite "LEO" in Dan Quinn's defense in dire need of pass-rushing reinforcement. Cherry on top -- Quinn was Fowler Jr.'s defensive coordinator when the edge-rusher was a freshman at Florida.
9. New York Giants: Andrus Peat, OT, Stanford -- This is the first major surprise of Round 1, but when you watch Peat's tape you see a lengthy, punishing left tackle with quick, balanced feet who's ready to start right away … yet has All-Pro upside.
10. St. Louis Rams: La'El Collins, OT/OG, LSU -- Another elated draft room can be found in St. Louis, when the Rams realize La'El Collins is on the board at No. 10. He simply blocks everything in front of him and can play either tackle spot or inside at guard.
11. Minnesota Vikings: Brandon Scherff, OG/OT, Iowa -- The Vikings preferred Collins to Scherff but had nearly identical grades on the two veteran trenchmen. Teddy Bridgewater smiles wide.
12. Washington Redskins (traded pick No. 5 to Cleveland Browns for picks No. 12, No. 43 and No. 147): Randy Gregory, DE/OLB, Nebraska -- Scot McCloughan continues a stellar offseason by nabbing the exceptionally-talented Gregory after the trade back. There are off-field concerns with the former Huskers star, but a handful of teams had him tabbed as the finest pass-rusher in the class due to his ranginess and dynamic burst off the snap.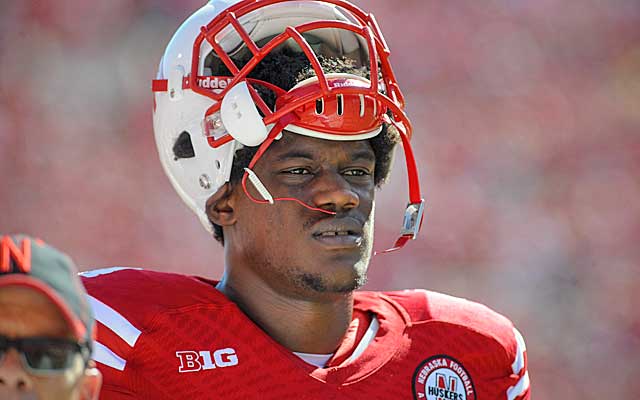 13. New Orleans Saints: Danny Shelton, DT, Washington -- The Saints (draft) reclamation project begins with Shelton, an interior space-eater and backfield disruptor. This pick fills a need and represents ideal value.
14. Miami Dolphins: Marcus Peters, CB, Washington -- The Dolphins are thin at cornerback and need as much secondary talent as they can get playing in the AFC East, a division suddenly oozing with dangerous pass-catchers. Peters is this year's most impressive press-coverage corner prospect.
15. Kansas City Chiefs (traded picks No. 18 and No. 80 -- Round 3 -- to San Francisco 49ers): Breshad Perriman, WR, Central Florida -- We don't see the Chiefs trade up often, but we always see Trent Baalke and the 49ers trade back to accumulate more picks. After going an entire season without a wide receiver catching a touchdown pass, Kansas City must add another weapon to Alex Smith's arsenal beyond Jeremy Maclin. As a Packers assistant in the early-to-mid-1990s, Andy Reid saw the damage Breshad's father, Brett, could do while he played for the Lions. There are some flaws to Breshad's game, mainly the occasional drops. The Chiefs aren't worried though. Perriman's a rocked-up possession wideout with tremendous speed.
16. Houston Texans: Jaelen Strong, WR, Arizona State -- The Texans feel confident with DeAndre Hopkins taking over as the team's No. 1 receiver after the departure of Andre Johnson. That doesn't preclude them from adding a talented pass-catcher in Round 1. Strong is a tall, contested-catch specialist who's just scratching the surface regarding what he's capable of between the lines.
17. San Diego Chargers: Arik Armstead, DL, Oregon -- NFL teams love large, athletic specimens, and Armstead is undoubtedly one of them. At 6-foot-7 and 290 pounds, he has Calais Campbell upside and doesn't need years of development before he can make an impact. He can play inside, at end or even rush the quarterback from an outside linebacker position.
18. San Francisco 49ers (traded pick No. 15 to Kansas City Chiefs for picks No. 18 and No. 80): Kevin Johnson, CB, Wake Forest -- The most glaring need in San Francisco is not inside linebacker, it's cornerback. Kevin Johnson is a fluid, highly aware, super-experienced cornerback. Done.
19. Cleveland Browns (from Buffalo): Maxx Williams, TE, Minnesota -- After seeing Jordan Cameron bolt to Miami and missing out on Charles Clay, the Browns have a blatant hole at tight end. To some, this is "too early" for Williams, but Cleveland likes his body control, strong hands, yards-after-the-catch ability and willingness as a blocker. And he's young.
20. Philadelphia Eagles: Jake Fisher, OT/OG, Oregon -- The Philadelphia Ducks add another member. With Todd Herremans gone, Jason Peters in his mid-30's and a ton of offseason trade rumors about guard Evan Mathis, Chip Kelly adds a powerful and agile offensive lineman to the fold … oh, and he knows the system.
21. Cincinnati Bengals: Alvin Dupree, DE, Kentucky -- The Bengals' pass rush flopped in 2014 and although they reunited with Michael Johnson, they need more electricity on the edge. They undoubtedly get that with Dupree, a scary athlete who needs some fine-tuning when it comes to sharply turning the corner.
22. Pittsburgh Steelers: Trae Waynes, CB, Michigan State -- Waynes is a dream come true for the Steelers, a team that has seen its identity shift from "defensive powerhouse" to "offensive juggernaut" over the past few seasons.
23. Detroit Lions: Byron Jones, CB, UConn -- The Lions have a nice group of young corners on the roster, but Jones' outrageous athleticism is too appealing to pass up.
24. Arizona Cardinals: Eli Harold, OLB, Virginia -- With Shane Ray on the board, the Cardinals slightly surprise the masses by taking Harold. The logic behind this choice is that Harold is a "bendier," more dynamic version of Ray.
25. Carolina Panthers: T.J. Clemmings, OT, Pittsburgh -- The Panthers offensive tackle situation was terrible in 2014, and although they added Michael Oher and Johnathan Martin in free agency, they need a franchise offensive lineman to protect Cam Newton. Clemmings has incredible feet at his size and compares to the Cowboys' Tyron Smith.
26. Baltimore Ravens: Melvin Gordon, RB, Wisconsin -- GM Ozzie Newsome certainly realizes taking a running back in Round 1 may not represent the greatest draft value, but the Ravens love that they're bringing on a player with superstar ability to groom under and share time with Justin Forsett. Gordon's a HR-hitter who runs with deceptive pop between the tackles. What sweetens this selection -- Thomas Hammock, who was Gordon's running back coach at Wisconsin, now holds the same position with the Ravens.
27. New England Patriots (traded picks No. 32 and No. 101 -- Round 4 -- to Dallas Cowboys): Shane Ray, DE, Missouri -- The Patriots traded … up? The draft is always chock full of surprises, and based on Bill Belichick's history of trading back, this decision is rather stunning. But without a star-studded secondary anymore, Belichick knows a consistent pass-rush is the top priority, and the trade-up idea for Ray seemed better with each pick he fell. With back-to-back selections at the end of Round 3, the Patriots are fine surrendering a fourth-rounder to get a player with Ray's edge-rushing talent and fire.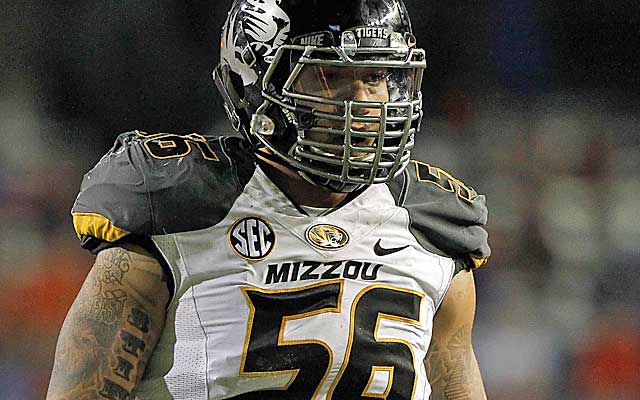 28. Denver Broncos: D.J. Humphries, OT/OG, Florida -- Denver's right tackle spot was a mess last season, so the Broncos waste no time selecting the ultra-agile Humphries who'll fit wonderfully into Gary Kubiak's zone-based scheme.
29. Indianapolis Colts: Landon Collins, SS, Alabama -- UCLA's Eric Kendricks was an option here, but the Colts feel he's a much better fit as a 4-3 WLB than he is on the inside of their 3-4 base. Indianapolis got exemplary safety play from Sergio Brown and Mike Adams a year ago, but Adams is in his mid-30's. This is a BPA selection.
30. Green Bay Packers: Eric Kendricks, ILB, UCLA -- The Packers don't care about alignment … they just need an upgrade at inside linebacker in the worst way. Kendricks is a smart, smooth defender who's always near the football and has adequate coverage skills.
31. New Orleans Saints: Cedric Ogbuehi, OT, Texas A&M -- Ogbuehi suffered an ACL tear in Texas A&M's bowl game, and he needs to get stronger, especially in his lower half and improve his "punch" timing. But there's not a more exemplary pass-blocking offensive tackle in this class. Oh, and he has 36-inch tentacles as arms. With right tackle Zach Strief in the twilight of his career, Ogbuehi makes plenty of sense.
32. Dallas Cowboys (traded pick No. 27 to the New England Patriots for picks No. 32 and No. 101): Malcom Brown, DT, Texas -- Rod Marinelli's defense calls for penetrating defensive tackles, and with Henry Melton gone, the Cowboys have a hole on the inside. Brown is a low-center-of-gravity bull who has the burst to get upfield and the strength to shed blockers to wrap up running backs.
Round 2
33. Tennessee Titans: Ereck Flowers, OT, Miami -- The Titans continue to heavily invest in the offense line -- Whisenhunt couldn't overcome a brutal offensive line in Arizona, so keeping Zach Mettenberger upright is of the utmost priority for Tennessee's offense.
34. Tampa Bay Buccaneers: Owamagbe Odighizuwa, DE, UCLA -- He'll likely continue to be called "Owa" in the NFL, and this UCLA edge-rusher brings excitement to the end spot in Lovie Smith's 4-3.
35. Oakland Raiders: Preston Smith, DL, Mississippi State -- After snagging Kevin White, Reggie McKenzie turns to the defensive side to get Khalil Mack a running mate up front. Smith can win from any of the defensive line positions.
36. Jacksonville Jaguars: Dorial Green-Beckham, WR, Oklahoma -- The Jaguars feel Green-Beckham's upside outweighs his off-field concerns at this point. Blake Bortles is PUMPED.
37. New York Jets: Danielle Hunter, DE, LSU -- Hunter is the latest freak defensive prospect to come out of LSU. With a year of grooming he can be a complete backfield disruptor for Gang Green.
38. Washington Redskins: Quentin Rollins, CB/S, Miami (Ohio) -- The Redskins would like some secondary help. They need secondary help. Rollins is raw but has plus ball skills and needed athleticism. His basketball background shows up on tape, and that's a good thing.
39. Chicago Bears: Ty Sambrailo, OT, Colorado State -- Sambrailo isn't receiving a ton of notoriety, but he possesses NFL left tackle size and physical traits.
40. New York Giants: Damarious Randall, FS, Arizona State -- To many, Randall is the top free safety in this class. His speed and range pop on film. After losing Antrel Rolle, this selection is logical.
41. St. Louis Rams: Sammie Coates, WR, Auburn -- Coates has track speed and a possession receiver frame. If he gets rid of the concentration drops, he'll be a true No. 1 for Nick Foles.
42. Atlanta Falcons: Stephone Anthony, ILB, Clemson -- The Falcons need help all over their defense. They'd like a field general at inside linebacker. They get that with Anthony.
43. Washington Redskins (acquired in Round 1 trade with Cleveland Browns): Jalen Collins, CB, LSU -- Suddenly, with Bashaud Breeland, Quentin Rollins and Collins, Washington's secondary has a strong young nucleus.
44. New Orleans Saints: Clive Walford, TE, Miami -- After fortifying their offensive and defensive fronts in the first round, the Saints add a "replacement" for Jimmy Graham.
45. Minnesota Vikings: Shaq Thompson, LB, Washington -- Thompson's tweener status led to his drop into Round 2. Minnesota badly needs a rangy WLB to bookend Anthony Barr in Mike Zimmer's 4-3 scheme.
46. San Francisco 49ers: Henry Anderson, DL, Stanford -- Take a player Jim Harbaugh recruited? Trent Baalke can't help himself. Anderson is large, extremely athletic for his size, and powerful with a handful of counter moves. Think Justin Smith Jr.
47. Miami Dolphins: Laken Tomlinson, OG, Duke -- The Dolphins may have more pressing needs, but Ryan Tannehill was still sacked too much in 2014 and question marks surround Dallas Thomas.
48. San Diego Chargers: Tevin Coleman, RB, Indiana -- San Diego loves sparkplug Branden Oliver. However, that doesn't stop GM Tom Telesco from taking Coleman, a bigger runner with feature back potential.
49. Kansas City Chiefs: Cameron Erving, C, Florida State -- Rodney Hudson's gone. So the Chiefs take another stud center from Florida State. Perfect.
50. Buffalo Bills: Daryl Williams OT/OG, Oklahoma -- The Bills aggressively pursued right tackle Bryan Bulaga in free agency but missed out on him. Daryl Williams is a classic Oklahoma tackle -- enormous with brute strength and deceptive foot quickness. Offensive coordinator Greg Roman will love him, even if Williams plays inside to begin his NFL career.
51. Houston Texans: Paul Dawson, ILB, TCU -- To some, Dawson was the finest inside linebacker in the class. Unfortunately for him, slower workout times led to a draft-day plummet. The Texans are thrilled.
52. Philadelphia Eagles: Devin Funchess, WR, Michigan -- Pairing with Jordan Matthews, the somewhat raw but exceptionally talented Funchess will aid the Eagles' red-zone woes.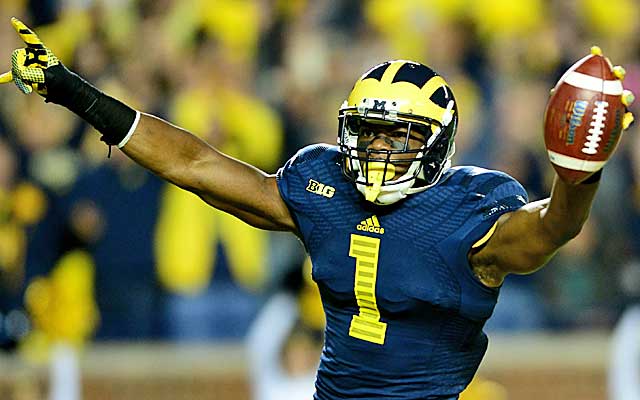 53. Cincinnati Bengals: Grady Jarrett, DT, Clemson -- Jarrett's game is comparable to Geno Atkins. The Bengals like Geno Atkins but want Geno Atkins Insurance. Jarrett does it all.
54. Detroit Lions: Carl Davis, DT, Iowa -- Detroit's excited about the Tyrunn Walker-Haloti Ngata defensive tackle tandem after Ndamukong Suh's departure, but another strong interior pass-rusher is always welcomed in a division with Aaron Rodgers and Teddy Bridgewater.
55. Arizona Cardinals: Todd Gurley, RB, Georgia -- The Cardinals selected the pass-rusher they most definitely needed in Round 1, now they hit priority No. 2 with Gurley, a thundering back with immense all-around talent but an ACL tear on his resume.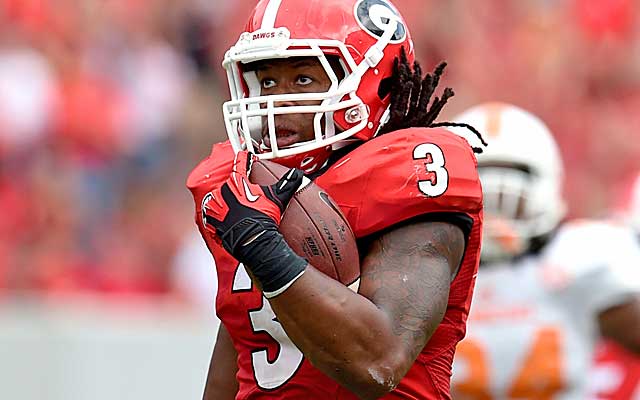 56. Pittsburgh Steelers: Hau'oli Kikaha, OLB, Washington -- Kikaha is a Steelers throwback player. Desired athleticism with a non-stop furious nature when asked to get after the quarterback. Following the stunning retirement of outside linebacker Jason Worilds and Jarvis Jones entering a put-up-or-shut-up season, Pittsburgh had to add an edge-rusher here.
57. Carolina Panthers: Nelson Agholor, WR, Southern Cal -- Cornerback was undoubtedly an option. Ronald Darby, teammate P.J. Williams and even Utah's Eric Rowe were considered. But with Charles Tillman in the mix for 2015, Carolina has the luxury of going "best player available," and wide-receiver help was needed. Agholor is a vintage USC wide receiver -- smooth, reliable with occasional big-play ability -- but he's bigger than recent Trojan draftees Robert Woods and Marqise Lee.
58. Baltimore Ravens: Jordan Phillips, DT, Oklahoma -- No Haloti Ngata. No Pernell McPhee. The Ravens' defensive line could use a boost. It gets just that with the monstrous yet nimble Phillips.
59. Denver Broncos: Eddie Goldman, DT, Florida State -- After snagging fleet-of-foot offensive tackle D.J. Humphries in Round 1, John Elway stays in the trenches. Terrance Knighton is gone, and Goldman is his immediate replacement. Though he didn't receive major attention after a stellar career at Florida State, Goldman is as wide as a house and incredibly challenging to move. He'll squeeze into the backfield often too.
60. Dallas Cowboys: Jay Ajayi, RB, Boise State -- DeMarco who? M..u...r...how do you spell it? It won't be easy for the Cowboys to erase the memory of the departed Murray with him now in Philadelphia, but Dallas loves what Ajayi brings to the field. He's a sculpted, physical runner with exceptional bounce and balance. Behind Dallas' Kevlar offensive line, he's a prime rookie of the year candidate.
61. Indianapolis Colts: Benardrick McKinney, ILB, Mississippi State -- The Colts viewed Landon Collins as the best player available (at somewhat of a need position) in Round 1, and they feel the same way with their situation in Round 2. McKinney is an ideal 3-4 inside linebacker and will learn from vet D'Qwell Jackson. The Bulldogs product is 6'4" and around 245 pounds with plenty of explosiveness. If he plays physical more routinely, he'll be a sturdy pro.
62. Green Bay Packers: Nate Orchard, DE, Utah -- After adding Eric Kendricks in the opening round, the Packers address a dire need on the edge of their defensive front seven. Clay Matthews can't do it alone. Orchard has a 3-4 outside linebacker body and plays relentlessly.
63. Seattle Seahawks: A.J. Cann, OG, South Carolina -- Even if Max Unger were still a member of the Seahawks, Seattle would have had to address the offensive line early in this draft. Russell Wilson makes a myriad of improvisational plays with his feet, but he's pressured too much. Guard James Carpenter signed with the Jets in free agency. Cann -- to some, the top "pure" guard in the entire class -- has to be the pick here for John Schneider and Co.
64. New England Patriots: Tre Jackson, OG, Florida State -- The Patriots are another team with interior offensive line issues, in particular at the guard position. The bulky Jackson will be trench neighbors with former Florida State teammate Bryan Stork, who had an underrated season at center for New England in 2014.
Round 3
65. Tampa Bay Buccaneers: Donovan Smith, OT, Penn State
66. Tennessee Titans: Ronald Darby, CB, Florida State
67. Jacksonville Jaguars: Hroniss Grasu, C, Oregon
68. Oakland Raiders: Cody Prewitt, S, Ole Miss
69. Washington Redskins: Denzel Perryman, ILB, Miami
70. New York Jets: Derron Smith, S, Fresno State
71. Chicago Bears: Lorenzo Mauldin, EDGE, Louisville
72. St. Louis Rams: Kwon Alexander, ILB / OLB, LSU
73. Atlanta Falcons: John Miller, OG, Louisville
74. New York Giants: P.J. Williams, CB, Florida State
75. New Orleans Saints: Devin Smith, WR, Ohio State
76. Minnesota Vikings: Eric Rowe, CB, Utah
77. Cleveland Browns: Mario Edwards, DL, Florida State
78. New Orleans Saints (from Miami (8-8)): Bryce Petty, QB, Baylor
79. San Francisco 49ers: Tre McBride, WR, William & Mary
80. San Francisco 49ers (acquired in Round 1 trade with Kansas City Chiefs): Taiwan Jones, ILB, Michigan State
81. Buffalo Bills: Davis Tull, EDGE, Chattanooga
82. Houston Texans: Ameer Abdullah, RB, Nebraska
83. San Diego Chargers: Mike Hull, ILB / OLB, Penn State
84. Philadelphia Eagles: Ibraheim Campbell, S, Northwestern
85. Cincinnati Bengals: Jeff Heuerman, TE, Ohio State
86. Arizona Cardinals: Michael Bennett, DT, Ohio State
87. Pittsburgh Steelers: Jaquiski Tartt, S, Samford
88. Detroit Lions: Phillip Dorsett, WR, Miami
89. Carolina Panthers: Duke Johnson, RB, Miami
90. Baltimore Ravens: Tyler Lockett, WR, Kansas State
91. Dallas Cowboys: Steven Nelson, CB, Oregon State
92. Denver Broncos: MyCole Pruitt, TE, Southern Illinois
93. Indianapolis Colts: Za'Darius Smith, EDGE, Kentucky
94. Green Bay Packers: Alex Carter, CB, Stanford
95. Seattle Seahawks: Chris Conley, WR, Georgia
96. New England Patriots: Ben Heeney, ILB, Kansas
97. New England Patriots (compensatory): David Johnson, RB, Northern Iowa
98. Kansas City Chiefs (compensatory): Hayes Pullard, ILB, Southern Cal
99. Cincinnati Bengals (compensatory): Rob Havenstein, OT, Wisconsin
Round 4

100. Tennessee Titans: David Cobb, RB, Minnesota
101. Dallas Cowboys (acquired in Round 1 trade with New England
Patriots, from Tampa Bay Buccaneers): Trey Flowers, EDGE, Arkansas
102. Oakland Raiders: Jamison Crowder, WR, Duke
103. Jacksonville Jaguars: Mike Davis, RB, South Carolina
104. New York Jets: T.J. Yeldon, RB, Alabama
105. Washington Redskins: Vince Mayle, WR, Washington State
106. Chicago Bears: Xavier Cooper, DT, Washington State
107. Atlanta Falcons: Darren Waller, WR, Georgia Tech
108. New York Giants: DJoun Smith, CB, Florida Atlantic
109. Tampa Bay Buccaneers (from St. Louis): Adrian Amos, S, Penn State
110. Minnesota Vikings: Rashad Greene, WR, Florida State
111. Cleveland Browns: Justin Hardy, WR, East Carolina
112. Seattle Seahawks (from New Orleans (7-9)): Anthony Chickillo, DL, Miami
113. Philadelphia Eagles (from Buffalo via San Francisco (8-8)): Lynden Trail, DL, Norfolk State
114. Miami Dolphins: Tony Lippett, WR, Michigan State
115. Cleveland Browns (from Buffalo (9-7)): Reese Dismukes, C, Auburn
116. Houston Texans: Tyrus Thompson, OT, Oklahoma
117. San Diego Chargers: Brett Hundley, QB, UCLA
118. Kansas City Chiefs: Corey Crawford, DL, Clemson
119. St. Louis Rams (from Philadelphia (10-6)): Clayton Geathers, S, Central Florida
120. Cincinnati Bengals: Jordan Hicks, OLB, Texas
121. Pittsburgh Steelers: Jeremy Langford, RB, Michigan State
122. Baltimore Ravens (from Detroit (11-5)): Ben Koyack, TE, Notre Dame
123. Arizona Cardinals: Doran Grant, CB, Ohio State
124. Carolina Panthers: Garrett Grayson, QB, Colorado State
125. Baltimore Ravens: Kenny Bell, WR, Nebraska
126. San Francisco 49ers (from Denver (12-4)): Wes Saxton, TE, South Alabama
127. Dallas Cowboys: Kurtis Drummond, S, Michigan State
128. Indianapolis Colts: Arie Kouandjio, OG, Alabama
129. Green Bay Packers: Javorius Allen, RB, USC
130. Seattle Seahawks: Justin Cox, CB, Mississippi State
131. New England Patriots: Garry Peters, CB, Clemson
132. San Francisco 49ers (compensatory): Laurence Gibson, OT / OG, Virginia Tech
133. Denver Broncos (compensatory): Ramik Wilson, ILB, Georgia
134. Seattle Seahawks (compensatory): Markus Golden, EDGE, Missouri
135. Cincinnati Bengals (compensatory): DeAndre Smelter, WR, Georgia Tech
136. Baltimore Ravens (compensatory): Ifo Ekpre-Olomu, CB, Oregon
Round 5

137. Minnesota Vikings (from Buffalo via Tampa Bay (2-14)): Nick O'Leary, TE, Florida State
138. Tennessee Titans: Ty Montgomery, WR, Stanford
139. Jacksonville Jaguars: Xavier Williams, DT, Northern Iowa
140. Oakland Raiders: Randall Evans, CB, Kansas State
141. Washington Redskins: Ali Marpet, OG, Hobart
142. Chicago Bears (from New York Jets (4-12)): Jacoby Glenn, CB, Central Florida
143. Denver Broncos (from Chicago Bears (5-11)): Geneo Grissom, EDGE, Oklahoma
144. New York Giants: Tyler Kroft, TE, Rutgers
145. Philadelphia Eagles (from St. Louis Rams (6-10)): Craig Mager, CB, Texas State
146. Atlanta Falcons: Kevin White, CB, TCU
147. Washington Redskins (acquired in Round 1 trade with Cleveland
Browns): Jesse James, TE, Penn State
148. New Orleans Saints: Josue Matias, OG, Florida State
149. Miami Dolphins (from Minnesota Vikings (7-9)): Trey DePriest, ILB, Alabama
150. Miami Dolphins: Sean Carden, QB, East Carolina
151. San Francisco 49ers: James Sample, S, Louisville
152. Houston Texans: Shaq Riddick, EDGE, West Virginia
153. San Diego Chargers: C.J. Uzomah, TE, Auburn
154. New Orleans Saints (from Kansas City Chiefs (9-7)): Zach Vigil, OLB, Utah State
155. Buffalo Bills: Jake Ryan, ILB/OLB, Michigan
156. Philadelphia Eagles: Titus Davis, WR, Central Michigan
157. Cincinnati Bengals: Jordan Richards, S, Stanford
158. Baltimore Ravens (from Detroit Lions (11-5)): Robert Myers, OL, Tennessee State
159. Arizona Cardinals: Dezmin Lewis, WR, Central Arkansas
160. Pittsburgh Steelers: Austin Shepherd, OT, Alabama
161. Carolina Panthers: Senquez Golson, CB, Ole Miss
162. Tampa Bay Buccaneers (from Baltimore Ravens (10-6)): Bryce Hager, ILB / OLB, Baylor
163. Dallas Cowboys: Sean Mannion, QB, Oregon State
164. Denver Broncos: Jeremiah Poutasi, OT/OG, Utah
165. Indianapolis Colts: Tyler Varga, RB/FB, Yale
166. Green Bay Packers: Ryan Russell, DL/OLB, Purdue
167. Seattle Seahawks: Anthony Jefferson, S, UCLA
168. Tampa Bay Buccaneers (from New England Patriots (12-4)): Blake Bell, TE, Oklahoma
169. Carolina Panthers (compensatory): Gerod Holliman, S, Louisville
170. Seattle Seahawks (compensatory): B.J. Finney, C, Kansas State
171. Baltimore Ravens (compensatory): Damian Swann, CB, Georgia
172. Kansas City Chiefs (compensatory): Jamil Douglas, OG, Arizona State
173. Kansas City Chiefs (compensatory): Nick Boyle, TE, Delaware
174. Carolina Panthers (compensatory): Corey Robinson, OT, Auburn
175. Houston Texans (compensatory): Ladarius Gunter, CB, Miami
176. Baltimore Ravens (compensatory): Marcus Hardison, DT, Arizona State
Round 6

177. Tennessee Titans: Gabe Wright, DT, Auburn
178. New England Patriots (from Tampa Bay Buccaneers (2-14)): Joey Mbu, DT, Houston
179. Oakland Raiders: Mitch Morse, OL, Missouri
180. Jacksonville Jaguars: Jeff Luc, ILB, Cincinnati
181. Seattle Seahawks from (New York Jets (4-12)): Martrell Spaight, OLB, Arkansas
182. Washington Redskins: Casey Pierce, TE, Kent State
183. Chicago Bears: Durrell Eskridge, S, Syracuse
184. Tampa Bay Buccaneers (from St. Louis Rams (6-10)): Christian Covington, DT, Rice
185. Atlanta Falcons: Chris Hackett, S, TCU
186. New York Giants: Zach Hodges, EDGE, Harvard
187. New Orleans Saints: Xzavier Dickson, EDGE, Alabama
188. Buffalo Bills (from Minnesota Vikings (7-9)): Rakeem Nunez-Roches, DT, Southern Mississippi
189. Cleveland Browns: Junior Sylvestre, OLB, Toledo
190. San Francisco 49ers: Deshazor Everett, CB, Texas A&M
191. Miami Dolphins: Kyle Emanuel, EDGE, North Dakota State
192. San Diego Chargers: Obum Gwacham, EDGE, Oregon State
193. Kansas City Chiefs: Stefon Diggs, WR, Maryland
194. Buffalo Bills: Brian Parker, TE, Albany
195. Houston Texans: Alani Fua, EDGE / OLB, BYU
196. Philadelphia Eagles: Kaleb Eulls, DT, Mississippi State
197. Cincinnati Bengals: Brock Hekking, EDGE, Nevada
198. Arizona Cardinals: Andrew Donnal, OT, Iowa
199. Pittsburgh Steelers: Zach Wegenmann, EDGE, Montana
200. Detroit Lions: Josh Robinson, RB, Mississippi State
201. Carolina Panthers: Andy Gallik, C, Boston College
202. Cleveland Browns (from Baltimore Ravens (10-6)): Quandre Diggs, CB, Texas
203. Denver Broncos: Antwan Goodley, WR, Baylor
204. Baltimore Ravens (from Dallas Cowboys (12-4)): Tyler Heinicke, QB, Old Dominion
205. Indianapolis Colts: Julian Wilson, CB, Oklahoma
206. Green Bay Packers: Anthony Harris, S, Virginia
207. Indianapolis Colts (from Seattle Seahawks (12-4)): Sean Hickey, OT/OG, Syracuse
208. Tennessee Titans (from New England Patriots (12-4)): Ryan Mueller, OLB/DE, Kansas State
209. Seattle Seahawks (compensatory): Geremy Davis, WR, UConn
210. Green Bay Packers (compensatory): Gerald Christian, TE, Louisville
211. Houston Texans (compensatory): Derrick Malone Jr., ILB, Oregon
212. Pittsburgh Steelers (compensatory): Mark Glowinski, OT / OG, West Virginia
213. Green Bay Packers (compensatory): Darryl Baldwin, OT, Ohio State
214. Seattle Seahawks (compensatory): JaCorey Shepherd, CB, Kansas
215. St. Louis Rams (compensatory): Al Bond, OG, Memphis
216. Houston Texans (compensatory): Deon Long, WR, Maryland
217. Kansas City Chiefs (compensatory):Jermaine Whitehead, S, Auburn
Round 7

218. Tampa Bay Buccaneers: Bobby McCain, CB, Memphis
219. New England Patriots (from Tennessee Titans (2-14)): Mario Alford, WR, West Virginia
220. Jacksonville Jaguars: Justin Coleman, CB, Tennessee
221. Oakland Raiders: Malcolm Brown, RB, Texas
222. Washington Redskins: Anthony Boone, QB, Duke
223. New York Jets: Ray Drew, DL, Georgia
224. New York Jets: from Chicago - Josh Harper, WR, Fresno State
225. Atlanta Falcons: Rob Crisp, OL, N.C. State
226. New York Giants: Austin Hill, WR, Arizona
227. St. Louis Rams: Tye Smith, CB, Towson
228. Minnesota Vikings: Cameron Artis-Payne, RB, Auburn
229. Cleveland Browns: Matt Jones, RB, Florida
230. New Orleans Saints: Tevin McDonald, S, Eastern Washington
231. Detroit Lions (from Baltimore via Miami): Jean Sifrin, TE, Massachusetts
232. Minnesota Vikings (from Miami via San Francisco (8-8)): Chris Bonner, QB, Colorado State Pueblo
233. Kansas City Chiefs: B.J. Dubose, DE, Louisville
234. Buffalo Bills: Kyshoen Jarrett, S, Virginia Tech
235. Houston Texans: Jarvis Harrison, OT / OG, Texas A&M
236. Dallas Cowboys (from San Diego Chargers (9-7)): Deontay Greenberry, WR, Houston
237. Philadelphia Eagles: Erick Dargan, S, Oregon
238. Cincinnati Bengals: Terrence Magee, RB, LSU
239. Pittsburgh Steelers: Derrick Lott, DL, Chattanooga
240. Detroit Lions: Jalston Fowler, FB, Alabama
241. Arizona Cardinals: Cameron Clear, TE / OT, Texas A&M
242. Carolina Panthers: Troy Hill, CB, Oregon
243. Dallas Cowboys (from Baltimore Ravens (10-6)): Tayo Fabuluje, OL, TCU
244. Indianapolis Colts (from Dallas Cowboys (12-4)): Leterrius Walton, DL, Central Michigan
245. New York Giants (from Denver Broncos (12-4)): Cedric Reed, DL, Texas
246. San Francisco 49ers (from Indianapolis Colts (11-5)): Brandon Bridge, QB, South Alabama
247. Green Bay Packers: Rannell Hall, WR, UCF
248. Seattle Seahawks: Shaquille Mason, C, Georgia Tech
249. Atlanta Falcons (from St. Louis via New England): Da'Ron Brown, WR, Northern Illinois
250. Denver Broncos (compensatory): Karlos Williams, RB, Florida State
251. Denver Broncos (compensatory): Ellis McCarthy, DT, UCLA
252. Denver Broncos (compensatory): Tray Walker, CB, Texas Southern
253. New England Patriots (compensatory): Cody Wichmann, OG, Fresno State
254. San Francisco 49ers (compensatory): Zach Zenner, RB, South Dakota State
255. Indianapolis Colts  (compensatory): Nick Marshall, CB, Auburn
256. Arizona Cardinals (compensatory): Curtis Grant, ILB, Ohio State
The Green Bay Packers quarterback seems to be a go for the Carolina Panthers game

Shazier's season might be over, but he still wants to help his team

The young head coach took the blame after a heartbreaking loss to the Eagles
Our computer model simulated every Week 15 NFL game 10,000 times with very surprising resu...

Britt is going from the worst team in football to a Super Bowl contender

With three weeks to go in the regular season, the MVP race is wide open