Shares of Texans RB Arian Foster will soon be on sale for $10
Looking for a unique investment? Later this month, a company in San Francisco plans on selling 1.055 million shares in Texans running back Arian Foster.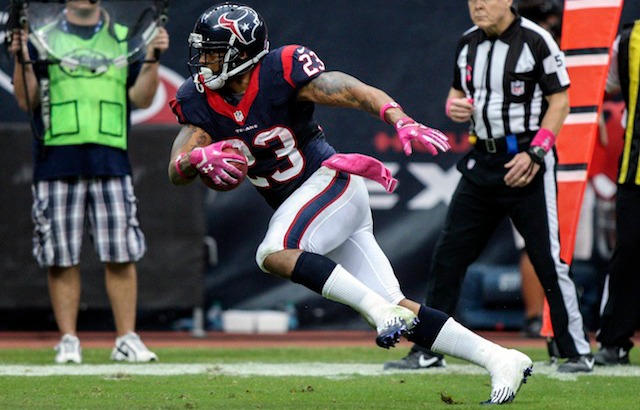 If you're tired of investing in boring things like stocks and want to diversify your portfolio, then you might want to consider investing in something else: like Houston Texans running back Arian Foster. 
Starting later this month, a San Francisco-based company called Fantex Holdings, is going to start selling shares in Foster, according to USA Today. The company plans to sell 1.055 million shares at $10 per share in hopes of raising $10.55 million. Of the money raised in the initial offering, $10 million of it would go to Foster and in return Fantex would obtain an interest in Foster's current and future income. 
The company says it has a deal with Foster that dates back to Feb. 28. If all 1.055 million shares are sold, Foster will get $10 million and Fantex will get 20 percent of Foster's football-related income -- ranging from his contract to endorsements to other brand-related stuff. Fantex's 20 percent cut would include money Foster has made since Feb. 28 and go forward in perpetuity. 
Before offering the shares, the company had to file a registration statement with the Securities and Exchange Commission, according to the report.
If you buy stock in Foster, there's no guarantee a dividend will ever be paid out, although that could happen at some point. According to USA Today, investors will make money if there's enough interest in Foster and his future earning power. 
If you do buy shares, USA Today points out that 'Shareholders will have no direct investment in Fantex's contract with Foster, Foster's brand or Foster himself.'
"We think that we can obviously raise the money from the public markets because there will be the interest (after the initial offering) that, 'Hey, this an interesting thing because I'm interested in the sport, I understand finance... and I want to own a tracking stock that's linked to the value and performance of Arian Foster's brand," CEO Buck French said. "I do think people will find that interesting."
Fantex does have at least one NFL tie besides Foster: Broncos executive vice president of operations John Elway is among the people on the company's board of directors. 
Check here for the latest news, rumors and updates for NFL coaching changes and searches

The Titans have tapped Texans defensive coordinator Mike Vrabel to take over as head coach

The government shutdown has come at a horrible time for NFL fans in the U.S. military
Bengals owner Mike Brown seems to be a huge fan of continuity

Our computer model simulated the AFC and NFC title games 10,000 times with surprising resu...

The people of Philadelphia now have two reasons to root for the Eagles this week