Shazier expected to be third Steelers rookie to start at LB since '74
Steelers rookie linebacker Ryan Shazier is set to join Jack Lambert and Kendrell Bell.
• 1 min read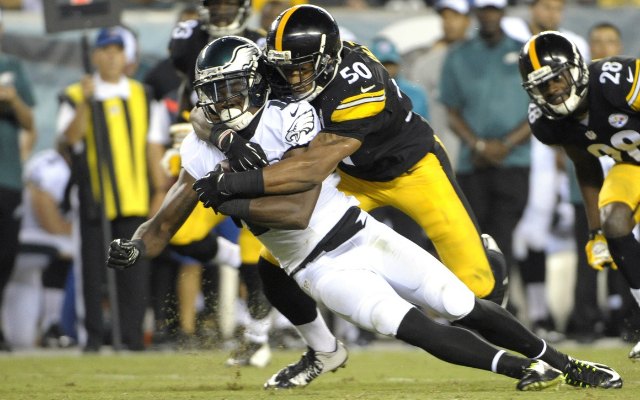 What do Ryan Shazier, Kendrell Bell and Jack Lambert have in common? Well, assuming Shazier doesn't injure himself in practice this week, these men will have been the only three rookies to start at linebacker for the Steelers in the past 40 years.
Considering Lambert is a Pro Football Hall of Famer who made nine Pro Bowl teams and who won four Super Bowl crowns and Bell won the defensive rookie of the year award in 2001, that means Shazier -- Pittsburgh's No. 15 overall draft pick -- is in pretty good company. As the Beaver County Times tells us.
"It's been a dream of mine my whole life, to play in the NFL, and then the first game of my career is going to be a start," Shazier said. "Words will not even be able to describe it. It puts me in nice company. I came from Ohio State, so all I heard about was the Browns when I was there. Now, I'm getting to play against them, and it will mean a lot."
Shazier has had a solid preseason, and he was particularly impressive in his first exhibition game, recording nine tackles and an interception in less than two quarters of action.
"His pass coverage is awesome," linebacker Lawrence Timmons said, via the Pittsburgh Post Gazette. "You saw the tackles; he was making tackles left and right. He has the pedigree. He has all the talent and the intangibles you want in an inside linebacker."
Whether he'll be as good a rookie as was Bell or Lambert -- who also won the defensive rookie of the year award in 1974 -- remains to be seen. But in order to do so, Shazier realizes he still needs to get better.
"I had some ups and downs, but I feel like I had a pretty decent preseason," he said. "I just got to continue growing as we go into the regular season."
Forget being the highest paid receiver, Odell Beckham has loftier goals for his next contr...

There was a Rolls-Royce at Steelers training camp, but no Le'Veon Bell

'It ain't about 2016 and it ain't about 2018. It's about 2017,' Doug Williams told his qua...
Philip Rivers will not be moving to Los Angeles with the Chargers

Bryant has had off-the-field issues keeping him off the field for the past few years

Technically Woody Johnson is the Jets' owner, but on the other hand, Brady does own the Je...