'Shocked, disappointed' Chudzinski says he's Browns fan to core
Former Browns coach Rob Chudzinski released a statement Monday, saying he was grateful to have coached in Cleveland.
• 1 min read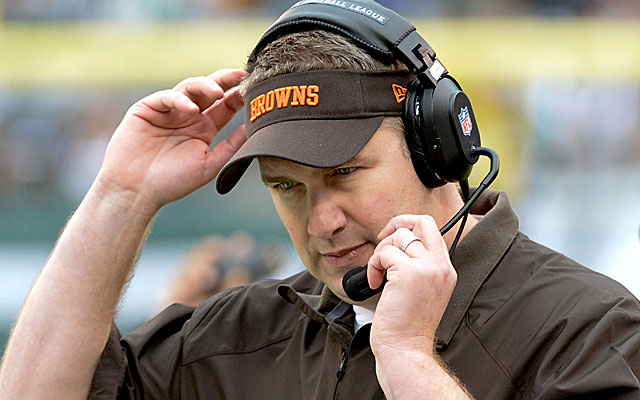 In a move that would have been shocking two days ago, Rob Chudzinski was the first coach to get fired after his team's season was complete. Chudzinski, whose team went 4-12 in his only season in Cleveland, didn't even make it to Black Monday before the Browns decided to pink-slip him and start over again.
Since Chudzinski didn't meet with the media after the news was reported, he released a statement Monday morning and called himself a Browns fan for life.
"I was shocked and disappointed to hear the news that I was fired," Chudzinski said. "I am a Cleveland Brown to the core, and always will be. It was an honor to lead our players and coaches, and I appreciate their dedication and sacrifice. I was more excited than ever for this team, as I know we were building a great foundation for future success. While clearly I would have liked to see the long-term vision through to the end, I am very grateful to [Browns owner] Jimmy Haslam and the Haslam family for letting me live my dream."
As the Browns said in their statement Sunday night, "We appreciate Chud's passion for the Browns, and we have great respect for him both personally and professionally. We needed to see progress with this football team. We needed to see development and improvement as the season evolved and, unfortunately, we took a concerning step backward in the second half of the year."
Said Haslam on Monday: "We understand the importance of continuity, but we understand the importance of getting it right."
Chudzinski, though, got a chance to meet with his former team Monday.
#Browns owner Jimmy Haslam and CEO Joe Banner met with players today, so did Chud. Chud was emotional but professional they said.

— Mary Kay Cabot (@MaryKayCabot) December 30, 2013
In replacing Chudzinski, the Browns could go after Patriots offensive coordinator Josh McDaniels or Broncos offensive coordinator Adam Gase. For now, the assistant coaching staff remains intact, so it makes sense that defensive coordinator Ray Horton and/or offensive coordinator Norv Turner could get a chance to interview for the head coaching spot as well.
Follow Josh Katzowitz on Google+
Chris Long put his arm around Malcolm Jenkins during his teammate's protest on Thursday

Nick Folk had some trouble putting the ball through the uprights against Jacksonville

If this fan was general manager of the Jaguars, Blake Bortles probably wouldn't be quarter...
It looks like we're going to have a quarterback competition in Jacksonville

Smith is facing up to seven years in prison if convicted

Plus everything else you need to know about Week 2 of the 2017 NFL preseason