Short-yardage plays can cause large headaches for certain teams
Making the right call in third-and-1 and fourth-and-1 situations can be the difference between winning and losing for NFL coaches.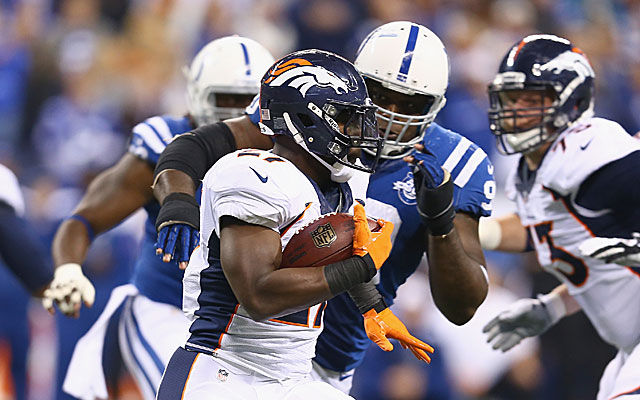 Some people like to refer to football as a game of inches.
The point being that when the chains come out for a measurement and make or miss a first down by inches it can mean the difference between winning and losing. Third down and 1 yard to go is a critical down and distance. A decision to "go for it" on fourth-and-one can be even more critical. How many teams are really built to send a group on to the field that can gain that 1 yard, or 3 feet, or 36 inches, whichever way you want to look at the longest yard in football?
Not every team is built to do the job and should a team pound the run or throw the ball in this situation? Old school thinkers say, "If you can't get a yard running the ball in that situation you don't deserve to win." I'm not so sure about that line of thought but I do know that converting 1-yard situations is difficult and there is no better example than last week's showdown in Indianapolis between the Broncos and Colts.
In the first series the Broncos were confronted with a third-and-1 at their own 47-yard line and failed to convert when RB Knowshon Moreno plowed into the middle for no gain and the Broncos had to punt. Later in the same quarter on their own 22-yard line confronted with the same situation the Broncos called the same play and got the same result.
In the fourth quarter Moreno was asked again to blast it up in the inside and was turned back. Who knows what would have happened if all three of those attempts were successful, and should the Broncos have considered throwing the ball because when it was fourth-and-one and down 36-23 to the Colts? Peyton Manning threw to Wes Welker for the first down, which led to a touchdown four plays later. The reality of football is that teams have to maintain possession of the ball at all costs and many times the third-and-1 and fourth-and-1 situations are the moment of truth.
Here's a look at what teams have to be ready for during a season when considering their preparation for the short yardage game.  The average team in the NFL over the past five-year period averages 25 third-and-1 situations and five fourth-and-1 situations where they decide to go for it. That means they better have an offensive package that will be used 2 times a game for the whole regular season and failure in this area means losing possession of the ball.  What should teams do in these situations is the next question?
Over the past five seasons teams convert third-and-1 situations an average of 65 percent of the time. The best teams in this area convert at a rate of 80 percent. When it comes to breaking down run and pass it's clear that running is the preference but interestingly enough teams have steadily moved away from the run option. Over the past five seasons the average team will run the ball 17 of the 25 times they are in a third-and-1 situation and convert 68 percent of the time. The best teams in this situation run the ball for a first down 81 percent of the time. Look at the use of the run averages per club since 2008: 2008: 20 runs, 2009: 19 runs, 2010: 17 runs, 2011: 16 runs, 2012: 12 runs. On pure speculation from my part there just aren't as many big power running backs like Jerome Bettis on rosters anymore. I know the Broncos could have used a big 250 lb. guy against the Colts to push the pile.
When it comes to throwing the ball in third-and-1 situations teams convert at a 50 percent rate and only average throwing the ball seven times a year over the past five years.
Last year teams like Green Bay, Denver and Detroit averaged 13 pass plays in this situation and were successful 64 percent of the time, but that is not the norm. It must have been frustrating for Peyton Manning the other night to watch three runs fail when he came into the game 2 for 2 passing in that situation earlier in the season.
Well, if third-and-one fails it leaves you with fourth-and-one, which most of the time means punt or field goal in the NFL, but in certain situations it can mean go for it! The average team is confronted five times a season with this problem and it has an average success rate of 65 percent since 2008. On run plays it jumps up to a 75 percent success rate and passing drops to a 55 percent rate. The best in the league last year in fourth-and-1 conversions were the Seahawks, Texans, Packers and Bengals as they combined to convert 15 of 15 attempts with 14 on the ground and one through the air. The four worst teams were the Lions, Cardinals, Jaguars and Falcons who only converted 3 of 14 shots. This season these four teams are much improved already converting 5 of 7 fourth-and-one situations. Teams address limitations in this area so not to fail again.
Finally, consider if your team had to punt 20 fewer times in a season or didn't have to settle for a field goal 10 times a year because they kept a drive alive and scored a touchdown. In a league where so many games are decided by 3 points or less, making the 1-yard offense work whether it's third down or fourth down is critical. Last year New England was the best third-and-1 team in the NFL converting 24 of 30 attempts.
Right now they are No. 32 converting 4 of 11. Hopefully the return of
Rob Gronkowski and the no-huddle QB sneaks by Brady will get them back on course. In the Bills' road win over the Dolphins last week Buffalo was confronted with two third-and-1 situations and made both of them, which led directly to 10 points later in those drives in a game they won by 2 points. Never lose sight of the game of inches being played.
The Oklahoma quarterback isn't exactly being discreet about where he wants to begin his NFL...

No one was hurt, but Fournette's Mercedes lost a bumper

It might be time to begin worrying about the Patriots quarterback
The Patriots are still odds-on favorites, but the other teams are closing in

SportsLine tapped into its Vegas sources to see who professional bettors like Sunday

Philadelphia readies itself for a massive celebration if the Eagles advance to the Super B...