Sioux Falls police: Adrian Peterson's 2-year-old son has died
The 2-year-old son of Vikings running back Adrian Peterson has died, according to multiple reports.
• 1 min read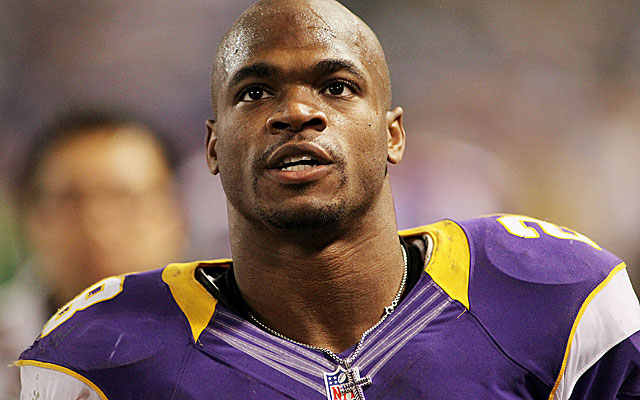 Sioux Falls, S.D., police have confirmed that the 2-year-old son of Adrian Peterson has died, according to the Minneapolis Star Tribune.
Peterson's son allegedly was beaten by the boyfriend of his mother in South Dakota, and he suffered head injuries. Earlier Friday, he was listed in critical condition.
Per the family's request, the state is holding the child's name, but Peterson's father, Nelson Peterson, told the St. Paul Pioneer Press earlier Friday that the victim was one of Adrian Peterson's sons. The name of the boy reportedly will be announced next week.
"All I can say is, we are asking for prayers and for respect for our family as we deal with this tragic situation," Nelson Peterson told the newspaper.
Joseph Robert Patterson, 27, has been charged with aggravated assault and aggravated battery on an infant. The state's attorney is reviewing the case for possible additional charges, police said.
According to the Sioux Falls Argus Leader:
Patterson was dating the child's mother and was the only one home with the boy Wednesday when the abuse allegedly took place.

Patterson called 911 around 5:45 p.m. Wednesday to report the boy was choking at their Platinum Valley apartment. But Lt. Blaine Larsen of the Sioux Falls Police Department said it became clear at the hospital that the boy's injuries were not accidental …

An examination led doctors to suspect that the boy's injuries were "consistent with abuse" and not accidental, Larsen said.

The assault on an infant charge involves blows, shaking or causing a child's head to sustain impact with an object in a manner that causes bleeding or swelling on the brain.
Adrian Peterson returned to Vikings headquarters Friday and said he would play SundayMinnesota Vikings.
"I will be playing Sunday, without a doubt," Peterson told the media Friday. "I really appreciate all the support that I've been receiving from fans and the Vikings organization. This is a private matter and I would ask you all to please just respect my privacy and not ask at all about the situation at hand."
Peterson also tweeted this Friday evening:
The NFL is a fraternity of brothers and I am thankful for the tweets, phone calls and text messages from my fellow players.

— Adrian Peterson (@AdrianPeterson) October 11, 2013
Here's an up-to-date look at the 2018 Pro Bowl roster

New England is 3-0 wearing white in Super Bowls under Bill Belichick

Bettors are favoring the Eagles to keep Super Bowl LII close, but the Patriots remain clear...
No one wants to give the Eagles any respect

The three-time Grammy winner will sing before Super Bowl LII on Feb. 4

Here's a look at the NFL's entire postseason schedule for 2018