Six decades ago, the Redskins also faced rookie QBs in Weeks 1,2
With the Patriots starting their season by playing against two rookie quarterbacks in the first two weeks, let's remember the 1950 Redskins.
• 2 min read
Here's an interesting sidenote on Thursday's Patriots-Jets game. For the first time since the 1950 Redskins, the Patriots will face two rookie quarterbacks to start the season. You saw how EJ Manuel almost upset New England last week, and now, the Patriots will face Jets second-round pick Geno Smith, who's coming off a surprising win against the Buccaneers.
I read that stat, and I decided I had to know which rookies that Washington squad from 63 years ago faced and whatever happened to them.
In Week 1, the Redskins saw Adrian Burk with the Baltimore Colts, and though Y.A. Tittle also played on that Colts team, Burk was the one to get smoked by Sammy Baugh (who gave us a break from his JAZZ HANDS) and his Washington teammates in a 38-14 loss for Baltimore.
What did Burk do with his career: He once Peyton Manning-ed it by throwing seven touchdown passes in a game in 1954. He also made two Pro Bowls before leaving the game after the 1956 season. He also apparently was a ruggedly handsome man, as you can see by his 1950 Bowman football card below.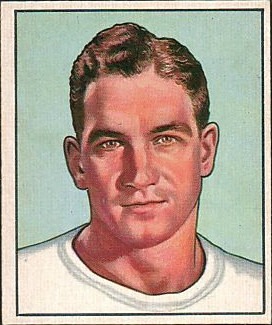 What he did with the rest of his life: Burk died in June, but as the Philadelphia Inquirer notes, Burke became "an oil-field worker, an assistant college coach, a trial lawyer, a front-office executive for the Houston Oilers, an NFL game official, and a Southern Baptist missionary." Oh, and he did this, via the Inquirer. "He was the back judge who gave the touchdown signal on one of the most controversial plays in NFL history: Franco Harris' 'immaculate reception' in a 1972 playoff game between the Pittsburgh Steelers and the Oakland Raiders."
In Week 2 of 1950, the Redskins had to play 22-year-old Green Bay rookie Tobin Rote, and instead of blasting the rookie, the Redskins couldn't get past the Packers -- who went 3-9 that year, mind you -- and lost 35-21.
What did Rote do with his career: Rote had a long, colorful career in the NFL, Canadian Football League and American Football League (in fact, he won an NFL title with the Lions in 1957 after replacing an injured Bobby Layne before making himself the best quarterback in Canada and then leading the Chargers to the 1963 AFL title as a 35-year-old). This is largely irrelevant, but Rote also was a rather hairy dude (while doing research on my Sid Gillman book, I saw pictures of Rote with his shirt off in the locker room, and as I write in my tome, he looked like he was wearing a tank top made of black fur). But Gillman was impressed with Rote, saying at one point that Rote "was as great a quarterback as ever took the ball from center." And yes he liked to drink so much that teammates sometimes could smell the beer on his breathe during practice.
What he did with the rest of his life: As the NY Times notes, Rote went on to become a corporate executive in Detroit (whatever that means), and he died in 2000.
It should be noted that the Redskins went 3-9 that season, so obviously, playing rookie quarterbacks early in the season isn't necessarily a marker for future success.
And make sure to keep a lookout for the sequel to this post in 2076 when we can discuss the career and life trajectories of Manuel and Smith.
Follow Josh Katzowitz on Google+
It sure looks like the former top pick will be benched heading into the regular season for...

Someone asked him to start the press conference of course

Derrick Johnson wants to discuss players' First Amendment rights amidst the protests
High praise from one of the most athletically gifted quarterbacks ever to step on a football...

Nobody will mistake Joe Looney for his star teammates

Osweiler is being benched in favor of DeShone Kizer