Six for Sunday: Backup quarterbacks usually mean losses
Backup QBs are a problem more times than not, which is bad news for Philly, St Louis and Houston among others this week. Also, turnover differential is a good indicator of how teams will play.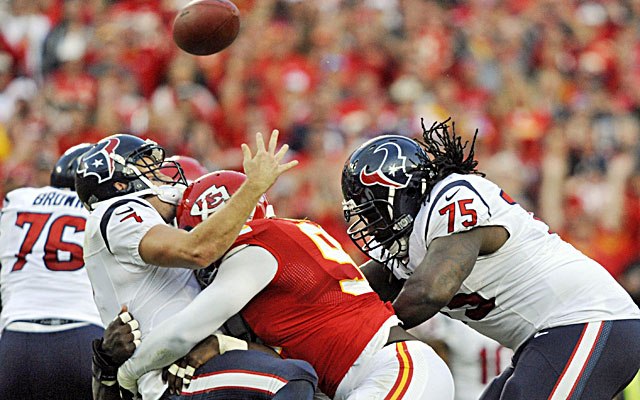 1. Too many backup quarterbacks
We came into Week 8 with 54 different quarterbacks having thrown at least a pass in an NFL game this season. Injuries and disappointments are starting to mount and in the past few weeks when a backup or replacement quarterback has had to start or finish a game the end result has been a 2-19 record for those teams.
This week there are eight games where a non-opening day quarterback will take the field as a starter. Teams in this situation are Buffalo (Jeff Tuel), Cleveland (Jason Campbell), Minnesota (probably Josh Freeman), Chicago (Josh McCown), Houston (Case Keenum), Philadelphia (Nick Foles), Tampa Bay (Mike Glennon), and St. Louis (Kellen Clemens). These eight men have appeared in 18 games this year and have a combined record of 3-15.
2. Double-digit turnover differences
By mid-season turnover differentials are real indicators of how teams play. There are seven games where the turnover differential is in double digits and that is not good for the team on the short end of that number. Kansas City is +10 over the Bills, Carolina is +11 over Atlanta, Dallas is +11 over Minnesota, Indianapolis is +18 over Houston, New England is +16 over Pittsburgh, Seattle is +10 over Tamp Bay and New Orleans is +20 over the Jets.
I might stay away from all the teams losing this battle.
3. Stats to consider
Every week there are unique stats that have some influence on the games. Here are a few to keep in mind; Buffalo's defense has 16 sacks at home or one for every 12 pass attempts and Alex smith was sacked six times last week.
In the last four games against the Ravens the Browns have scored a total of 35 points.
Dallas has given up 658 yards rushing and six rushing touchdowns in their last five games with Adrian Peterson coming to town.
Tony Romo has thrown 11 touchdown passes in four home games and the Vikings are the 29th ranked pass defense. Reggie Wayne is done for the year and this is the first game for Andrew Luck without him. In 24 games Wayne was targeted 270 times by Luck with 153 receptions and 108 first downs.
The Saints visit the Jets, and since 2010, the Saints are 16-11 on the road and this year Brees has just 5 touchdown passes away from New Orleans and 14 at home.
Tampa Bay visits Seattle and the Seahawks are on an 11-game home winning streak averaging 31 points a game.
4. Make or break time
There are a few teams that are at the crossroads of their season this week and a loss most likely ends their dream. The Dolphins were a desperate team Thursday night on a three-game losing streak and found a way to win. Can the same be said for the Steelers in New England, the Bears in Green Bay, the Falcons in Carolina and the Eagles in Oakland?
The Steelers have never beaten Tom Brady in Foxboro and a loss would put them at 2-6 which means they have to go 7-1 the rest of the way just for a chance at a wild card.
The Bears are 1-4 in their last five games and now have to go a month without Jay Cutler. By time he gets back it could be all over especially with a defense that hasn't stopped the run in two games giving up 332 yards and five rushing touchdowns.
Atlanta has been decimated by injuries and the Panthers are red hot. Cam Newton in this three game winning streak has completed 78 percent of his passes thrown six touchdown passes and run for three scores. Newton has run the ball 30 times during the streak and the Panthers are 10-3 when Newton runs 9+ times a game.
The Eagles' season is in the hands of Nick Foles. Foles hasn't thrown an interception in his last 90 passes, but the effectiveness of LeSean McCoy drops off considerably when Foles plays instead of Vick. Raider QB Terrelle Pryor is 3-1 at home and the Eagles haven't scored an offensive touchdown in two games.
5. The door just opened
The world champion Ravens(3-4)have been stuck in mediocrity all season. They are chasing the Bengals who lost Thursday night and they can get right back in the race this weekend. A win over the Browns will even their record and they still have two games against the Bengals. The tie breakers could set up well for the Ravens as well. A win over the Browns this week would be a sweep and the Bengals already have a loss to Cleveland. The door of opportunity is open, now can the Ravens walk through that door?
The bad news is they are coming off a two-game losing streak in which they scored just 33 points. Baltimore heads to Cleveland Sunday with an 11-game winning streak over the Browns.
6. Time to start the rebuild
A few teams need to admit the chances for a postseason spot are gone and it is time to start looking to the future. The Vikings need to find out all they can about Josh Freeman. It probably means starting the rookies like Cordarrelle Patterson, Xavier Rhodes, and Shariff Floyd.
The Texans are still very much in the AFC South race but they are taking a big chance this week starting Case Keenum over Matt Schaub. Schaub is 3-2 against the Colts in his last five starts and Keenum has one start in his career. It reminds me of the time Belichick did not put Bledsoe back in the starting lineup when he was healthy and went with a virtual unknown named Tom Brady. Teams with two wins or less really need to make sure the young players in their future plans get lots of playing time now.
The Titans' new coach was answering a question on how college schemes would affect his sco...

The Patriots were called for only one penalty in Sunday's AFC Championship game

Foles' deal had some stipulations, one of which voids the last three years if he's an Eagl...
Check here for the latest news, rumors and updates for NFL coaching changes and searches

The G.O.A.T. had his hands on some cows as a young child

SportsLine's Mike McClure, a DFS pro with more than $1M in winnings, gives optimal lineup...