Six for Sunday: Can Luck keep up? Can Chiefs catch sack record?
Kirwan: Andrew Luck's toughest challenge yet will be facing the franchise QB he replaced. Also, can the Chiefs catch the all-time sack mark? And can the Falcons and Dolphins rebound?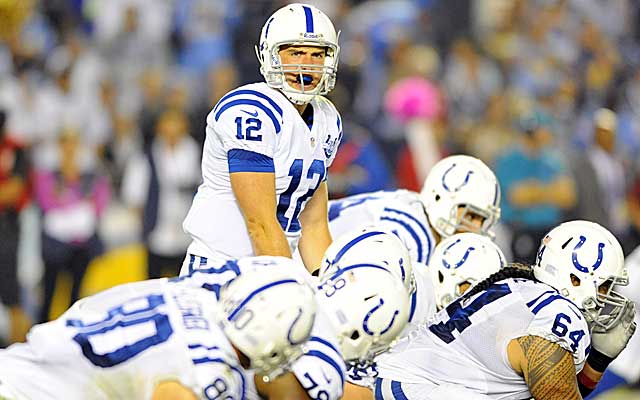 Peyton Manning 's return to Indianapolis has no shortage of juicy storylines, but what about Andrew Luck ? Trying to top the quarterback he replaced in Indy will be a huge test for the Indianapolis Colts second-year passer.
And, speaking of quarterbacks, will we see better showings from the eight backups (including Brandon Weeden by default) starting in Week 7?
Let's get to the week's big storylines.
Can Luck go punch-for-punch with Peyton?
I believe Andrew Luck is already close to an elite QB and some day will be the best quarterback in the game. Right now he has the challenge of Peyton Manning coming to Indianapolis.
Colts owner Jim Irsay spiced up the game with his strange comments about Manning and the way the Colts were built in the Bill Polian era. Mr. Irsay was wrong on many levels, but none of his talk or the media coverage all week will mean anything when the game starts.
It really comes down to Luck and company being able to stay up with the Denver Broncos machine. A bad offensive game for Denver is 35 points and an average day is 44 points. A Colts bad day on offense is 20 points and an average day is 24 points.
The Colts offense is going to have to play over their heads to stay up with the Broncos' scoring. It can be done but they are coming off a nine-point performance against the San Diego Chargers .
Look at these comparisons: Manning has 22 touchdown passes, while Luck has seven. Manning had seven touchdown passes in his first game. Manning averages 140 more passing yards per game than Luck. Manning throws an interception once for every 120 passes while Luck does it once for every 62. When it comes to sacks watch out. Manning is sacked once ever 49 pass plays and Luck once every 15.
Backup quarterbacks back at it
Last week seven teams sent a backup quarterback out as the starter and they went 1-6. The only one to win was Nick Foles of the Philadelphia Eagles , and he was playing Tampa Bay with replacement Mike Glennon under center.
This week we will see Josh Freeman for Minnesota, Mike Glennon for the Bucs in his first road game, Nick Foles once again in Philadelphia, former practice squad QB Thad Lewis for the Buffalo Bills , Chad Henne for the Jags, Ryan Fitzpatrick for the Tennessee Titans , Brandon Weeden by default for the Cleveland Browns and Case Keenum for the Houston Texans .
My guess is no more than two of these quarterbacks will find a way to win their game.
The New England no-huddle cranks up
The New England Patriots ' no-huddle offense was the foundation of their attacking Tom Brady machine over the past few years, but it hit a roadblock in the first five weeks of the season when New England only used it on 17 plays in five games. It came alive last week with 45 snaps of no-huddle.
The Patriots run game is very effective in the no-huddle, especially on second downs. The return of Rob Gronkowski is a big boost to this package, and on the road against the New York Jets will limit how much scheme and substitutions Rex Ryan of the Jets can employ.
Can Falcons, Dolphins rebound after bye?
The Falcons and Dolphins return to action this week after licking their wounds. Miami lost two straight heading into the bye and gave up 64 points in those two games.
Cameron Wake returns for the Dolphins and that should go a long way to pressuring Bills QB Thad Lewis. The Falcons were starting to simply run out of players due to injury and are sitting with a 1-4 record in a year they were Super Bowl contenders.
Thank goodness the Falcons are not members of the AFC East because they lost three straight before the bye to teams from that division. Tampa Bay comes to town with a rookie QB in his first road game. There are no excuses for the Flacons now. Teams coming off a bye this year are 3-3.
Chiefs defense on a record-setting pace
I'm amazed at how people would rather tear down the Chiefs than simply accept they are playing very well and have a chance to break a number of records this year on their road to the playoffs.
The negative comments are always about Alex Smith . Granted, 80.5 percent of his pass attempts are less that 10 yards down field and only 4 percent of his passes are over 20 yards in the air, but he is winning and a few deep balls very early in the game would serve notice it's not all dink and dunk.
With 31 sacks already, Kansas City needs to average slightly more than four a game the rest of the way. Houston comes to town this week with a rookie QB, Case Keenum, with zero experience. At home the Chiefs average a sack every 8 1/2 pass attempts.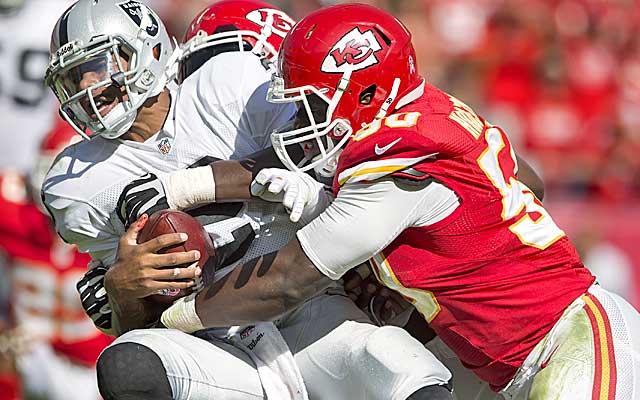 RG3 sounds like he's more itchy to run
Last week the Washington Redskins let RG3 run early and he looked back in form. It sounds like he wants to run the pistol option more and get back to moving the chains with his feet. He ran for five first downs last week after only having two in his first four games. Last year he converted 40 times with his feet.
The interesting thing about RG3 and his running is this: In his 10 wins as the Redskins QB he ran 72 times for 512 yards and four touchdowns. In his 11 losses, he ran 80 times for 473 yards and three touchdowns.
Really there isn't much difference, but there is a very big difference when it comes to sacks. In his 10 wins RG3 was sacked just five times, or once every 50 pass plays. In his 11 losses he was sacked 27 times or once every 15 pass plays.
RG3 will be seeing more pressure calls from defenses, especially if the threat of the option isn't a factor.
Gruden, who won a Super Bowl following the 2002 season, last coached in 2008

Forget being the highest paid receiver, Odell Beckham has loftier goals for his next contr...

There was a Rolls-Royce at Steelers training camp, but no Le'Veon Bell
'It ain't about 2016 and it ain't about 2018. It's about 2017,' Doug Williams told his qua...

Philip Rivers will not be moving to Los Angeles with the Chargers

Bryant has had off-the-field issues keeping him off the field for the past few years