Six for Sunday: Can NFC catch up to AFC? Has Cam plateaued?
NFL defenses have been giving up record passing numbers so far, but will that continue? Also, has Cam leveled out? And how long before Josh Freeman starts for the Vikes?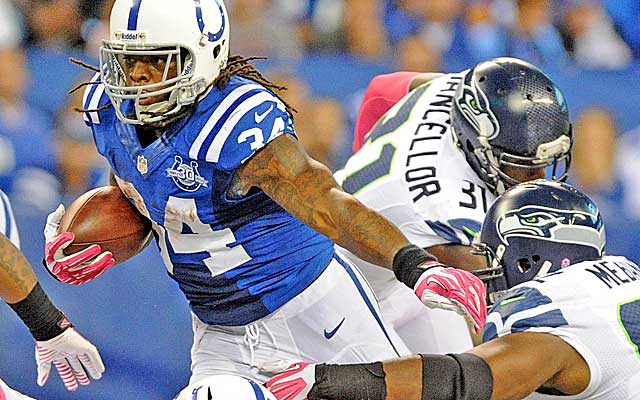 As usual, there are plenty of surprises in the NFL by Week 6 and a number of storylines involving young quarterbacks. My observations and film study this week have led to a question about one young quarterback in particular.
Also, through five weeks we have seen 13 -- yes, 13 -- 400-yard passing performances and 247 passing touchdowns. Both are the most in the first five weeks of any season. Will Week 6 be an extension of that or will the defenses slow the passing down?
AFC has the NFC's number -- so far
Before the season most people saw the NFC as the stronger conference, but after five weeks it is the exact opposite. The AFC leads the NFC 18-9 in head-to-head games. This week the Green Bay Packers head to Baltimore, the St. Louis Rams travel to Houston, the Detroit Lions head to Cleveland, the Tennessee Titans go to Seattle, and the New Orleans Saints are in Foxborough to play the New England Patriots . I don't think the NFC is going to be doing too much catching up this weekend. I see at least three AFC teams winning the interconference games. How about you?
Is the Philly offense really up-tempo?
The Philadelphia Eagles are always advertised as an up-tempo Oregon offense. First-year coach Chip Kelly brought in a former Navy Seal to train his Eagles to play fast and to run the offense at a very high pace. After five games the Eagles have run 344 offensive plays. Last year, under Andy Reid in the first five games of the season, the Eagles ran 350 plays.
Now that Nick Foles is taking over for the injured Michael Vick I would bet the pace of play will slow down even more in the coming weeks. Like I said after the opening weekend, when the Eagles had more than 50 plays in the first half, it was more a function of turnovers by the Washington Redskins than a superfast tempo by the Eagles. Philadelphia is leading the NFL in rushing with 187 yards a game on the ground, and that should also slow down starting this week. Teams like Tampa Bay will pay little regard to Foles as a runner and focus totally on LeSean McCoy .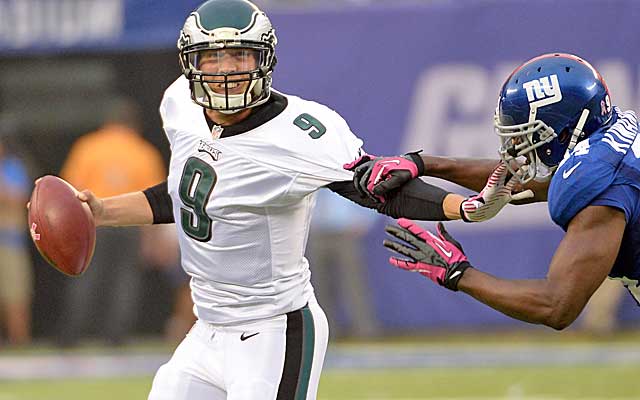 Has Cam Newton simply leveled off?
Cam Newton came into the NFL like a ball of fire, throwing for 854 yards in his first two games. The NFL was shocked by this young man, but when you take a look at his career in two halves -- splitting his 36 career starts right down the middle -- you see a different story. In his first 18 games he threw 23 touchdowns to 21 interceptions, was sacked 39 times and had 15 rushing touchdowns to go with a 7-11 record. In the next 18 games he's thrown 22 touchdowns, with 15 interceptions, and has been sacked 47 times to go with only 8 rushing touchdowns. His record 7-11 once again.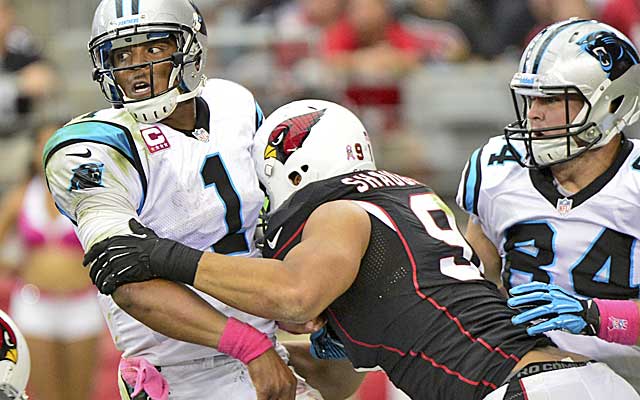 Expect inexperienced QBs to struggle
It's only Week 6 but there are five quarterbacks with less than a full 16 games as a starter who will take the field Sunday trying to get a win. Nick Foles of the Eagles faces Mike Glennon of the Bucs, so one of them has to win. But the other three have their hands full. Thaddeus Lewis of the Buffalo Bills , Terrelle Pryor of the Oakland Raiders and Geno Smith of the New York Jets should all struggle this weekend.
Some facts to consider
• The Packers head to Baltimore having lost four straight road games. The Packers are 4-8 in their last 12 road games.
•  Ben Roethlisberger has had many left tackles since becoming the starter in Pittsburgh. Prior to this year he averaged being sacked once every 12 pass plays. This year he's right on schedule for being sacked 1:12 pass plays. Enter the newest left tackle, Levi Brown . Brown has given up 16 sacks in his last 20 starts.
•  Adrian Peterson is home this weekend against the Carolina Panthers defense. Peterson has played 46 games at home in his career and has averaged 110 yards on the ground and a touchdown.
• Oakland heads to Kansas City where it has won six straight times, averaging 156 yards a win on the ground and holding the Kansas City Chiefs to 12 points a game.
• As soon as Brandon Weeden replaced the injured Brian Hoyer in Cleveland the sacks showed up again. Hoyer was sacked once for every 17 pass plays behind the same line that Weeden has been sacked 16 times or once every 7.8 plays.
• Seattle has won 10 straight at home and will look to make it 11 on Sunday against the Titans. In those 10 home wins, Seattle has 30 takeaways, 27 sacks and has given up a measly 11.5 points a game.
Questions for Week 6
How long before we see Josh Freeman in Minnesota? How long before Matt Schaub is benched in Houston? How long in the Denver-Jacksonville game before Peyton is pulled? If Gronkowski makes it back this week will the Patriots return to their no huddle offense? Will Mike Shanahan give RG3 the green light to run this week?
It sure looks like the former top pick will be benched heading into the regular season for...

Someone asked him to start the press conference of course

Derrick Johnson wants to discuss players' First Amendment rights amidst the protests
High praise from one of the most athletically gifted quarterbacks ever to step on a football...

Nobody will mistake Joe Looney for his star teammates

Osweiler is being benched in favor of DeShone Kizer