Six for Sunday: Miami at Tampa Bay holds playoff implications
The controversy surrounding the Dolphins is hard to ignore, but Miami is in the hunt for a wildcard spot and can help its cause considerably with a win over the woeful Bucs on Monday night.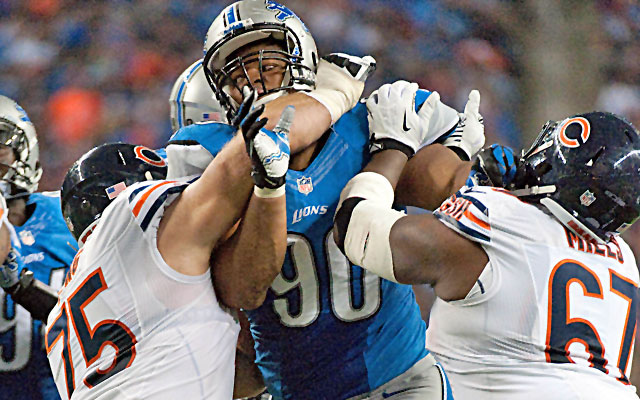 1. Miami at Tampa Bay
Here's a Monday Night Football game that sparked very little interest until the issues surrounding Jonathan Martin and Richie Incognito dominated the media outlets around the country. The football story in this game is being overshadowed by the conflict. Nonetheless a game has to be played and Dolphins QB Ryan Tannehill has been sacked more than any QB in the NFL. At least 10 of his 35 sacks were by pass rushers that beat Martin or Incognito. Things could be even worse without the two starting linemen. The Buccaneers are in search of their first win of the season and played well last week in a late loss to the Seahawks. Miami is in the hunt for a wildcard spot and a loss in this game will set them back. Tampa has nine sacks in their four home games this year and if Tannehill takes a beating, the story of Martin and Incognito will take on even a deeper meaning.
2. Clash of the winning streaks
The 49ers are on a five-game winning streak and the Carolina Panthers are on a four-game winning streak and one of those streaks will come to an end on Sunday. If you love football in the trenches this is the game for you this weekend. The San Francisco offensive line vs. the Panthers defensive line is the best matchup in the league. The 49ers are a run-first team averaging 153 yards a game on the ground and have seven rushing touchdowns in their last two games. The Panther defense has given up just two rushing touchdowns all year and held Seattle and Minnesota well under 100 yards.
3. The quarterbacks return
It's been a tough year for NFL quarterbacks, with signal callers getting hit and sacked at alarming rates. Thirteen quarterbacks have been sacked at least 20 times this season and 56 QBs have thrown at least a pass in games. This week two teams get their starters back when EJ Manuel and Jay Cutler are scheduled to start.
4. One match up I can't wait to see
In one of the biggest games of the weekend, the Lions visit the Bears with first place on the line. The Lions won the first time they played more than a month ago. Ndamukong Suh led the Lions defense with two sacks, a forced fumble and six tackles. Since that game Bears rookie right guard Kyle Long has grown in leaps and bounds. I can't wait to see Long and Suh go at it this week. Long has given up two sacks all year and is starting to play like a Pro Bowl candidate.
5. Is this the week we break the 400 yard record?
The most 400-yard passing days by quarterbacks in a season is 18. We have already seen 17 this year with half the season left to be played. There is a chance we could not only see the record tied but a new record be established this weekend especially when the Broncos head to San Diego. Peyton Manning and Philip Rivers not only have 46 touchdown passes between them but they have five of this season's 400-yard passing games. Both quarterbacks are completing more than 71 percent of their passes and don't be surprised to see close to 100 pass plays in this game.
6. Teams without their head coach
Two teams take the field this weekend without their head coach for medical reasons. John Fox in Denver and Gary Kubiak for the Texans will not be with their teams. I spoke with Jack Del Rio this week, who will replace John Fox. Coach Del Rio will continue to coordinate the defense but will not turn away from the field to work on defensive adjustments when the defense comes off the field. He is leaving that to his assistants so he can be ready for head coaching decisions like challenge flags, timeouts, field goals, punts and going for it on 4th downs. Wade Phillips has a tougher job in my opinion because Kubiak was deeply involved in the offensive play-calling while Coach Fox delegated the offense and defense to his coordinators and Peyton Manning. I truly hope both teams win this week for the benefit of the two men at home feeling a bit helpless when the games are being played.
Kareem Hunt has fallen off after a hot start, but he can get back on track against Buffalo

A Dallas Cowboys Salute to Service thermal pullover makes for the best early Black Friday...

It's time to hook up that jersey shirt of your favorite NFL player with some Black Friday...
It's time to hook up that jersey of your favorite NBA player with some Black Friday deals

The Chargers were not confident in their kicking situation past Nick Novak

Trump also mocked Roger Goodell's 'hemorrhaging league' while retweeting a quote on poor r...