Six for Sunday: More QB changes to come? Who's NFL's fifth-best passer?
It's a QB league and Week 4 is full of passing questions. Are more QB changes on the way? Who is the NFL's fifth-best QB? Can Peyton be stopped? Is Jay Cutler this year's Joe Flacco?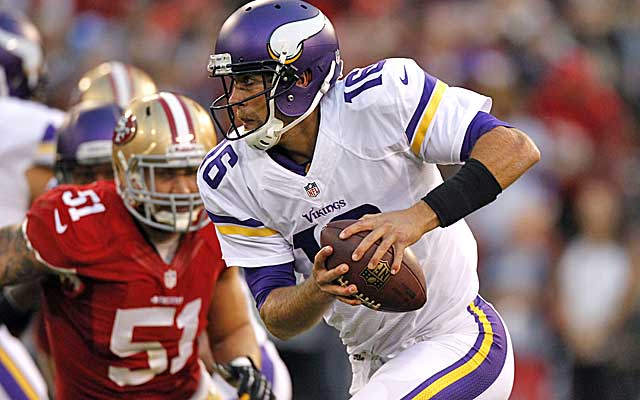 As we reach the quarter point in the NFL season there are shockers at both ends of the spectrum.
The Giants and Steelers are 0-3 and the Dolphins and Chiefs are 3-0. Did the Patriots buy enough time to get their young receivers up to par? Can quarterbacks survive the sack rate in the NFL? Just about any fan can name the top four quarterbacks in the NFL, but can you name the fifth-best signal caller? And, as always, there are some interesting stats that drive each week.
Let's tackle the big storylines for Week 4:
Two QB switches already, more on the way?
Tampa Bay's decision to bench Josh Freeman was the lead story all week and it looks like it is getting ugly between the player and the head coach. Freeman did an unauthorized interview with ESPN that the club claims they knew nothing about.
Can Freeman be traded? Not at his present salary of more than $8 million. What if a team loses its starting QB this week to a season-ending injury? Would the Bucs be willing to pay half of the salary to move him? It beats paying the whole thing if they have no intention of playing him the rest of the year and he is going to be a major distraction in the locker room.
But what if Glennon gets hurt right away, or plays so poorly that the Bucs need to make a change? Would the team actually go to Dan Orlovsky over Freeman? Over in England, the Vikings will sit Christian Ponder with a rib injury and play Matt Cassel. What if Cassel leads the 0-3 Vikings to a win? Could they really go back to Ponder next week?
Quarterbacks are in danger
As I pointed out earlier, the quarterback sack rate after three weeks suggests there is a spike in the five-year average.
The five year average is 1,124 sacks for a season which equates to 35 sacks per team for the year. That number is bad enough, but right now we are on pace to see 44 sacks per team.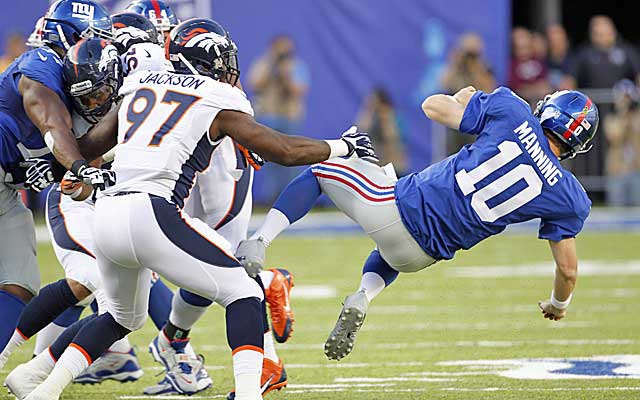 Is it the rash of injuries at the left tackle position? Is it the general lack of quality running games to balance up the offenses? Is it a pull back by teams employing the 'pistol' and not letting their quarterbacks run as much and asking them to throw from the pocket? Robert Griffin III averaged 26 pass plays last year in Washington's seven-game winning streak but he's averaging 48 pass plays per game this season.
Keep an eye on Eli Manning this week on the road in Kansas City. Manning has been sacked 11 times in three games after being sacked just 19 times last year. The Chiefs lead the NFL in sacks with 15.
Who is the NFL's fifth-best QB?
I ran a survey all week about the top five quarterbacks in the NFL right now. The top four are easy for everyone: Peyton Manning, Tom Brady, Aaron Rodgers and Drew Brees. After those four it gets into a great debate.
I actually had 11 different quarterbacks named by the 155 people willing to send me their opinion. Ben Roethlisberger led the voting, followed closely by Matt Ryan, and Russell Wilson. Eli Manning, Andrew Luck and Joe Flacco were very far back in the voting. I'm not convinced there is a clear-cut No. 5 signal caller, but maybe this weekend will help clear up the picture.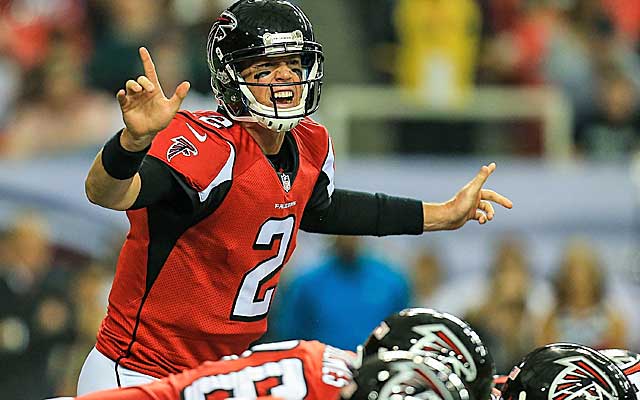 Stats to keep an eye on in Week 4
• When running back DeMarco Murray gets 20 carries in a game the Cowboys are 10-0.
• The Colts' Reggie Wayne had 16 receptions against the Jaguars last year and already has 18 this season.
• C.J. Spiller of the Bills has been on a steady decline in touches this season, from 22 to 19 to 11 through Weeks 1-3.
• Last year Andy Dalton threw six touchdown passes in two games against the Browns and A.J. Green caught three of those TDs while hauling in 14 passes.
• Finally, right now the NFL offenses have produced more passing yards in the first three weeks of the season than any other year since 1960. There are already 30 300-yard passing days for quarterbacks and 18 fourth-quarter comebacks.
The Bronco Machine
I talk with John Fox every week about his football team and there is genuine reason for him to be excited, but his job now is to keep the emotions under control and not let this team start feeling invincible.
It's hard to do when you consider they have a no-huddle offense that is growing into a juggernaut with each passing week. The numbers are starting to pile up and they are impressive. The Broncos average 42.3 points a game, 487 yards of offense a game and 375 yard passing a game. And Peyton Manning is on a record pace with 12 TD passes in the three wins. Here come the Eagles, who were supposed to change the way pro football is played on offense. They may get a big lesson in how NFL offense is really played.
Jay Cutler is a new man in the Marc Trestman offense. He's being sacked once every 35 passes as compared to 1:13 in his other seasons as the Bears QB. Jay faces a Lions team he has beaten seven of the last eight times he has played them. The Bears fans expect a win over the Lions, but Detroit has the inside pass rush to make things tough on Cutler.
The key to this game will come down to Matt Forte. Forte is 9-1 against Detroit with a whopping 1,200 yards rushing and receiving with nine touchdowns. A big day from Forte could go a long way in helping Cutler get a big fat contract extension from Chicago. Cutler is only 21st in pass attempts this season and Trestman is managing this offense beautifully. Is Cutler going to be this year's Joe Flacco and hit a homerun with a new contract?
R.J. White, who nearly won the Las Vegas SuperContest, locks in his pick for the NFC Championship...

Mike Tierney has owned NFL totals and has a strong pick for the AFC Championship Game

The Saints coach wasn't in the mood to answer questions about Drew Brees on Tuesday
This is footage that you'll definitely want to see

It wasn't the matchup that we expected, but the Jaguars would argue that's everyone else's...

The Eagles quarterback and the Vikings quarterback have paths that have crossed many times