Six for Sunday: Unbeatens travel, Peyton's on fire and QBs facing heat
Will the 4-0 teams finally falter? Can the Dallas defense put pressure on Peyton Manning? Which coaches are in the most trouble? There is much to discuss in a rich week of games.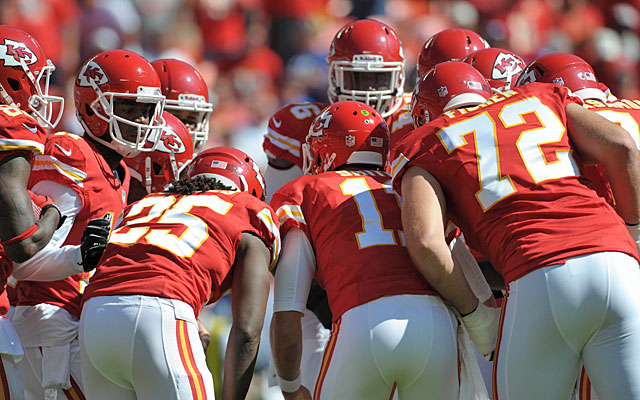 Let's tackle the big storylines for Week 4:
Five undefeated teams take to the road
There are five teams with 4-0 records, the most since 1968, and all of them are on the road this week trying to get to 5-0. If any of these teams get the fifth win this week they enter very nice territory -- 90 percent of 5-0 teams in the past 23 years have made the playoffs and 78 percent won their division.
The Patriots are in Cincinnati, the Saints in Chicago, the Broncos are in Dallas, the Seahawks in Indianapolis and the Chiefs go to Tennessee. The opposing teams to the undefeated are 13-7 and more importantly 9-1 at home. I doubt more than two or three of the undefeated make it to 5-0.
The Bronco Machine
It looks like Peyton Manning has built a scoring machine that can't be stopped. That might be true when you look at this: Manning's 16 touchdown passes in the first four games are one more than any other team has scored combining run and pass.
Manning has now thrown 201 passes without an interception and had a September QB rating record 138. Of course football is a team sport and a lot of things can go wrong in a game. Peyton was sacked 11 times last year in his four losses and only 13 times in his 12 wins.
Can the Cowboys move Manning off his mark? Can they hit him enough to disrupt the passing game?
I don't think they will get to him enough and that probably means Peyton throws more than two touchdown passes, which will give him the record for the most touchdown passes in the first five games of a season (18).
The tight games keep rolling
To date, 33 of the 64 games played so far this season -- including Thursday's Bills-Browns contest -- have been decided by seven points or less. That is 51.5 percent of games decided by one score. There have been 21 fourth-quarter comebacks, which means 33 percent of the games make you stay in front of the TV no matter what.
Wounded O-Lines = QBs under pressure
The Steelers and Ravens traded for left tackles this week, which is very much out of the ordinary. It calls attention to the problems quarterbacks are facing with sacks, hits and pressures. There have already been 348 sacks and close to 800 knockdowns of quarterbacks, putting us on pace for 1,400 sacks -- which would be a record. Christian Ponder, Brian Hoyer, EJ Manuel, Mark Sanchez, Brandon Weeden, Jake Locker, Terrell Pryor and Blaine Gabbert have all missed time this season and some will not return until 2014.
There is a real crisis with offensive linemen and I wouldn't be surprised if Josh Freeman's options to sign with a new team go up after this weekend's games.
Touchdown passes vs. rushing touchdowns
Last year the NFL produced 401 rushing touchdowns and 757 passing touchdowns. At the quarter poll the NFL has 90 rushing touchdowns and 206 passing touchdowns. The league is on pace for 40 less rushing touchdowns and 60 more passing touchdowns. As defenses start to be built to stop the passing game, look for a smart team to take advantage of these pass-rushing defenses and pound the running game. San Francisco ran it 40 times last week for over 200 yards and could lead the few teams ready to really run the ball.
Players traded and released ... time for coaches?
It is inevitable that pressure bursts pipes. As teams slip to 0-5 or 1-4, and the expectations were for much better starts, it could be the week we see our first assistant coaches and/or coordinators dismissed. I even heard of a head coach that might be in a win-or-else situation. I don't like this subject but where there's smoke there's fire.
The Falcons are trending in the right direction after a 34-31 win over the Seahawks in Sea...

It's the best division in the NFL and it's not even close

Larry Hartstein has his finger on the Vikings' pulse and made a play for the Thanksgiving Day...
National sports writer Mike Tierney tells you who to pick in your Week 12 football survivor...

For whatever reason Seattle decided to try a fake before the end of the first half

The Giants aren't the only NFC East that might've quit during a game this season