Six from Sunday: Chiefs are legit; backup QBs take a beating
The Chiefs are legit behind that defense. Also, backup QBs take a beating and the Steelers and Bucs find a way.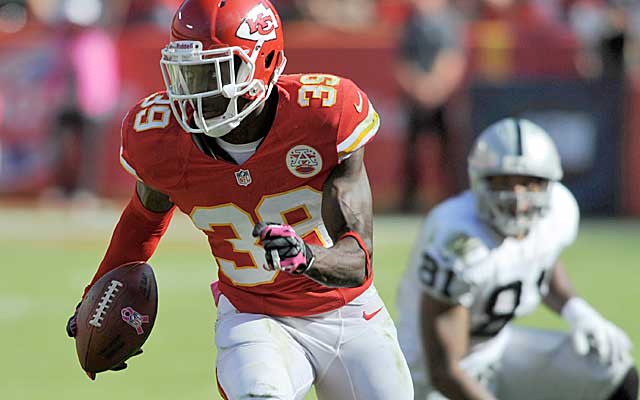 Week 6 allows us to reach conclusions, starting with the Chiefs: they're legit behind that defense. Also, backup QBs take a beating and the Steelers and Bucs find a way. Let's dive into Six from Sunday.
Chiefs are for real
All I heard heading into Week 6 was that the Chiefs weren't very good and that their unblemished record was the product of a soft schedule. After KC beat the Raiders, there are only two undefeated teams left and the Chiefs are one (Denver is the other).
The defense was impressive again, collecting 10 sacks Sunday. The Chiefs have 31 for the season and are on pace for 83. Opponents have scored only 65 points, putting the Chiefs on pace to surrender only 173 -- and that would be 72 less than the best defense in 2012.
As for the strength-of-schedule criticism, Kansas City's six opponents have an 11-19 record minus the six games the Chiefs have won. The Denver Broncos' opponents also are 11-19.
KC and Denver have five common opponents. Against those teams, the Broncos have scored 216 points and given up 131. While the Chiefs have scored only 126 points against those teams, they have yielded only 48 points.
We have a bit of a wait until the AFC West rivals play the first of two (Nov. 17 at Denver), but the momentum is building for a matchup between a great offense and a great defense.
Rough sledding for backup QBs
It wasn't a good weekend for No. 2 quarterbacks. It's only Week 6, and seven teams called on backups. Bump that number up to eight if you count Mike Glennon on the field because the Bucs cut Josh Freeman. For this exercise, we'll count Glennon, making the backups' record this week a combined 1-7.
Thad Lewis (Bills), Matt Cassel (Vikings), Ryan Fitzpatrick (Titans), Chad Henne (Jaguars), Brandon Weeden (Browns), T.J. Yates (Texans) and Glennon (Bucs) were asked to lead their team and failed.
The group threw only five TD passes and was intercepted 10 times in 207 attempts while absorbing 17 sacks.
Only Nick Foles of the Eagles put together a winning performance, completing 22 of 31 for 296 yards and three TDs with no INTs and only one sack.
It's a strong reminder that quarterback depth is close to nonexistent.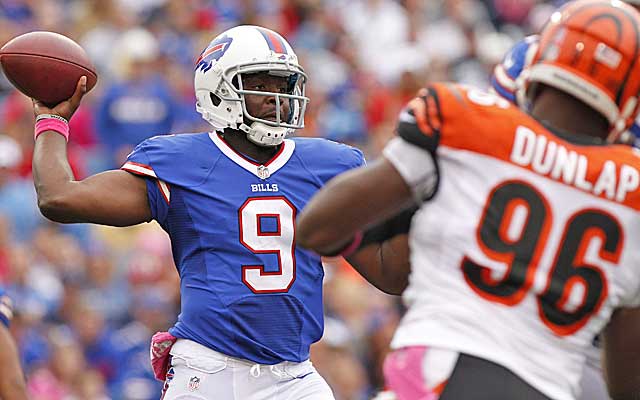 Desperation responses
The Steelers and the Bucs were in desperation mode this weekend -- each entering the week with four loses. Since 1990, six teams have made the playoffs after starting 1-4, but no team made it after starting 0-5.
Bill Cowher called it "desperation weekend." His former team, the Steelers, responded on the road vs. the Jets and at 1-4 feel they can climb back in the division race -- especially after Baltimore and Cleveland lost in Week 6.
The Bucs are 0-5, and while history says they are done, their next two games are in the division (Falcons, Panthers). That leaves them with a glimmer of hope. But does anyone really think they can go 9-2 the rest of the way?
Sack patrol
In an average NFL game, there are a combined 4.6 sacks. Of course, the Chiefs made news by sacking Terrelle Pryor 10 times Sunday. I wrote about Pryor and certainly talked about him on my radio show a number of times last week.
He's an outstanding athlete and an improving quarterback but he started to have a predictable escape lane when pass plays broke down. There's a reason he leads the team in rushing: He gets out of the pocket and does a lot of damage. But the majority of his escapes were to his right side and wide. Rarely did he shuffle around in the pocket or escape out an "A" or "B" gap inside.
The Chiefs recognized this tendency, and contained him with rushing OLB Justin Houston -- preventing Pryor from a right-side escape. Kansas City brought a lot of pressure from their right side led by OLB Tamba Hali.
But the Chiefs weren't the only big sack story. Over 13 Week 6 games (excluding Monday night's Indy-San Diego game) there should have been 60 sacks -- based on the 2012 per-game average. There were 70 sacks.
Which QB best deals with sacks? No one was more impressive in that regard than Tom Brady in the last-second win over the previously undefeated Saints. Brady weathered five sacks in the victory. He has now played 207 regular-season and playoff games and has only been sacked five or more times in seven of those games. He now has a 4-3 record in those games.
Hitting their numbers
Every week, I look for a triple combination from teams to call out offensive line coaches. That combination: winning the game, rushing for 100 yards and yielding no sacks.
Three teams hit that mark this week. So, hats off to o-line coaches Aaron Kromer (Bears, also their offensive coordinator), David Maguzu and Alex Gibbs (Broncos) and Paul Boudreau (Rams).
Kromer has 13 years of NFL coaching experience. In beating the Giants, his line opened holes for 110 yards on the ground and successfully pass blocked for 36 pass plays without a sack. The Magazu- and Gibbs-led line blocked up a run game that hat 112 yards and three rushing touchdowns as well as protecting Peyton Manning in 42 pass plays. Boudreau of the Rams got great effort from his line in the 38-13 rout at Houston.
Cam at a crossroads
Last week, I split Cam Newton's career right in half -- looking at the first 18 starts compared to the next 18. Newton's record in both halves is 7-11, and it looked like you could argue that Newton had flattened out.
He had one fewer passing TD in the second half of his young career as well as eight more sacks and seven fewer rushing touchdowns. On top of the stats, Cam was heading to Minnesota with a 7-11 road record and I wondered what he would do in that tough environment -- especially coming off a seven-sack day at Arizona.
Answer: Newton looked great in the win -- three touchdown passes and a rushing touchdown. It's only his fifth game of his 37-game career with three touchdown passes, and his pocket presence and accuracy were impressive. If Newton continues to play the way he did this week he could have started a three-game winning streak with Tampa Bay and struggling Atlanta up next.
Plus the catch rule's still terrible, the Panthers quashing the Packers' hopes at playoffs...

Week 15 provided a lot of clarity to the NFL postseason

The Cowboys move to 8-6 and are still in the playoff race with two regular-season games to...
The Steelers lost to the Patriots in controversial fashion after the 'Calvin Johnson Rule'...

The Raiders lost on a bizarre final offensive play

Here are the Week 15 grades for every team that played Sunday